COVID-19 Campaign Donor Story: Santander Universities UK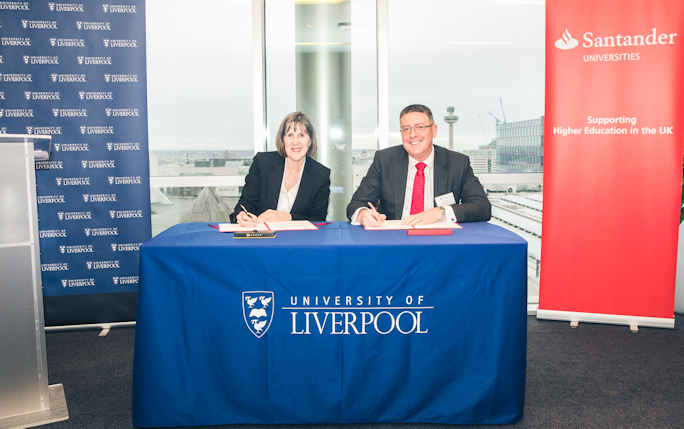 Santander Universities UK have donated £60,000 to support our COVID-19 campaign.
Since the partnership was established nearly a decade ago between the University of Liverpool and Santander Universities UK, Santander have continued to lead the way in their support for student-based programmes at the University.
We are therefore delighted to announce a further major donation from Santander towards our COVID-19 Campaign. Existing funds from Santander have been diverted to our Emergency Response Campaign to help fund the University's ground-breaking research programme into the coronavirus pandemic. In addition, Santander have donated an additional £25,000 to support our Student Crisis Support Fund, which launched this week.
The partnership was developed in 2012 to provide scholarship support to undergraduate and postgraduate students. Over the course of the partnership, the support has shifted to focus on fostering internationalisation and to promote the transfer of knowledge between institutions, entrepreneurs and researchers in their projects.
In this time of unprecedented change, when a large number of our engagement activities are no longer able to go ahead, Santander have generously shifted the focus of their support again to give to our most urgent priorities.
In addition to a legacy donation, the donation from Santander will enable us to match-fund donations to the Student Crisis Support Fund, thereby helping more students who are facing financial hardship as a result of the COVID-19 pandemic.
Matt Hutnell, Director at Santander Universities, said: "Santander is committed to supporting higher education as well as local communities across the UK so we're pleased that our funding is able to be redirected to where it is most needed at this critical time. Universities are doing some fantastic work to contribute to the UK's effort to combat the outbreak of COVID-19, so we're delighted to collaborate with our university partners in a way which increases their response effort and look forward to continuing to work with them on supporting both students and the broader higher education community with further initiatives over the coming months."
Professor Dame Janet Beer, Vice-Chancellor, University of Liverpool, said: "Over the past eight years, Santander have helped the University of Liverpool to develop new links with the international business community and provide students and researchers with access to wonderful opportunities for development. As the world comes together to face this new, shared crisis, the continued generosity of Santander is a significant demonstration of our power to adapt and to work through this together. With their support, we will be able to support our students and wider community through the fight against COVID-19."
As beneficiaries of the scholarships, awards, events and bursaries of the partnership, many within our community will have realised first-hand the transformational impact of Santander's support. We hope you will join us in our sincere thanks to Santander Universities UK for their continued generosity and dedication to the partnership, and its profound impact for our local and global community.
To find out more out the Student Crisis Support Fund visit https://www.liverpool.ac.uk/coronavirus/support-us/student-hardship/