Photographs reveal exciting progress for University's new Teaching and Performance Centre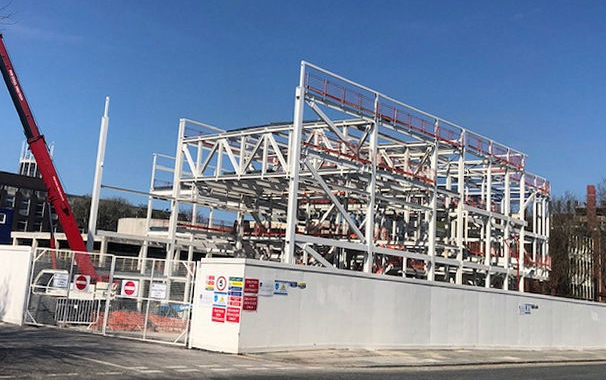 Photographs taken a few weeks ago reveal exciting progress for the University of Liverpool's new Teaching and Performance Centre. Building work commenced at the start of the year with the building set to open in autumn 2021.
The centre will provide a new landmark to the city and offer enhanced teaching and learning facilities, state-of-the-art lecture theatres and audio-visual equipment, ensuring the University of Liverpool continues to be a top choice for students of all disciplines worldwide.
The building will support all manner of activities including concerts, lectures and exhibitions bringing together people from all walks of life. It will also be the new home to the Music Department's popular Lunchtime Concert Series.
The Tung Auditorium at the heart of the centre, will also house a 400 seat performance auditorium with space for a 70-piece orchestra. Alumni and friends of the University have come together to celebrate this project by naming a seat in the auditorium, leaving their mark on the University.
In light of the COVID-19 pandemic, all building work has been modified to comply with new government measures. The project team said:
"We are continuing as best as we can under these difficult circumstances. The build is still progressing well - the project remains on programme and there is a contingency allowance for lost time to help us through this period. There is a limited amount of operatives on site who are practicing social distancing. The steel frame is going well and will be finished in two weeks' time. Underground drainage and ground floor slabs are about to start. We can't predict what will happen in the near future with the markets and the supply chain but it is full steam ahead so far."

Play your part
The University is investing £19.1m in the project and is seeking an additional £3m to fund the development of the auditorium.
The University is delighted to announce that £2.1m has been raised so far, but we need your help to raise the remaining £900,000. If you would like to play your part, please visit: www.liverpool.ac.uk/symphony.