Liverpool One Foundation attend IntoUniversity Graduation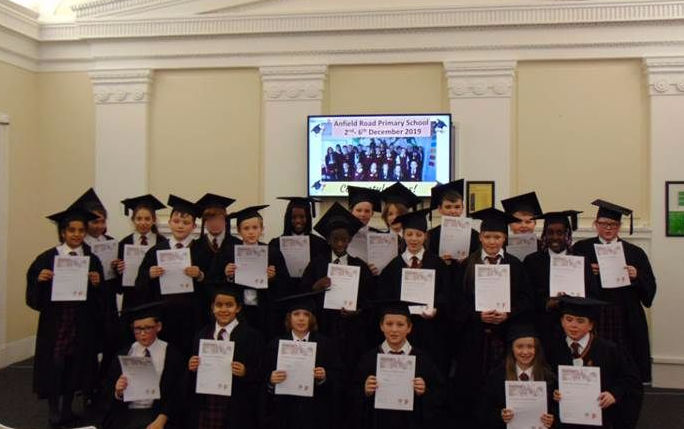 Students from Anfield Road Primary School were presented with their graduation certificates by Cath Riseborough from the Liverpool One Foundation, supporters of the IntoUniversity project, at a special winter graduation ceremony.
Cath joined parents, IntoUniversity and University staff to celebrate the achievements of the children.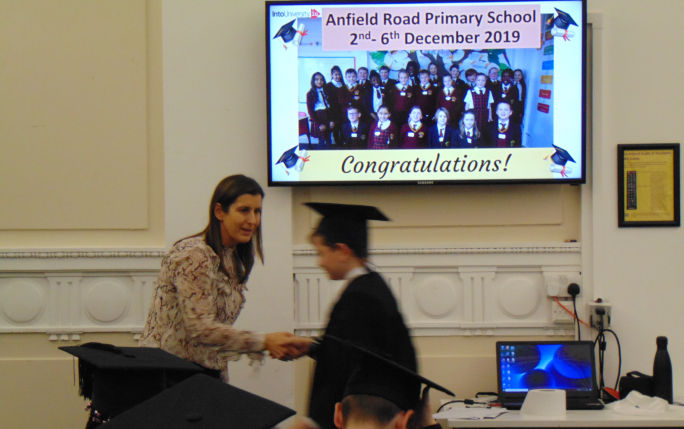 The students took part in the FOCUS week programme run by IntoUniversity which aims to teach children about University and encourage them to consider higher education in their future prospects.
The children studied Ancient Civilisations in a week filled with seminars, a lecture from University of Liverpool archaeologist, and a field trip to the Walker Art Gallery and the World Museum to investigate Greek and Roman historical artefacts.
Working together, the students directed and performed plays depicting all they had learned about Ancient Civilisations, whilst proclaiming their future aspirations of becoming doctors, footballers and artists.
The University of Liverpool has developed a unique partnership with IntoUniversity and the LFC Foundation to support the development of the North Liverpool IntoUniversity centre which helps young people in Anfield achieve at school and develop their future potential. We successfully reached our fundraising target thanks to the kindness of our supporters. Find out more here.