IntoUniversity North Liverpool Centre receives £300k birthday gift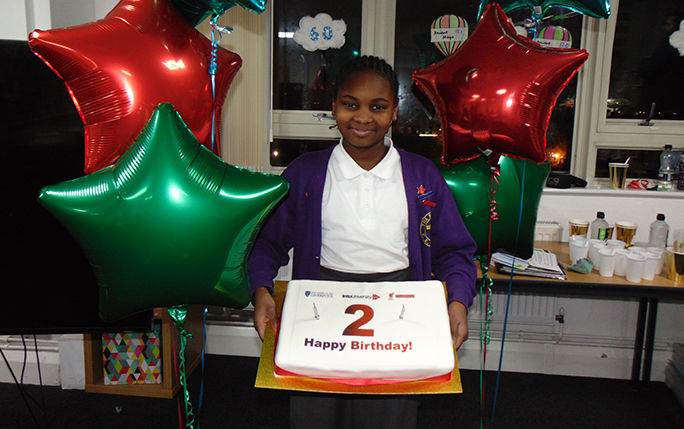 IntoUniversity North Liverpool Centre has received a £300k 'birthday gift' to help mark its 2nd birthday as a result of a successful fundraising campaign organised by the University of Liverpool.
The Anfield based centre is a collaboration between educational charity IntoUniversity, the University of Liverpool and the Liverpool Football Club Foundation, set up to help young people in the area to do better at school and believe in their ability to get to university. In parts of North Liverpool where the centre operates, the higher education progression rate is as low as 17.5%, less than half the national average (37%).
The project is celebrating its second successful year, having exceeded all its annual targets; with more than 1,774 local children attending to take advantage of the centre's support services and many reporting they are working better at school as a result.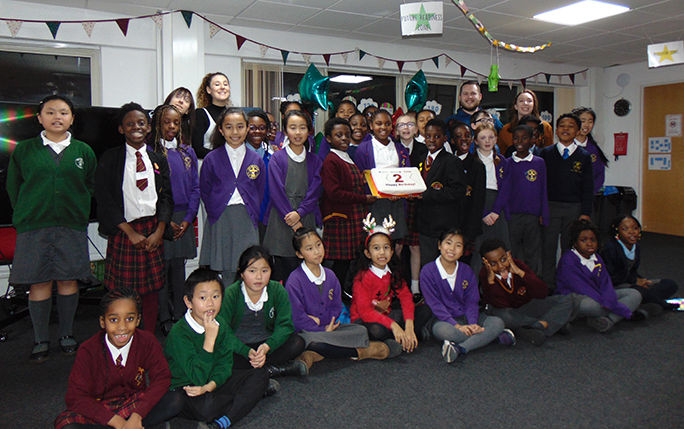 The centre partners with a selection of primary and secondary schools in the local area, supporting students aged 7 to 18, by providing after-school help with homework and one-to-one mentoring opportunities with University of Liverpool students and alumni, as well as delivering workshops on careers and university life.
New initiatives
This year has seen the launch of a new Mentoring Scheme at the Centre which offers students from disadvantaged backgrounds the chance to be paired with an adult from the business or professional world who has been to university. The aims of the scheme are to support Year 13 first-generation university applicants as they prepare for Higher Education, in areas such as choosing the university and the course that is right for them, writing their personal statement, planning and accessing finance, thinking about the different academic demands of university life, and developing independent living skills. The mentor will also provide support to the student during their first term of university.
Precious is a student at the Centre who currently attends twice a week to get help with homework and mentoring. Of the Centre she said: "Into University is a great place for young students like me it is a long journey but the team and people are always there to support you. The team working at the Centre always encourage us young students to always do our best and help us with our daily progress as young people by giving us all the help and support they can.
"They give you so many different opportunities that you cannot get anywhere else with creating so many different trips to different parts of the country to experience new things and that makes it so special for me."
Raising aspirations
Gavin Brown, Pro-Vice-Chancellor for Education, University of Liverpool, said: "I would like to congratulate the Centre, its students and volunteers on its very successful second year.
"At the University of Liverpool, we firmly believe that anyone with the talent to pursue study in higher education should be given the opportunity and encouragement to do so. Our work with our partners on this project, IntoUniversity and the LFC Foundation, align well with our desire to widen participation and raise aspirations.
"This birthday gift is a testament to the generosity and kindness of our alumni and supporters and will help secure the future of the Centre for the next three years."
Crucial support
Rachel Carr, Chief Executive, IntoUniversity, said: "We are absolutely delighted with the success that the North Liverpool centre has had in supporting over a thousand young people since it opened in 2017. From supporting us with key funding to providing us with student volunteers who are excellent role models for our young people, our partnership with the University of Liverpool is essential to our success.
"Our hope for the centre is that, in partnership with the University of Liverpool, it continues to provide crucial support for young people in Anfield for many years, helping them to realise their ambitions and reach their full potential."
Impact
Matt Parish, LFC Foundation Director, said: "The continued success of IntoUniversity's North Liverpool centre and its impact on young people in the Anfield area is fantastic.
"We are proud to be a partner alongside Into University and the University of Liverpool, and by working together we can continue to provide essential support to local young people to ensure they have the opportunity to pursue their higher education goals and fulfil their potential."
For more information on how donations can make a difference please visit: www.liverpool.ac.uk/giving.