Name a Seat stories: Emily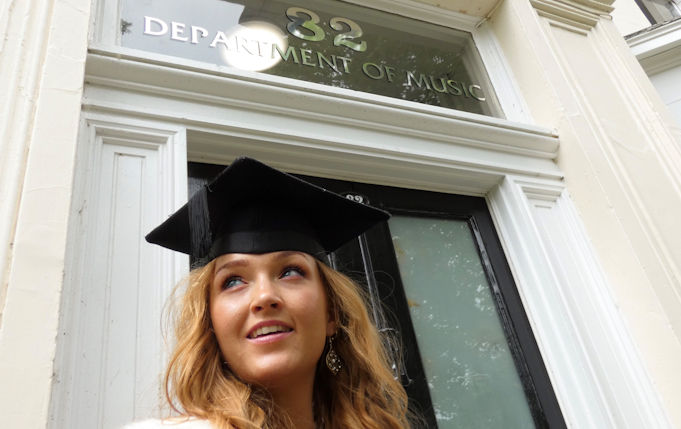 The Name a Seat series is a collection of stories to celebrate our campaign to name a seat in the Tung auditorium at the heart of the new Yoko Ono Lennon Centre.
Emily graduated with a BA Hons Music in 2019. During her time at Liverpool, Emily was part of the committee for the Liverpool University Society (LUMS), one of the longest running and biggest societies in the Guild. She talked to us about her time at Liverpool, plans for the future and her thoughts on the upcoming Yoko Ono Lennon Centre.
Tell us about your experience studying Music at Liverpool.
Studying at Liverpool changed me only for the better. I took on so many challenges, whether it was stepping out of my comfort zone with composition modules, or taking on more extra curriculars than I had ever done before! A Music degree is a big mixing pot of lots of disciplines and I got to try them all, but one that changed me the most was learning to practice! As a percussionist, practice isn't often easy as the instruments aren't your own, and who has space for a 5 octave marimba in their bedroom?! But the music department taught me how to love playing and to practice in the right way, a skill I had definitely never encountered. I also became the juggling connoisseur: juggling a job, MDing a show a semester, practicing percussion, society committee, student course rep and my actual academic studies.
Tell us about your experience as a member of LUMS.
My times with the Music Society probably amounted to more than my time in lectures! As a member, I got the chance to play and sing alongside students from across the entire university, and as a member got to represent the society I had a real passion for. With close to 200 members every year, the society is constantly expanding and I was very proud to be a part of such a loving musical family. We put on events throughout the year, including raising money for local charities alongside a few concerts a year to showcase the comity's talent.
What are your plans after graduation?
My plans after university are first and foremost, living in Liverpool. Three years wasn't enough for me so I've decided to stick around; not only to explore the city and its sights without the weight of practice and essay writing guilt on my mind, but also to continue my Musical Directing adventure with the Liverpool University Student Theatre society. Then, hopefully, an MA at the University in Classical Music Industry the following year, and a career in orchestral management (Liverpool Philharmonic, if they'll have me).
What do you think of the plans for the Music Performance Space?
The Yoko Ono Lennon Centre is perfectly timed for the Music department and the University community. The Music department has worked tirelessly to expand composition and gaming studios, recording rooms and practice rooms with the Gordon Stephenson's building opening. However, from a Classical perspective, rehearsal space, instrument storage and professional concert settings are the last piece of the puzzle, especially with the influx of Classical music students attending the University. Sound, lighting and management opportunities for students could all be explored once the centre is open - careers that many student (including myself) aspire to once graduated. The University and LUMS would benefit greatly from, not only consistent rehearsal spaces, but also a more advanced concert hall specific to music making. A city so culturally centred on music, it's the perfect addition to the city and general public, hopefully adding another dimension to the music already performed at massive locations such as the Philharmonic Hall and the Echo Arena.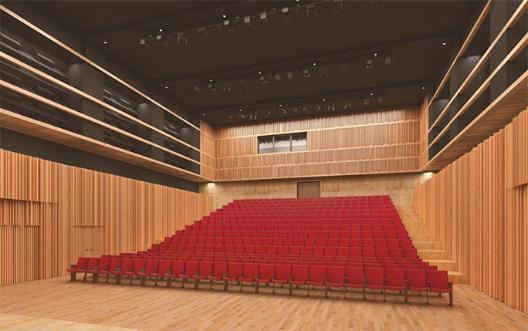 The Tung auditorium will be located at heart of the Yoko Ono Lennon Centre and will seat 400 with space for a 70-piece orchestra. To celebrate this exciting new development on campus, alumni and supporters of the University are invited to play a leading role in this project. Naming a seat is not only a personal way to leave your mark on the University but it will support us in realising our goal to enable students to continue to pursue their artistic and academic dreams.
The University is investing £19.1m in the project, and is seeking an additional £3m in philanthropic donations to fund the development of the auditorium. Half of this has already been achieved.
To find out how you can play your part, click here.
We've saved you a seat...now put your name on it.