Joan's hope... to help students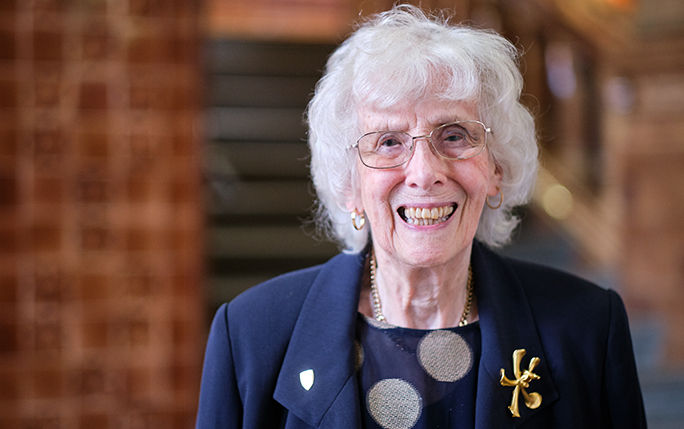 As we launch our new legacy campaign, Joan Kenworthy, former member of Senate and halls warden at the University of Liverpool, tells us more about her life and why she has chosen to remember the University in her Will.
A Geography graduate from St Hilda's College, Oxford, Joan spent two years in East Africa before accepting appointments at St Hugh's College, Oxford and Bedford College, London. Renowned for her valuable contributions to the history of meteorology, Joan is an honorary founder member of the Association of British Climatologists and was awarded the Jehuda Neumann Memorial Prize of the Royal Meteorological Society. In 2015, she was made an Honorary Fellow at Harris Manchester College, University of Oxford.
In 1960, Joan was invited to join the University of Liverpool's teaching staff as a temporary assistant lecturer in Geography by the John Rankin chair in Geography, Professor Robert Steel.
During that same year, Joan was invited by the Vice-Chancellor to become Warden of University Hall. However, the role came with a condition - she would have to give up being a full-time academic. Not wanting to compromise on her career, Joan declined the position and was promoted to a full lecturer in 1963.
In 1966, Joan became the new warden of Salisbury Hall and, at her insistence, continued as a full time academic. In 1973, she was made a senior lecturer and a year later assumed joint responsibility for Morton House with Dr MacMillan, the warden of McNair Hall.
Joan's passion for academia and students' pastoral care is evident throughout her career. She served for 11 years on the building committee for Carnatic Halls under the chairmanship of Bertram Nelson, a member of the University Council. During her time on the committee, Joan was able to persuade the University to build a free-standing porter's lodge and common room, as the halls had been built without them.
Despite leaving Liverpool in 1977 to take up the position of Principal of St. Mary's College, University of Durham, Joan remained devoted to the University of Liverpool and the city.
Joan has many fond memories of her time in Liverpool; of her colleagues, friends and the students who made a lasting impression upon her and inspired her to leave a gift to the University in her Will. She said: "I return to Liverpool every year to meet what remains of our small group of geographers, who were indirectly responsible for the development of my career. I left much of my heart in Liverpool."
"I don't dare to think how many students were in my care during my time at Liverpool so I am leaving a gift in my Will as a way to help future generations."
The University of Liverpool is fortunate to have had Joan Kenworthy play a part in its history, and we have special hopes for Joan's legacy to be part of our future.
Our hope, your Will
A gift in your Will is an extraordinary way to celebrate your life and a unique way to remember the University of Liverpool.
You can find out more on our Legacy webpages or, if you would like to discuss leaving a gift or would like further information about legacy giving, please contact Carolyn Jones, Legacy Officer, via: carolyn.jones@liverpool.ac.uk or complete our contact form and we will get back to you.