High Flying Engineers win inaugural EJ Jones Prize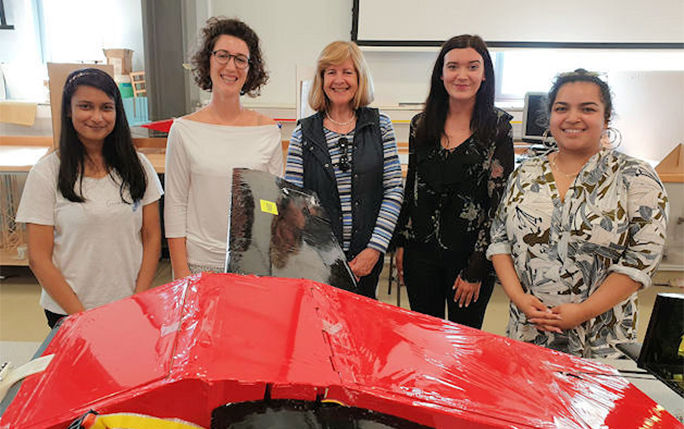 Outstanding Engineering students were rewarded for their work recently at the inaugural prize-giving of the EJ Jones Prize, which awards £3,000 to the Capstone Project Group who attained the highest marks for their project.
The Capstone projects, which the Mechanical Engineering MEng programmes are centred around, require students to spend 450 hours working in large teams to design, build and test a variety of engineering products and systems. These projects seek to replicate professional engineering practice as closely as possible.
The 2019 winners were Raveena Gupta, Eimear McAteer, Giulia Galatolo and Heydi Puertas Agudelo from Team Agila. Their project allowed them to enter the British Model Flying Association (BMFA) competition: a two year challenge to produce a remotely controlled aircraft to complete specific challenges at international competition. The project included aerospace design, structural testing of each aircraft component, Finite Element Analysis on the fuselage, impact testing the undercarriage, testing the thrust of combinations of propellers and motors, aerofoil analysis using Computational Fluid Dynamics and wind tunnel testing to validate results of modelling.
Steve Bode, project supervisor, said of the team: "In a very short time this group of students has managed to conceptualise, design, build, test and compete at competition – everything that the capstone projects aspire to be."
The generous prize was made possible by Celia Jones, in memory of her late father, EJ Jones, who graduated from Liverpool in 1941 with First Class Honours in Mechanical Engineering. He served in the Royal Electrical & Mechanical Engineers and then worked at ICI in Runcorn until his retirement in 1981.
Celia kindly awarded the prize to Team Agila at this year's graduation reception. She said: "It was an honour to meet the winning team and see the results of all their hard work. Definitely worthy winners of the EJ Jones prize and I think my father would have been both fascinated in the project itself and impressed with the team's abilities."
Find out how you can support the next generation of students via one of our fundraising priorities.