Celebrating our Scholars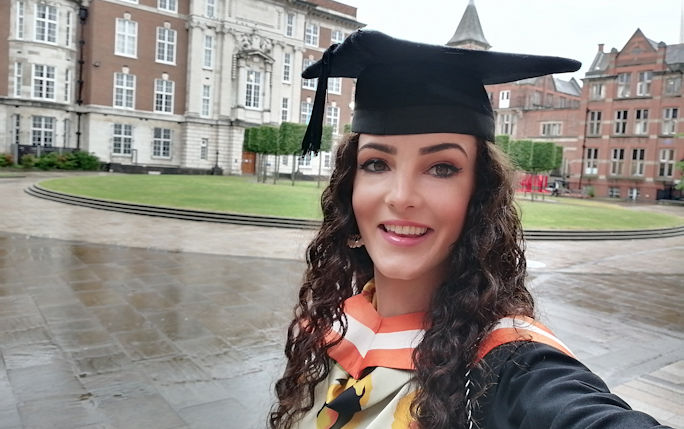 We recently welcomed more than 6,000 of our students into our global alumni community as they graduated across 14 ceremonies at the Liverpool Philharmonic Hall. We caught up with some of our graduating undergraduate scholarship recipients to hear about their unique experiences studying at the University of Liverpool and what they plan to do next.
Eva Dewsbury (pictured above)
MEng (Hons) Mechanical Engineering 2019
"Studying at the University of Liverpool has been a fantastic four years, it has been brilliant to study in such a beautiful city. The University has shaped me into a well-rounded engineer, and I feel confident in my new career working at United Utilities. My masters project, part of the University of Liverpool Velocipede team has been the highlight of my experience, as it has been fantastic to design and begin manufacture with advanced manufacturing technology and to be surrounded by expertise and knowledge to guide my team through the design process. Our team will soon be heading out to Nevada to compete in the World Human Power Speed Challenge.
"The course was tough, but the hard work has definitely paid off and I am so happy in my new career as an engineer. For the future, I have begun working towards my engineering chartership and I hope to be fully chartered within the next four years.
"It is with this scholarship that I have been able to dedicate all my time towards my studies and University experience - from learning Mandarin and Spanish to designing go karts and mountaineering - I have been fully immersed in University life and have graduated at the other side with a 1st Class degree and Best Student ImechE award."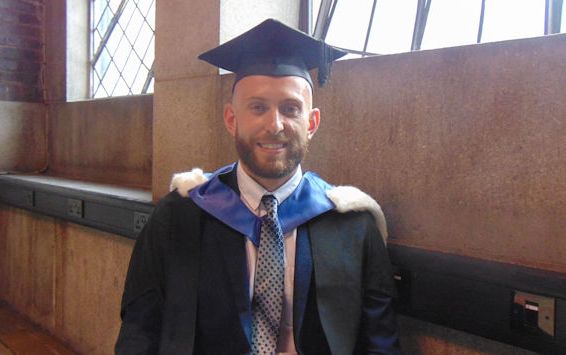 Chris Steel
BSc (Hons) Biochemistry 2019
"In studying BioChemistry I've really fallen in love with the subject. My plan is to pursue a post graduate degree in biological science and from there progress into academia. I'm very passionate about cancer biology, cancer biochemistry.
"To have my hard work recognised and to be given extra funding to help me pursue my goals has really helped me to reach my potential. So hopefully this scholarship has provided me with a platform to turn into the best research scientist I possibly can.
"I'd really like to say thank you to anyone who has helped to provide the support I've received, because it really has meant the world to me."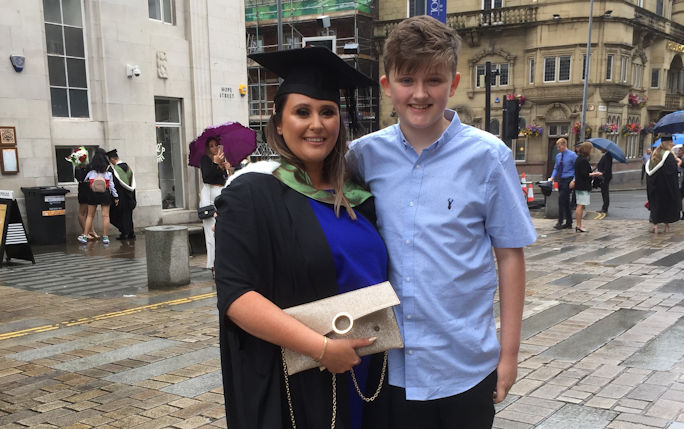 Elizabeth Earps
LLB (Hons) Law 2019
"There have been a lot of highlights in studying for my degree. I got to take part in a mooting competition and I got to the final of that, and I achieved a first overall for my degree which was obviously amazing.
"Since starting my degree I have definitely gained confidence that I never knew I had before. I'm a mature student so I'm coming to study quite late on. At school I was always academically bright but I never realised my full potential. But now, coming to university and exceeding expectation has given me a lot of confidence to go forward with my life. I'm going on to study for a Legal Practise Course with a Masters, so I'll be around on campus for another year!
"The scholarship was really important for me; I'm a mature student and a single mum to my son Adam who is 12, so the money really helped me to study, I might not have been able to come to university without it. I'm really thankful to all the donors it's made a massive difference to my life so thank you very much."
Find out more about our current fundraising priorities here.