Our Hope...Your Will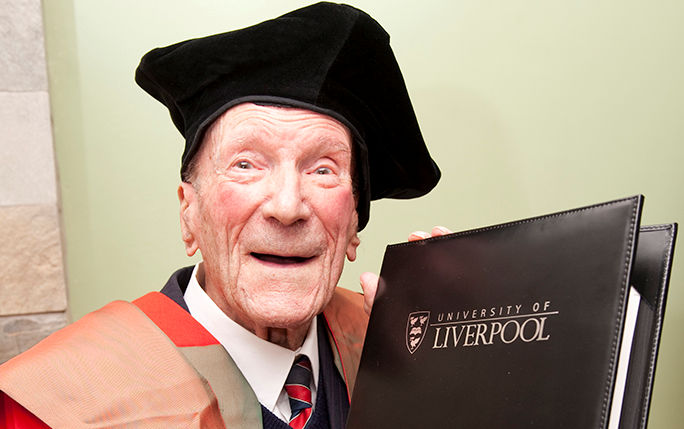 As Legacy officer for the University of Liverpool, Carolyn Jones has the pleasure of discovering uplifting and inspirational stories behind legacy giving. One such story is that of Dr Hugh Greenwood, honorary graduate and OBE, who left a transformational gift to the University.
Dr Greenwood was born in 1912 in Waterloo, Merseyside. His early life was far from easy, having experienced not only the loss of his father when he was five, but the impact of this loss on his mother, as well as her struggle to bring up four children on her own, two of whom died in infancy; these experiences profoundly affected Hugh and instilled in him a determination to help others in his later years.
In 1936 Hugh founded a successful construction company, Greenwood Brothers. A chance encounter with a doctor at Great Ormond Street Hospital in 1962, where Hugh was advising on building work, was life-changing. He discovered that Great Ormond Street was in need of funding to support important medical research. Finding himself in a situation where he could help prevent others from experiencing what he and his family had, Hugh set up an annual gift to the hospital.
Hugh established the Children's Research Fund in July 1963 which went on to support numerous hospitals and universities around the country. In 1967, the University of Liverpool's new Institute of Child Health benefited from the Fund.
Even though he sadly passed away in 2015, Hugh's generous philanthropic giving has carried on. In January 2018, the Children's Health Research Fund made a £800,000 bequest to the University of Liverpool to fund children's health research projects at the University of Liverpool and Alder Hey Children's NHS Foundation Trust.
Through Hugh's legacy, our hope is to improve the health and life outcomes for children locally, nationally and internationally for years to come.
A gift to the future
Legacy gifts are a vital source of donations to the University, regardless of size, they are valued and celebrated. If you have left a gift in your Will to the University or the time is right for you to consider doing so, thank you so much for remembering us! Please get in touch and share your story with us or, if you would like further information on legacy giving, please contact Carolyn Jones, Legacy Officer, on 0151 795 1067 or email her via: carolyn.jones@liverpool.ac.uk.