Local music enthusiasts announced as first Campaign Ambassadors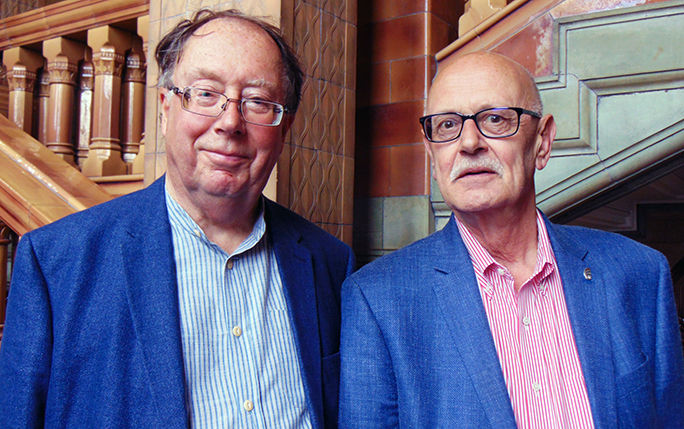 University of Liverpool alumnus and former head of University Press, Robin Bloxsidge (BA Hons Geography 1969), and his partner, retired barrister Nick Riddle, have been announced as the first Ambassadors for the £3 million Arts and Humanities Centre fundraising campaign.
Robin and Nick are passionate about supporting music and the arts in Liverpool. They are members of the Royal Liverpool Philharmonic Society and regular attendees at the University's Lunchtime Concerts. We caught up with them after a special MA student showcase concert in the Victoria Gallery & Museum to find out more.
Why is music important to you?
Robin: "We've been going to the Philharmonic for half a century! When I was at University, well known music scholar, Basil Smallman, was Pro-Vice Chancellor - he was always very keen on performance."
Nick: "Music is all about emotion, something inherent to the human condition – to excite you, to relax you. Music is evidence of civilisation."
Why is a space like this needed in Liverpool?
N: "If Liverpool and the UK don't nurture music then others will, and we will miss out! I believe that if the University doesn't build this new venue in Liverpool, then nobody will."
R: "Not everyone only likes one kind of music. Different music can produce different things. Liverpool embodies this diversity, from a lot of eclectic and classical music at the lunchtime concerts through to more experimental and electronic forms in Open Circuit. It is really important to be inclusive about music."
Why do you think this project is important?
R: "Traditionally, the University of Liverpool was the place that did music in the city. And it still is the leading place in the city for music education and working with the Philharmonic. The University is doing so much for children in the area, it has been great seeing schoolchildren coming to the lunchtime concerts. But it isn't just music; young people get confidence that's transferable to other areas of life, even for non-music students. This project needs to – and will – benefit the wider community"
N: "People should give to this project because it is a worthwhile thing, and if they can support it then they should!"
R: "I'm very proud of Liverpool because I've been here a long time and it's a good thing for the city. Liverpool is music, the only English city with UNESCO city of music status. The Philharmonic is the oldest continual English professional symphony orchestra. It will be very valuable for students to learn how to run a place, not just in theory but in practice."
As our first campaign ambassadors, Robin and Nick will support fundraising efforts for the new performance space in the Arts and Humanities Centre in various ways, including raising our profile with alumni, in Liverpool, and around the world; advising us on our campaign. We are most grateful to them for their time, generosity and dedication.
To find out more about this project, or to make a donation, please visit: www.liverpool.ac.uk/symphony/introduction.