£800,000 Hugh Greenwood legacy to advance child health research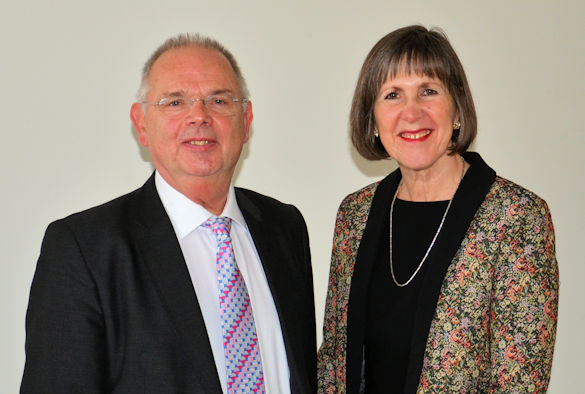 The Children's Research Fund transformed the future of paediatric health research in Liverpool by establishing a legacy worth £800,000 for a partnership between the University of Liverpool and Alder Hey Children's Hospital.
The gift from the new 'Hugh Greenwood Legacy for Children's Health Research' will have significant impact in further advancing child health research over the next five years.
The fund, which was founded by Dr Hugh Greenwood OBE and his legacy will help to continue to build upon a partnership of 50 years between the University and Alder Hey. This partnership has contributed to the construction of facilities which have brought together experts in education, research and technology as well as supporting a multitude of research projects.
To mark the donation, a special event was held at the Institute in the Park, a facility dedicated to improving the health of children around the world through research, innovation and education. Guests were welcomed and heard from Sir David Henshaw, Alder Hey Chair, University of Liverpool Vice-Chancellor, Professor Dame Janet Beer DBE, Professor Matthew Peak, Alder Hey's Director of Research and Professor Child Health Michael Beresford.
Professor Dame Janet Beer, Vice-Chancellor, University of Liverpool, said: "I would like to thank the fund and the family of the late Hugh Greenwood for this incredible, sustained contribution to the regional, national and international child health knowledge economy. This generosity brings hope to the lives of children and their families across the world. Hugh Greenwood was an inspirational man with a determined passion for improving children's health and this wonderful legacy will support continued vital work in this area.
"Liverpool's leadership in the area of child health research is outstanding, and is continuing to grow. The partnership approach taken by the University and Alder Hey has been fundamental to this success. Our joint vision with Alder Hey is, through research, teaching and innovation, to provide a world-class, child-focussed centre of expertise that is internationally competitive, to improve the health, well-being and outcomes for babies, children and young people locally, nationally and internationally."
Pioneering new treatments.
Sir David Henshaw, Chair of Alder Hey Children's Hospital said: "We are extremely grateful to the family of the late Hugh Greenwood for their long standing support and incredibly generous donation to children's research. Alder Hey is a leading Centre for paediatric research and this donation will be invaluable as we continue to develop pioneering new treatments that will improve the health of children everywhere.
"Working together with partners such as the University of Liverpool is enabling us to make a significant contribution to the future health of children and young people across the world, driving research in children's medicines, infection, childhood cancer, inflammation and international child health. Continued investment, including the development of our Institute in the Park facility, will position Alder Hey and Liverpool as a national and international leader in children's health research, innovation and education."
If you would like to consider making a legacy gift for future generations please contact Carolyn Jones, Legacy Officer, on 0151 795 1067 or email: carolyn.jones@liverpool.ac.uk.