Special guests visit Institute in the Park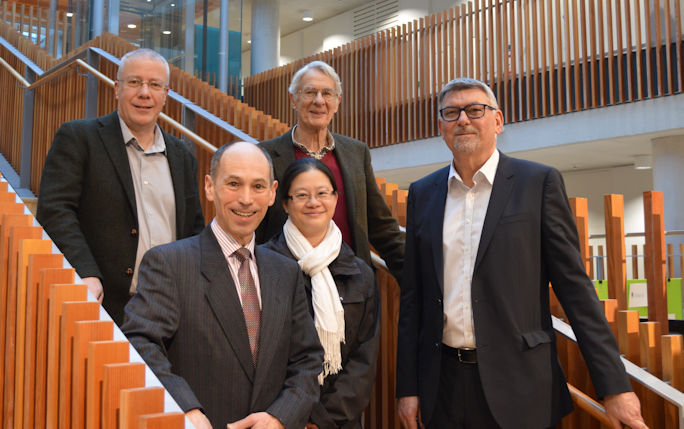 To celebrate the phase two opening of our child health research facility at Alder Hey Children's Hospital, Institute in the Park, some very special donors were welcomed for an exclusive tour.
Lin Richardson, Deputy Chief Executive of the Wolfson Foundation; Emeritus Professor David Lloyd, Trustee of the Children's Research Fund; Peter Hynd, Chairman, Promenade Estates; and Bob Hyatt, Chairman of Candis Club, enjoyed a behind the scenes look at the Institute led by Professor Kevin Southern, Deputy Head of Women's and Children's Health at the University.

The Institute will house academic researchers, healthcare professionals, students and educators to focus on improving the care and understanding of children and their health needs. Its unique co-location within one of Europe's busiest children's hospitals means that every child, and healthcare professional that cares for them, will have the opportunity to routinely participate in studies.
Lin Richardson said: "Important and impressive research is being undertaken at the Institute and we are delighted that the Wolfson Laboratories are playing a part in the University of Liverpool's ability and capacity to improve children's health outcomes."
Professor Southern added: "Our new research and education facilities are already making a huge difference to our ability to carry out essential children's health research, so I was honoured to have the opportunity to personally welcome and thank those who had made this development possible."

The new hospital and the Institute are the second of two buildings to be completed on the Alder Hey in the Park Campus in Liverpool, at a combined cost of £260 million.
To learn more about how you can support the University, find out more about our fundraising priorities.