Getting into work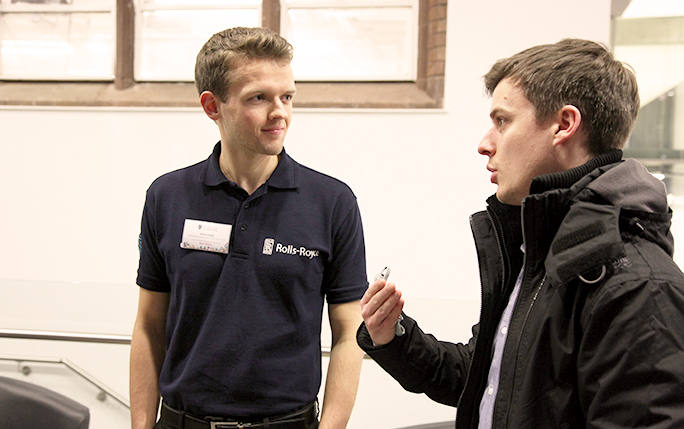 The University's School of Engineering recently played host to more than 40 alumni who returned to campus to provide careers advice to current engineering students.
The event, which was organised by a team of students led by mechanical engineer Megan Stammers, was attended by around 150 students from all disciplines across the School.
The alumni, which included graduates who now work for the likes of Airbus and Aston Martin, spent time networking with students to share knowledge and tips on how to break into the engineering jobs market successfully.
Commenting on the event, Employability Lead in the School of Engineering Dr Graham Schleyer said: "Inviting alumni to talk to our students is always an effective way of raising career aspirations. The event had a fantastic turnout thanks to the team of students and helpers, and was a great experience for all involved. It is an effective way of developing employability skills and building self-confidence."
Mechanical Engineering undergraduate and event organiser Megan Stammers, said: "After attending several careers fairs and searching for jobs, I found I was still unsure about what different engineering roles entailed and what the day to day of an engineer in industry looks like. It is surprising how diverse a mechanical engineering role can be and I was keen to find out how my skills could transfer into those roles, and what might suit me best.
"The alumni networking event idea was born from a desire to find out what makes graduates stand out from the crowd in the jobs market. We wanted students to meet our successful alumni to inspire, educate and motivate the next generation of engineers from Liverpool."
It is hoped that the networking event will become a fixed part of the School of Engineering calendar every year.
Megan, who is also a student representative at the University, added: "The fact that so many of our alumni were keen to help, travelling from right across the UK, is testament to the student experience within Liverpool's School of Engineering."
If you are interested in sharing your career insights with current students and recent graduates in Hong Kong or around the world, you can do so by joining Liverpool Connect and creating an e-networking profile. If you would like to be involved in engineering careers events like this in future, please contact Caroline Mitchell, Volunteer Engagement Manager via: caroline.mitchell@liverpool.ac.uk.