Liverpool scholar given the royal treatment by Scottish Power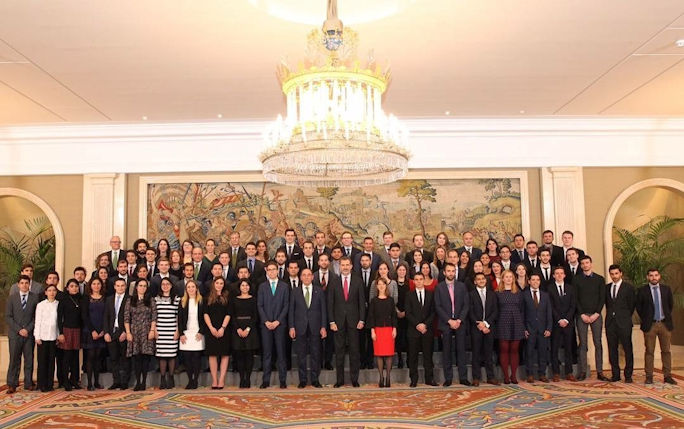 Chris Simpson was teaching robotics at a children's camp in Pennsylvania, USA when he learned his application to the Scottish Power Foundation Scholarship was successful. Receiving this scholarship was the final piece of the puzzle Chris needed to pursue a master's degree in Energy and Power Systems at Liverpool. However this scholarship provides more than financial support, it is also an invitation to meet the King of Spain, as Scottish Power is part of the Iberdrola Group, a Spanish public utility company.
A few months after beginning his intensive study in Liverpool, Chris travelled to Spain for an insider's tour of Iberdrola and to visit the Royal Palace of Madrid. Chris said about the experience: "Visiting the Iberdrola headquarters in Madrid gave me an insight into how much they want to keep moving forward, and how much they are prepared to give young engineers a chance at getting into the company. Meeting the King of Spain in his government home also shows how much bringing through a new generation of engineers is a priority for Iberdrola and Scottish Power.
"Studying Energy and Power Systems along with gaining the Scottish Power Foundation Scholarship has enabled me to continue with work I enjoy and in a field that is ever expanding with the introduction of electric vehicles and a growing population. I hope I can make a difference as European rules change and the world moves towards electric power." The University of Liverpool is proud to help Chris work toward these goals of solving these most pressing engineering issues of the day, including updating energy grids and developing renewable energy sources.
The University of Liverpool is one of only seven UK universities where Scottish Power supports the next generation of engineers via philanthropic scholarships.
To learn more about how you can support scholars like Chris, visit our scholarships page here.


---
ScottishPower is currently accepting applications for their 16 new Masters Scholarships for energy, digital and environment sectors. Applications will be accepted until 2 April 2018 at 1pm. Full information on the scholarship programme can be found here.
---