English Literature: Victorian Literature
Return to top
Course overview
Whether you simply enjoy Victorian literature or are looking to prepare for PhD research in the future, the Victorian Literature MA pathway provides rigorous and comprehensive training in nineteenth-century literature and culture.
Introduction
Taught and studied in perhaps the best-preserved of all Victorian cities, Victorian studies at the University of Liverpool has a long history of combining a strong literary focus with a commitment to innovative critical techniques and interdisciplinary study. On this MA pathway, you will look at topics as diverse as the Victorian supernatural, the way the Victorians imagined the end of the world, the reinvention of the medieval in the Victorian period (the same reinvention that is still embodied in so much of Liverpool's nineteenth-century architecture), Victorian thinking about murder and serious crime, and what literature in the Victorian period meant to readers at the time, and the wide variety of meanings it might have for us now.
With superb Victorian collections and institutions in easy visiting distance (the Walker and Lady Lever art galleries, Sudley House, Gladstone's Library, to name only a few), the Victorian MA pathway aims to provide a study of Victorian literature that is thoroughly rooted in writing and ideas, but also in the felt experience and physical reality of the Victorian period.
Please note: when applying, please choose 'MA English Literature' from the list of programmes. You should specify the specific pathway which you wish to study in your personal statement.
What you'll learn
The MA in English Literature provides students with rigorous academic training in the broad interdisciplinary field of literary history, theory and culture. The professional skills that students will develop upon completion of the programme will prepare them well for a wide range of potential employment areas.
Departmental support includes:
Dedicated to small group teaching
Diverse and international student community
Connections with local and national arts and literature institutions
Access to the largest Science Fiction archive in Europe
Vibrant and active research environment linked to the Centre for New and International Writing and the Literature and Science Hub Life, as well as other department-based research centres
Interdisciplinary teaching and research environment.
Course content
Discover what you'll learn, what you'll study, and how you'll be taught and assessed.
Studying this course part-time
International students may be able to study this course on a part-time basis but this is dependent on visa regulations. Please visit the Government website for more information about student visas.
If you're able to study part-time, you'll study the same modules as the full-time master's degree over a longer period, usually 24 months. You can make studying work for you by arranging your personal schedule around lectures and seminars which take place during the day. After you complete all the taught modules, you will complete your final dissertation or project and will celebrate your achievements at graduation the following term.
Studying part-time means you can study alongside work or any other life commitments. You will study the same modules as the full-time master's degree over a longer period, usually 24 months. You can make studying work for you by arranging your personal schedule around lectures and seminars which take place during the day. After you complete all the taught modules, you will complete your final dissertation or project and will celebrate your achievements at graduation the following term.
Semester one
Students opting for the Victorian Literature pathway are required to take at least 60 credits from the specialist modules listed below (including compulsory modules Yore Victorians and Reading the Victorians) in addition to the core modules (Research Skills and Practice, Dissertation Preparation Project, Dissertation). The remaining 30 elective credits can be taken in any other pathway run by the Department of English.
Please note: programme and module details are illustrative and subject to change.
Compulsory modules
Reading Victorians (ENGL762)

Credits: 15 / Semester: semester 2

Reading was woven into the fabric of the Victorian world. Thanks to urban living, cheaper printing, and vastly increased rates of literacy, Victorian society was one of the first societies where you might not have known your neighbours very well, but in which you were surrounded by vast swathes of paper and print – a forest of words. This module not only aims to investigate how the Victorians thought about reading – what they read, how they read it, and how reading itself was thought about and portrayed in literature; but also how we read the Victorians today – who reads them, how and where they are read, how that reading is perceived and constructed, and what insights and benefits our reading of the Victorians in the contemporary moment might gift to us.
Research Skills and Practice (ENGL700)

Credits: 15 / Semester: semester 1

Research Skills and Practice introduces students to the practices, contexts and real-world applications of academic research. Through regular seminars and a variety of assessment methods, it provides students with the opportunity to develop skills in advanced literary study, independent research and para-academic activities. The knowledge and skills practised through this module provide a foundation for the world after Master's study.
Optional modules
Victorian Murder and Other Crimes (ENGL763)

Credits: 15 / Semester: semester 2

This module examines the literary representation of murder and other serious crimes in the Victorian period. Students will examine the interrelation of different genres in the period (such as court and newspaper reports, essays and the novel). The module considers these topics in relation to wider cultural and intellectual developments such as evolving ideas about psychology and forensic evidence, and in particular how such matters may be reproduced in literature so as to allow the reader a window into the world of crime. Students will be encouraged to consider the significance of genre when thinking about Victorian representations of murder and to engage with a wider range of primary sources. They will develop appropriate research methods and understanding of theoretical perspectives, and combine these with detailed textual analysis in the development their critical reading and writing skills.
Programme details and modules listed are illustrative only and subject to change.
Semester two
Compulsory modules
Dissertation Preparation Project (ENGL701)

Credits: 15 / Semester: semester 2

In ENGL701 Dissertation Project, students lay the groundwork for the dissertation they will complete in the following term. This module does not require students to write or produce a finished dissertation. Rather, it requires them to conceive, carefully and self-reflectively, an original topic for their dissertation before going on to develop a plan and outline of the piece informed by secondary research. They will then deliver an oral presentation on their plans to their peers and to staff, including their supervisor (who will be assigned in the course of the module), reflect on the feedback they receive and, finally, create an audio-visual recording, such as a narrated slideshow, based on their presentation. Not only does this module provide structure and guidance in the crucial early stages of developing an extended work of literary analysis, it also offers an opportunity to practise vital skills, such as public speaking, responding to feedback and developing digital resources.
Yore Victorians (ENGL760)

Credits: 15 / Semester: semester 1

Victorian literature and culture revived, reconstructed, and reimagined the Middle Ages. The nineteenth century's fascination with days of yore saw a new word – "medieval" – invented to reflect the upsurge of interest in, and romanticisation of, the Middle Ages in art, architecture, literature, philosophy, politics, and religion. This module interrogates the ways in which the Victorians made the medieval through their literature and material culture. Students will encounter a variety of texts and objects of the Victorian revivals (medieval, Gothic and classical), through archives, art collections, digital resources, and architecture unique to the city of Liverpool. Attention will be given to the profound implications of the Victorian medieval revival on shaping ideas of England and Englishness locally and globally, past and present, showing students how they are still Victorians today.
Optional modules
Victorian Apocalypse (ENGL764)

Credits: 15 / Semester: semester 2

How we imagine the end of the world tells us not only what we fear, but what we value – the study of apocalypse is not simply a study of endings, it is a study of revelation. The Victorians had every reason to be pre-occupied with the apocalypse: theirs was a culture facing the advent of new technologies, a changed experience of time, shifts in religious belief, and profound ecological concerns. On this module, we will study a range of Victorian apocalyptic texts across a range of forms and genres (both historical and literary), and we will consider the contexts and controversies from which they emerge. Lively discussions about what the end of the world meant to the Victorians, and what it still means to us, are at the heart of this module.
Victorian Gothic (ENGL761)

Credits: 15 / Semester: semester 1

On this module, we will explore the strange, the uncanny and the supernatural in Victorian literature. We will examine the range and variety of Victorian Gothic writing: its hauntings, supernatural terrors and sensational stories. We will consider the literary, cultural and technological contexts of Victorian Gothic, including its relationship to realist literature, to shifting beliefs about religion, nature and the human, and to new and emerging technologies. We will also explore current critical debates in Gothic studies and introduce key theoretical approaches to the genre. Expect lots of discussion of the fears and thrills that kept Victorian readers awake at night.
Programme details and modules listed are illustrative only and subject to change.
Final project
Compulsory modules
Dissertation (ENGL702)

Credits: 60 / Semester: summer

The final dissertation, comprising a 14,000-15,000-word thesis on a subject devised by the student and agreed with their supervisor, is written over the summer. Some students take this opportunity to explore in more depth a theme, idea, or author studied in one of the taught strands; others strike out in a wholly new direction. This module is a culmination of previous modules studied on the MA, in which students, under the supervision of a tutor, bring to bear the skills, knowledge and confidence they have developed over the course of the Master's programme.
Programme details and modules listed are illustrative only and subject to change.
How you'll learn
Teaching on the MA in English Literature is delivered through a combination of seminars and tutorials held on campus. Depending on which module options are taken, there may be lectures and separate seminar sessions scheduled, but all classes will take place on campus in person. Class sizes for Masters programmes in the Department of English tend to be small, and a typical class in English will include between 8-10 students.
How you're assessed
Students on the English MA will for the most part be assessed by a combination of formative and summative coursework. This will take a number of different forms, including essays, essay plans, research proposals, and a dissertation. In addition, students will be assessed by presentations in certain modules. Other assessment formats may apply also depending on the options modules taken.
Liverpool Hallmarks
We have a distinctive approach to education, the Liverpool Curriculum Framework, which focuses on research-connected teaching, active learning, and authentic assessment to ensure our students graduate as digitally fluent and confident global citizens.
Your experience
Watch now
Video
English Literature MA
Dr David Hering, Programme Lead for the English Literature MA gives an overview of the course.
Supporting your learning
From arrival to alumni, we're with you all the way:
An exciting place to study English
We are internationally renowned for advancing the study of language, literature, and creative writing and have a strong research ethos
Our programmes offer opportunities to study creative writing and literature from a wide range of periods, as well as a range of approaches to understanding the way in which the English language works
We have a reputation for radical thinking, as exemplified by our success rate in the BBC and Arts and Humanities Council's 'New Generation Thinkers' scheme. In total, five members our academic staff have been selected since the scheme was established in 2010
We are committed to small group teaching. This encourages a more rewarding learning experience, where ideas are shared and explored with peers and tutors
Ranked 10th in sector for research impact classified as outstanding (4*) (REF 2021)
We are host to Europe's largest collection of science fiction materials which includes the John Wyndham Archive and home to the annual Liverpool Literary Festival.
Chat with our students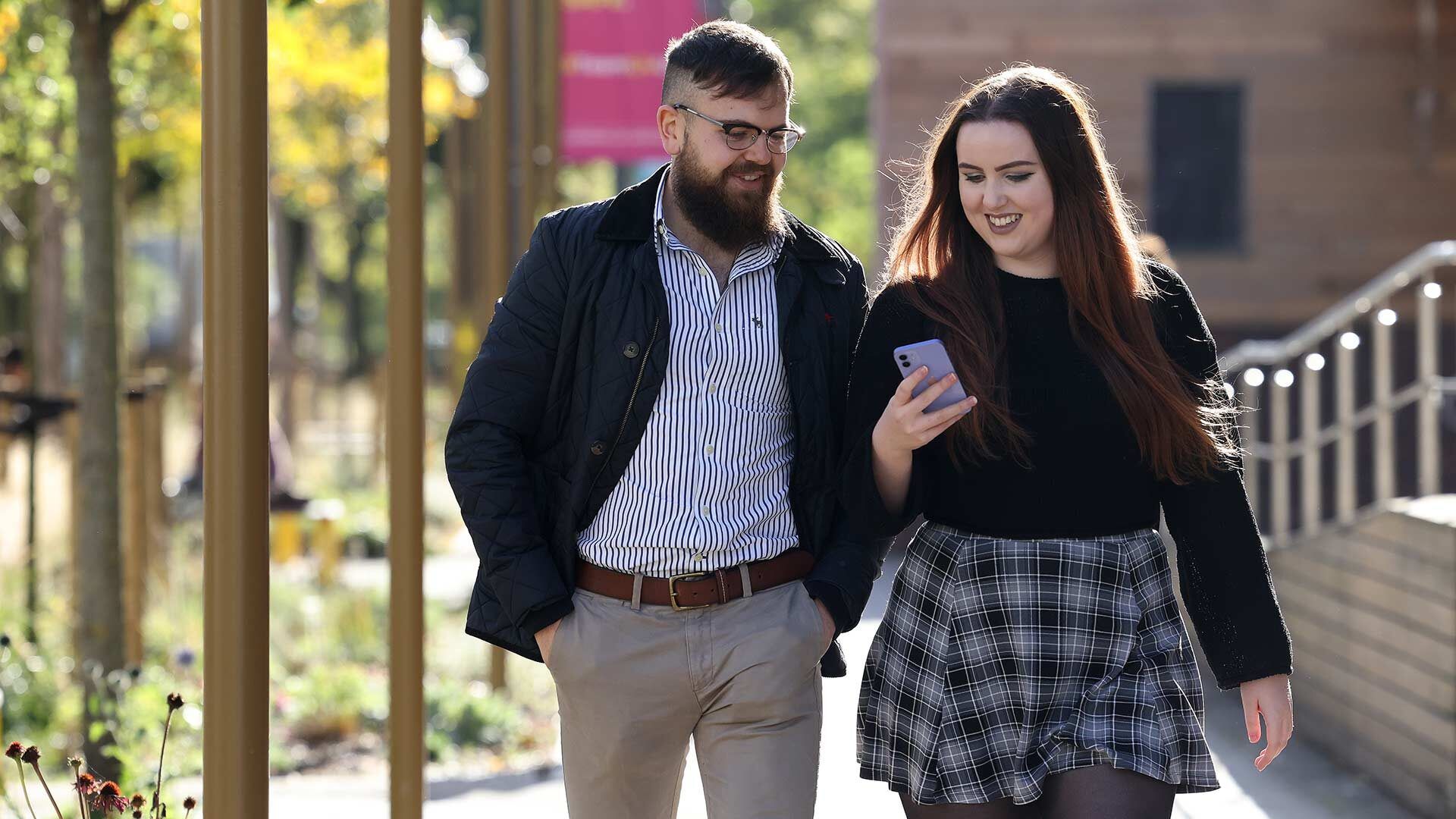 Chat with our students
Want to find out more about student life?
Chat with our student ambassadors and ask any questions you have.
Careers and employability
The MA is particularly suitable for graduates looking to pursue careers in the arts, culture, creative and heritage sectors, including journalism, copywriting, management in arts and culture organisations and teaching.
Your future
Graduates wishing to continue academic studies will find a supportive and nurturing research environment that prepares them well for doctoral-level research activities. Career pathways that follow this route include employment in higher education (teaching and/or research), or teaching at secondary and further education levels.
Fees and funding
Your tuition fees, funding your studies, and other costs to consider.
Tuition fees
UK fees

(applies to Channel Islands, Isle of Man and Republic of Ireland)

Full-time place, per year
£10,800
Part-time place, per year
£5,400
International fees
Full-time place, per year
£22,400
Part-time place, per year
£11,200
Fees stated are for the 2024-25 academic year.
Tuition fees cover the cost of your teaching and assessment, operating facilities such as libraries, IT equipment, and access to academic and personal support.
If you're a UK national, or have settled status in the UK, you may be eligible to apply for a Postgraduate Loan worth up to £12,167 to help with course fees and living costs. Learn more about paying for your studies..
Additional costs
We understand that budgeting for your time at university is important, and we want to make sure you understand any course-related costs that are not covered by your tuition fee. This could include buying a laptop, books, or stationery.
Find out more about the additional study costs that may apply to this course.
Scholarships and bursaries
We offer a range of scholarships and bursaries to provide tuition fee discounts and help with living expenses while at university.
Entry requirements
The qualifications and exam results you'll need to apply for this course.
Your qualification
Requirements
Postgraduate entry requirements

You will normally need a 2:1 honours degree, or above, or equivalent. This degree should be in English studies or a related subject.

You will be asked to submit a sample of your written work as part of the application process. This could be an essay from your undergraduate studies or a similar piece of writing. We will contact you to request this after we have received your application.

International qualifications

If you hold a bachelor's degree or equivalent, but don't meet our entry requirements, a Pre-Master's can help you gain a place. This specialist preparation course for postgraduate study is offered on campus at the University of Liverpool International College, in partnership with Kaplan International Pathways. Although there's no direct Pre-Master's route to this MA, completing a Pre-Master's pathway can guarantee you a place on many other postgraduate courses at The University of Liverpool.
English language requirements
You'll need to demonstrate competence in the use of English language. International applicants who do not meet the minimum required standard of English language can complete one of our Pre-Sessional English courses to achieve the required level.
English language qualification
Requirements
IELTS
C
View our IELTS academic requirements key.
International Baccalaureate

Higher Level (Grade 5)

TOEFL iBT
88 or above with minimum scores in components as follows: Listening and Writing 19, Reading 19, Speaking 20.
TOEFL Paper
600
INDIA Standard XII
National Curriculum (CBSE/ISC) - 75% and above in English. Accepted State Boards - 80% and above in English.
WAEC
C4-6
Hong Kong use of English AS level
B
More about life in Liverpool
Discover more about the city and University.
Why study at Liverpool?
Liverpool bursts with diversity and creativity which makes it ideal for you to undertake your postgraduate studies and access various opportunities for you and your family.
Accommodation
To fully immerse yourself in the university experience living in halls will keep you close to campus where you can always meet new people. Find your home away from home.
Fees and Finance
Discover what expenses are covered by the cost of your tuition fees and other finance-related information you may need regarding your studies at Liverpool.
Contact us
Have a question about this course or studying with us? Our dedicated enquiries team can help.