Return to top
Course overview
Develop the key skills and knowledge required to assess, care for and manage critically ill adults. Adopting an evidence-based approach, underpinned by simulated activities and work-based learning, you'll discover how to deliver effective critical care and therapeutic interventions and demonstrate the core competencies applicable to health professionals working in critical care units.
Introduction
Advances in critical care medicine have resulted in seriously ill patients becoming increasingly complex to care for. This has resulted in the need for critical care staff to have a variety of specialised skills, in-depth knowledge and competencies.
This Postgraduate Certificate, informed by the UK standards and recommendations introduced by the Critical Care National Network Nurse Leads, will equip you with the expertise needed to care for critically ill patients independently.
If you're already working in a critical care setting in the UK, we'll guide you through every aspect of the assessment, care and management of critically ill patients. This will include developing your skills in advanced clinical reasoning, critical decision making, problem-solving and communication.
The course includes extensive simulation activities and work-based learning to give you practical experience in assessing, planning, implementing and evaluating therapeutic interventions.
There is a flexible approach to programme delivery, with weekly lectures delivered on-campus and online, so you can choose to attend in-person or remotely as preferred.
The course is based in the School of Health Sciences. You'll be learning from a multi-professional team of staff who have strong research profiles and are passionate about the improvement of healthcare and service delivery.
Who is this course for?
The programme is suitable for health care professionals who are currently working in, or have responsibility for a patient case load in, a critical care unit in the UK.
What you'll learn
Enhanced skills and knowledge in the assessment and care of critically ill adults
How to conduct a competent assessment of an acutely or critically ill patient
How to manage a critically ill patient and ensure care is tailored to their specific needs
How to apply knowledge of anatomy, physiology and pathopsychology to caring for seriously ill patients
The Airway, Breathing, Circulation, Disability, Exposure (ABCDE) approach to the assessment and treatment of critically ill patients
How to assess, plan, implement and evaluate therapeutic interventions
Decision-making, clinical judgement and problem-solving skills
Leadership, management and teamwork skills
How to adopt an evidence-based approach to critical care
Legal and ethical aspects of critical care
Course content
Discover what you'll learn, what you'll study, and how you'll be taught and assessed.
Semester one
Compulsory modules
APPLIED PHYSIOLOGY OF THE CRITICALLY ILL PATIENT (HEAL702)

Credits: 30 / Semester: semester 1

The module enables the student to enhance their knowledge and skills in the assessment, care and management of critically ill adults. The learning and assessment focuses upon revising and reinforcing knowledge of relevant physiology and pathophysiology in critical illness in order to develop the student's confidence in conducting a competent assessment and deliver care and management of an acutely/critically ill patient safely and effectively.

The teaching consists of lectures and seminars to enable discussion, coupled with simulation to enable practise of scenarios which demands an Airway, Breathing, Circulation, Disability, Exposure (ABCDE) approach to assess and treat the critically ill patient. This approach is intended to shape appropriate, effective decision-making, clinical judgment and problem-solving skills to assess, plan, implement, and evaluate therapeutic interventions in collaboration with the multidisciplinary team. Lectures and seminars are delivered face to face; however, each session is also captured on a virtual platform and each session recorded to enable a student to attend remotely and to watch over the recorded session outside of scheduled session.

The module is assessed via an objective structured clinical skills examination, to assess clinical skills and decision making, and a short answer unseen exam which assesses the practitioner's theoretical knowledge which underpins their clinical approach to care delivery. The students is also required to undertake a range of critical care competencies whilst working in practice which are assessed by a suitably qualified supervisor.
Programme details and modules listed are illustrative only and subject to change.
Semester two
Compulsory modules
MANAGEMENT OF THE CRITICALLY ILL PATIENT (HEAL703)

Credits: 30 / Semester: semester 2

A holistic critical care practitioner must be able to demonstrate leadership, management and team skills to ensure care delivery patient centred. Working as part of a multidisciplinary team is a fundamental aspect of critical care delivery. This module will focus upon leadership and management of a critically ill patient and the role of the multidisciplinary team in ensuring care is tailored to meet each patient's specific needs. There will be a focus on analytical skills utilising a specified range of competencies related to critical care practice which serves to facilitate safe, effective quality care to critically ill patients. The module will pay particular attention to enhancing the student's underpinning theoretical knowledge to develop confidence when contributing to complex decision making utilising a critical approach which is evidence based and well reasoned.

Teaching delivery will be provided using a blended approach.
Lectures will cover the holistic approach to critical care, incorporating leadership, human factors and patient safety-aspects which are integral to effective critical care delivery. Seminars and group work will follow which relate directly to the lecture topic and enable discussion and problem based learning to enhance understanding and confidence in critical discussion. These sessions will be held on campus but will also be offered simultaneously via the virtual platform Zoom to enable the student to attend remotely or face to face. Each session will be recorded as well to be available to students outside of the scheduled time of delivery.

Assessment for the module includes a 3000 word literature review and a presentation focusing on a quality improvement project that the student has conducted in critical care as part of the module. The value of leadership, human factors and risk management all focus upon improving the quality and safety of critical care provision. The quality improvement project will enable students to identify an area of care which they feel may benefit from a fresh approach, research it, and, following on from this, devise a project. The presentation will provide the opportunity for the student to showcase this and for their project to be further explored and rationalised during the question and answer session.
The student will also be required to undertake a range of critical care competencies whilst working in practice which will be assessed by a suitably qualified supervisor.​

Support for the student is offered by the module leader and their academic advisor when in University and by their nominated supervisor when in practice.
Programme details and modules listed are illustrative only and subject to change.
How you'll learn
Research-connected teaching and active learning are fundamental to this programme. Each module has around 90 contact hours for the theory and simulation and a further 50 for clinical supervision to assist with the completion of the competencies.
You'll be taught through a combination of weekly interactive lectures, seminars, one-to-one tutorials and group work. These will be complemented by simulated activities and work-based learning to develop your clinical assessment and diagnostic skills and give you practical experience of managing critically ill patients.
Each weekly session is conducted both in-person and over Zoom to enable you to participate on campus or remotely. Each session is also recorded to enable revision and catch-up.
How you're assessed
Authentic assessments, designed to mirror real-life tasks that you will be required to undertake in day-to-day practice, are a key feature of the course.
A practical clinical skills exam, an unseen short answer exam, an extended literature review and oral presentation are all included in the current assessment methods.
This variety of assessments will enable you to undertake projects and present your findings to your peers. You'll demonstrate your critical thinking skills when assessing clinical situations, implement a robust and well-reasoned plan of action, and evaluate the effectiveness of tasks undertaken.
Liverpool Hallmarks
We have a distinctive approach to education, the Liverpool Curriculum Framework, which focuses on research-connected teaching, active learning, and authentic assessment to ensure our students graduate as digitally fluent and confident global citizens.
Your experience
The School of Health Sciences draws on over 100 years of teaching delivered by dedicated staff with real-world, practical experience. We are a hub for an extensive network of professionals, academics and researchers, so you can be confident that a degree from us will prepare you for a lifelong career in healthcare services.
Virtual tour
Supporting your learning
From arrival to alumni, we're with you all the way:
An exciting place to study
Major centre for education and research in health sciences
State-of-the-art facilities
Opportunities for in-depth study and development of advanced clinical skills
Flexible programmes for postgraduate study
Active research environment
Provides specialist training with taught and clinical placement components.
Chat with our students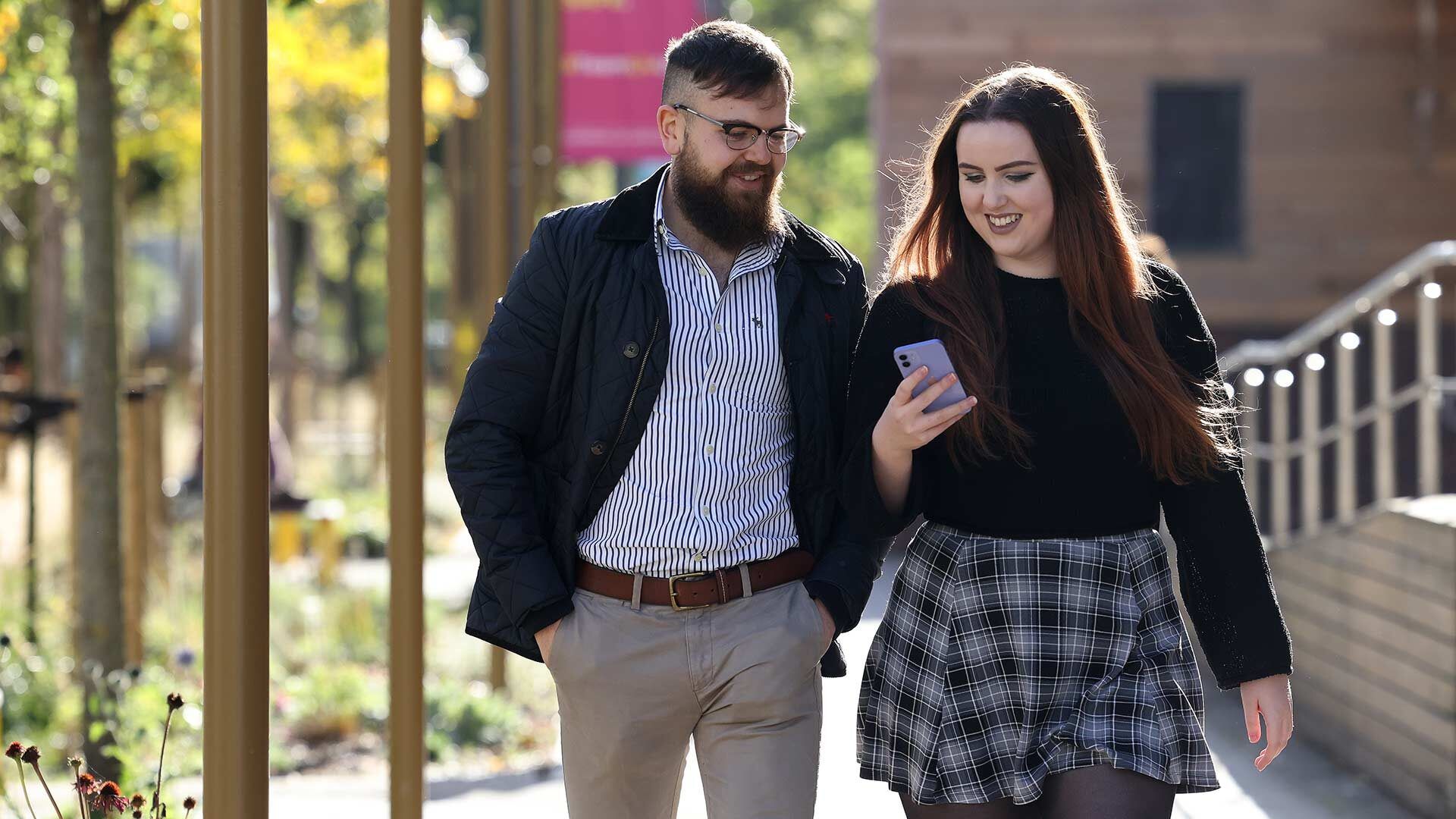 Chat with our students
Want to find out more about student life?
Chat with our student ambassadors and ask any questions you have.
Careers and employability
The course will develop your critical care knowledge, skills and competencies and enhance your employability with a focus on leadership, management and teamwork.
You'll graduate able to plan and contribute to rehabilitation alongside a wider multidisciplinary team, utilising the latest evidence-based research to inform your practice.
The course is informed by the standards and recommendations for post-registration critical care nurse education introduced by the Critical Care National Network Nurse Leads. This includes a specific suite of core competencies applicable to critical care units.
Your future
Your enhanced skills and knowledge will open career progression opportunities in research, education, professional leadership and practice development across a range of critical care areas.
Alternatively, you may wish to progress onto our MSc Nursing.
Fees and funding
Your tuition fees, funding your studies, and other costs to consider.
Tuition fees
Tuition fees cover the cost of your teaching and assessment, operating facilities such as libraries, IT equipment, and access to academic and personal support.
If you're a UK national, or have settled status in the UK, you may be eligible to apply for a Postgraduate Loan worth up to £12,167 to help with course fees and living costs. Learn more about paying for your studies..
Additional costs
We understand that budgeting for your time at university is important, and we want to make sure you understand any course-related costs that are not covered by your tuition fee. This could include buying a laptop, books, or stationery.
Find out more about the additional study costs that may apply to this course.
Scholarships and bursaries
We offer a range of scholarships and bursaries to provide tuition fee discounts and help with living expenses while at university.
Entry requirements
The qualifications and exam results you'll need to apply for this course.
| Your qualification | Requirements |
| --- | --- |
| International qualifications | If you hold a bachelor's degree or equivalent, but don't meet our entry requirements, a Pre-Master's can help you gain a place. This specialist preparation course for postgraduate study is offered on campus at the University of Liverpool International College, in partnership with Kaplan International Pathways. Although there's no direct Pre-Master's route to this PGCert, completing a Pre-Master's pathway can guarantee you a place on many other postgraduate courses at The University of Liverpool. |
English language requirements
You'll need to demonstrate competence in the use of English language. International applicants who do not meet the minimum required standard of English language can complete one of our Pre-Sessional English courses to achieve the required level.
| English language qualification | Requirements |
| --- | --- |
| INDIA Standard XII | National Curriculum (CBSE/ISC) - 75% and above in English. Accepted State Boards - 80% and above in English. |
More about life in Liverpool
Discover more about the city and University.
Why study at Liverpool?
Liverpool bursts with diversity and creativity which makes it ideal for you to undertake your postgraduate studies and access various opportunities for you and your family.
Accommodation
To fully immerse yourself in the university experience living in halls will keep you close to campus where you can always meet new people. Find your home away from home.
Fees and Finance
Discover what expenses are covered by the cost of your tuition fees and other finance-related information you may need regarding your studies at Liverpool.
Contact us
Have a question about this course or studying with us? Our dedicated enquiries team can help.