Return to top
Course overview
The Accounting and Finance MSc aims to provide you with knowledge and understanding of current issues in accounting and finance through the application of research-led learning and teaching techniques.
Introduction
The programme structure combines a theoretical and conceptual understanding of current issues and links this to practice in the current financial market environment.
The MSc Accounting and Finance combines issues in theory, practice and research, and provides opportunities to develop both analytical and technical skills. These skills are sought after by top academic institutions in the PhD programmes and also required by top employers worldwide.
Through this programme, you will be able to:
Think creatively and develop an understanding of risk and uncertainties in organisations
Explore the role of accounting and finance in organisational success
Produce research-based reports in contemporary organisations
Develop skills that are sought after by top academic institutions in their PhD programmes as well as employers worldwide.
The Management School has a range of additional funding opportunities for outstanding master's students, including the 50% ULMS Excellence Scholarship. Eligibility and more information can be found on the School's scholarship pages.
Accreditation
The University of Liverpool Management School is one of an elite group of institutions worldwide to hold the gold standard 'triple-crown' accreditation from AACSB, AMBA and EQUIS.
Course content
Discover what you'll learn, what you'll study, and how you'll be taught and assessed.
Semester one
This 12-month programme consists of five taught compulsory and two taught optional modules, each focusing on a major area of Accounting and Finance. These are followed by a 60 credit project carried out over the summer period.
Compulsory modules
Advanced Financial Accounting & Reporting (ACFI821)

Credits: 15 / Semester: semester 1

This module aims to provide students with an in-depth understanding of the conceptual principles and key techniques of financial reporting practices. The module evaluates the key elements of financial reporting systems set out in International Financial Reporting Standards with particular reference to the preparation and interpretation of financial statements. It identifies the key stakeholders of businesses and develops a framework for understanding their main interests and accounting information needs, related to business operations. It thus enhances students' practical financial accounting skills, explores the role of financial accounting in assessing financial performance, and explains the main principles and purpose of the subjects in contemporary organisations.
Corporate Finance and Valuation (ACFI906)

Credits: 15 / Semester: semester 1

The module is intended to develop students' knowledge and understanding in theoretical and empirical aspects of a number of areas in corporate finance including capital budgeting, capital structure, dividend policy, raising long-term capital, corporate governance and international corporate finance.
Quantitative Techniques for Accounting and Finance (ACFI815)

Credits: 15 / Semester: semester 1

The aim of this module is to provide students with the foundation necessary to successfully understand and apply the quantitative techniques commonly used in the accounting and finance industry. The module starts with an overview of basic mathematical functions and operations. It then goes on to discuss the ordinary least squares estimation technique. In particular, students will learn how to develop a well-specified econometric model, test interesting hypotheses, interpret the results and formulate recommendations. The module draws on different areas of accounting and finance to illustrate the use of the quantitative techniques, thus offering students exposure to various fields. Students will also improve their computing skills by using a statistical software to carry out the empirical analysis.
Optional modules
Financial Markets, Financial Regulations and Ethics (ACFI824)

Credits: 15 / Semester: semester 1

The Financial Markets, Financial Regulation and Ethics module is core to the programme and addresses key issues associated with how the financial markets are regulated and supervised, along with the nature and importance of an ethical framework. Key topics include:

Basic concepts about financial markets;
Financial instruments traded in markets;
The role and nature of financial regulation;
Regulation through the lens of the global financial crisis;
Internationally enacted financial regulations;
CFA Institute Ethics and Professional Standards of Practice;
Ethical Practices.

This module develops a conceptual understanding of the regulation of financial markets and of ethical issues and behaviours.​
Advanced Management Accounting (ACFI816)

Credits: 15 / Semester: semester 1

This module aims to provide students with an in-depth understanding of the conceptual principles and key techniques of management accounting practice. The module explores the roles of management accounting information in planning, coordination, decision making, control, performance measurement, and business strategy. The module enhances students' practical management accounting skills, explores the role of management accounting in assessing financial performance, and explains the main principles and purpose of the subject in contemporary organisations.
Programme details and modules listed are illustrative only and subject to change.
Semester two
This 12-month programme consists of five taught compulsory and two taught optional modules, each focusing on a major area of Accounting and Finance. These are followed by a 60 credit project carried out over the summer period.
Compulsory modules
Security Analysis, Valuation and Investment (ACFI825)

Credits: 15 / Semester: semester 2

This module aims to enrich students' understanding and enhance their practical skills by building the core competency of investment analysis inspiring careers in finance. Students will be given a general introduction to the different asset classes and financial instruments; study the most popular techniques in financial analysis and valuation models rooted from research-led teaching contents; learn and practice investment strategies inspired by theoretical insights and empirical rigors.
Financial Statement Analysis and Valuation (ACFI810)

Credits: 15 / Semester: semester 2

Financial Statement Analysis and Valuation comprehensively reviews accounting reporting requirements under IFRS to support understanding of corporate performance and position. Students are introduced to all of the main accounting standards with a strong focus on the development application skills to underpin accurate interpretation of corporate financial statements. The methods and flaws of corporate valuation are demonstrated as a key element of the module.
Optional modules
Contemporary Issues in Accounting and Finance Research (ACFI823)

Credits: 15 / Semester: semester 2

This module aims to provide students with in-depth conceptual understandings of current research topics in accounting, finance and related areas. The module addresses latest developments in the key areas of relevant research with a specific reference to the roles of current research contributions in policy making and organisational development. It will equip students with the skills to develop a conceptual framework for understanding and evaluating; the identification of an appropriate topic for research, conducting a structured literature review, identifying research gaps, critically evaluating and compiling different research methods, and pinpointing the research implications and contributions. The overall content of this module will therefore help in enhancing students' practical research skills, and explore the roles and implications of current research findings in assessing contemporary organisations.
Audit and Assurance (ACFI817)

Credits: 15 / Semester: semester 2

Auditing plays a crucial role in the smooth functioning of the financial markets. Most accounting and finance graduates will work in areas closely related with auditing. The module aims to give students a relatively in-depth understanding of the concepts, techniques and theories related to the audit of financial statements and provides students with relatively advanced knowledge of the regulatory and professional frameworks of auditing.
International Finance (ACFI814)

Credits: 15 / Semester: semester 2

The aim of this module is to provide students with an understanding of international arbitrage relationships, models of exchange rate determination, and recent issues in international finance literature. By the end of this module, students should be able to describe the basic international parity relationships, outline some of the basic models of exchange rate determination, and have a good grasp of current issues in international financial markets, and be able to critically evaluate the empirical literature on international finance. Students should also be able to analyse risks that exist in international finance including foreign exchange, foreign trade and investment risks and to select and use appropriate techniques to manage such risks.
Corporate Governance and Sustainability (ACFI818)

Credits: 15 / Semester: semester 2

This aim of this module is to present key issues in corporate governance and discuss their impact on corporate financial performance. These include most common big-scale "agency" problems, where top executives of the firm have opportunities to take actions that benefit them, while shareholders and other stakeholders bear the cost of these actions. In particular, it covers various aspects of internal governance including the role of the board of directors, reviews the importance of executive compensation, equity ownership structure and turnover as an internal control mechanism. The module also explores numerous external governance devices from non-executive to non-equity shareholders, and addresses the role that accounting, legal and regulatory interventions play in corporate governance. Academic research and real-world case studies will be used to enhance the understanding of why corporate governance matters, and how directors, managers and shareholders respond to these issues in their daily corporate affairs.

On the topic of sustainability, this module provides a structured discussion on the basics of sustainability and its role in business. The lectures include several case studies on sustainability. In follow-up seminars, students will lead a debate on a recent sustainability event. Furthermore, we will explore the opportunity to engage with practitioners including business leaders, consultants, and sustainability experts to gain real-world insight. Students are encouraged to closely follow recent developments in sustainability and get involved in sustainability initiatives on campus and in local communities. By providing a comprehensive education that incorporates sustainability principles, we are equipping our students with the knowledge and skills they need to thrive in a modern world that is increasingly focused on sustainability.

By the end of this module, students will gain: (i) the ability to look at the "big-picture" questions in the area of corporate governance, (ii) skills to critically discuss the practical solutions/mechanism to improve the effectiveness of corporate governance, and (iii) understanding of corporate sustainability and the role of business in modern society.
Programme details and modules listed are illustrative only and subject to change.
Final project
This 12-month programme consists of five taught compulsory and two taught optional modules, each focusing on a major area of Accounting and Finance. These are followed by a 60 credit project carried out over the summer period.
Compulsory modules
Dissertation (ACFI912)

Credits: 60 / Semester: summer

The dissertation module is an opportunity to apply the empirical skills gained on MSc Finance and MSc Accounting and Finance and apply it to an appropriate research question in accounting and finance in the form of a 15,000 word dissertation.
Programme details and modules listed are illustrative only and subject to change.
How you'll learn
The MSc Accounting and Finance programme develops students' understanding of issues in theory, practice and research and provides them with the necessary knowledge and skills sought after by top employers.
The programme's core modules provide a deep theoretical and conceptual understanding of contemporary issues in accounting and finance and link it to practice in the present-day market environment.
Delivery of the programme is via lectures, seminars, discussions on research papers, case studies, group work, podcasts, Bloomberg, Adobe Connect and tutorials.
As a traditional teaching method, interactive lectures provide students the opportunity to learn the subject with an in-depth input from the lecturers whereas seminars and group work provide further avenues for interactive learning from other group members. An effort has been made to include a significant amount of research papers and case study materials for demonstrating the application of principles and theories delivered within the main lecture programme. In addition, the practical element of the programme takes the form of both team-based and self-directed learning through the application of recent developments in accounting and finance.
How you're assessed
In semester one and two, you will take modules totalling 120 credits. The dissertation completed during the summer period is worth 60 credits and students will be supported by their academic supervisor.
Students are required to complete 180 credits to achieve a full MSc.
Subject to meeting specific criteria outlined by the University, students will graduate with a Pass, Merit or Distinction.
Assessment tasks are varied and some may be designed specifically to meet the learning outcomes of a particular programme of study, but students can expect to be assessed via coursework, essay, group work, presentations, case studies, negotiation exercises, reports and examinations. The weighting of individual components will vary from one module to another. All assessment information is included within the module specification.
Liverpool Hallmarks
We have a distinctive approach to education, the Liverpool Curriculum Framework, which focuses on research-connected teaching, active learning, and authentic assessment to ensure our students graduate as digitally fluent and confident global citizens.
Your experience
This programme is delivered by the triple-accredited University of Liverpool Management School.
The School has a thriving international master's community with a comprehensive, interdisciplinary programme of social and extra-curricular events and dedicated careers and employability support.
Watch now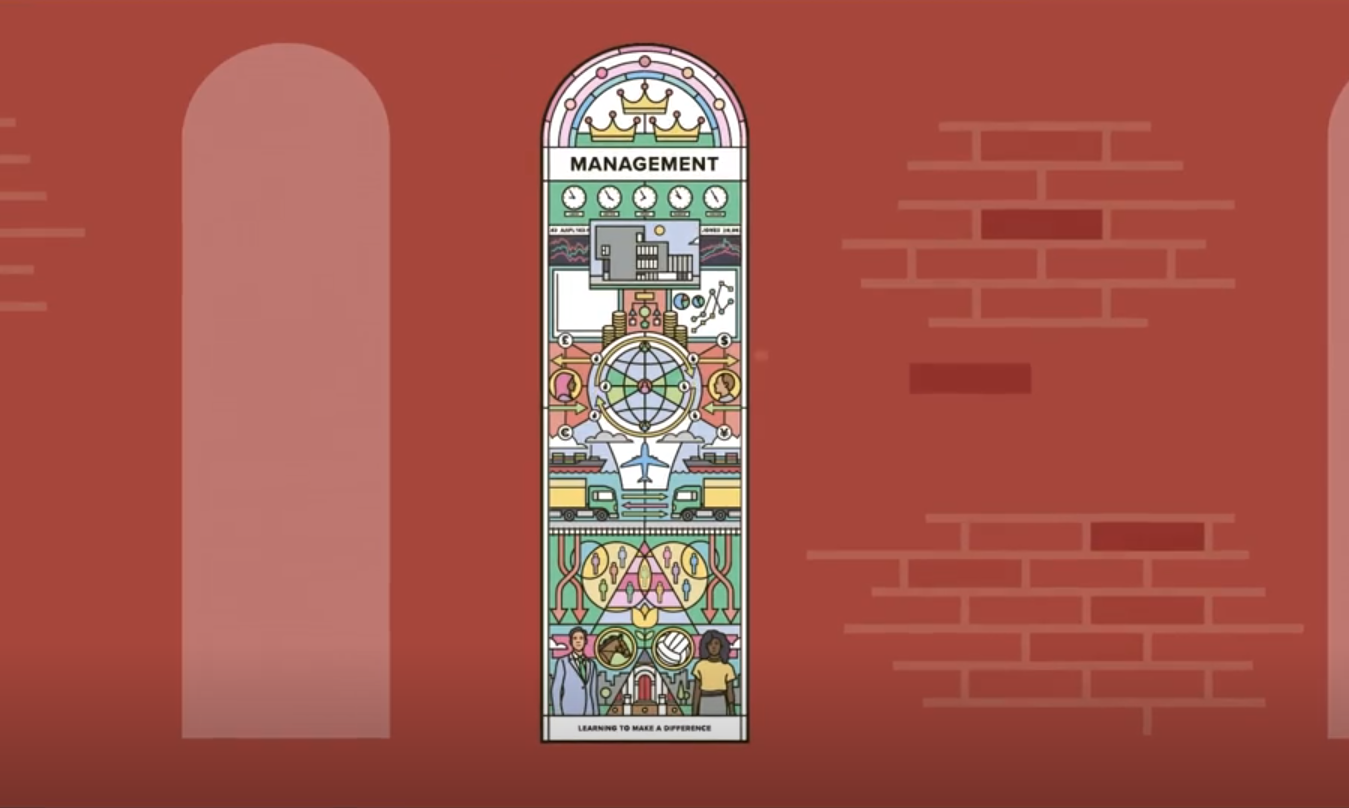 Video
Inside Management. A conversation with Nazia Ahmed and Professor Claire Mallanaphy
Virtual tour
Supporting your learning
From arrival to alumni, we're with you all the way:
What students say...
Overall, pursuing a master's degree can be a challenging but a tremendously rewarding experience. By carefully researching your options and being prepared, you can make the most of the opportunity and set yourself up for success in your future career.
Chat with our students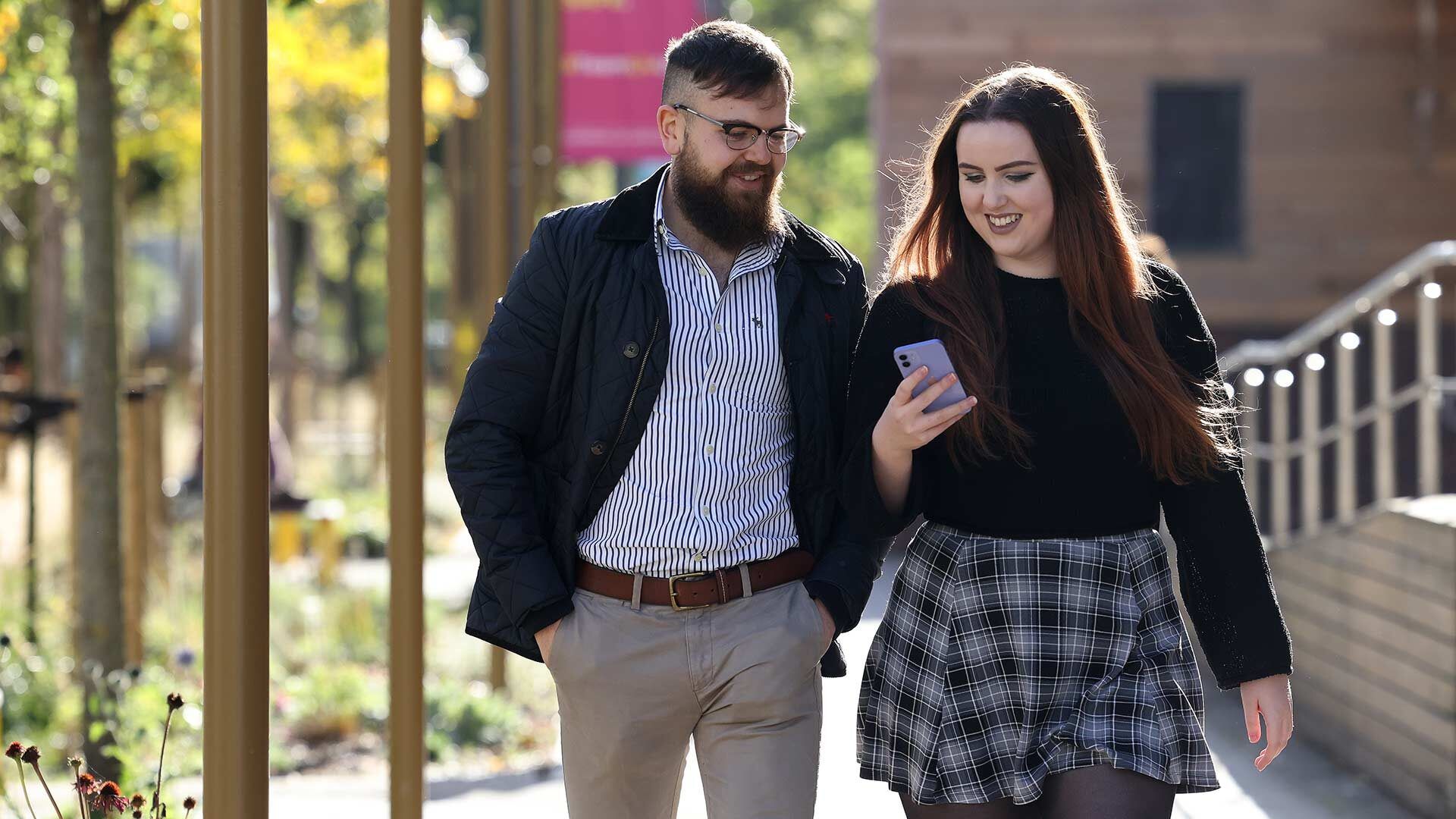 Chat with our students
Want to find out more about student life?
Chat with our student ambassadors and ask any questions you have.
Careers and employability
The Management School's master's programmes have been designed from the ground up to prepare you for success in your chosen career. We have close ties with local, national and international organisations and constantly review the content of our programmes to meet the demands of top graduate employers.
Your future
You will have access to a specialist, in-house postgraduate careers team and have access to one-to-one careers guidance, workshops, seminars, and employability initiatives.
When you graduate, you could undertake teaching and research positions in Accounting and Finance in the top Higher Educational Institutions in Europe and abroad. In addition, you are expected to be able to join large professional services and financial services firms, including audit and consultancy firms, commercial and investment banks, financial institutions, and other large companies in service, retail, information technology, and manufacturing sectors.
Typical roles include:
Accountant
Auditor
Management accountant
Public sector accountant
Business adviser
Management consultant
Purchasing manager
Forensic accountant
Data analyst
Actuarial analyst
Retail/commercial banker
Fund manager
Stockbroker.
Fees and funding
Your tuition fees, funding your studies, and other costs to consider.
Tuition fees
UK fees

(applies to Channel Islands, Isle of Man and Republic of Ireland)

Full-time place, per year
£14,500
International fees
Full-time place, per year
£30,000
Fees stated are for the 2024-25 academic year.
Tuition fees cover the cost of your teaching and assessment, operating facilities such as libraries, IT equipment, and access to academic and personal support.
If you're a UK national, or have settled status in the UK, you may be eligible to apply for a Postgraduate Loan worth up to £12,167 to help with course fees and living costs. Learn more about paying for your studies..
Additional costs
We understand that budgeting for your time at university is important, and we want to make sure you understand any course-related costs that are not covered by your tuition fee. This could include buying a laptop, books, or stationery.
Find out more about the additional study costs that may apply to this course.
Scholarships and bursaries
We offer a range of scholarships and bursaries to provide tuition fee discounts and help with living expenses while at university.
Entry requirements
The qualifications and exam results you'll need to apply for this course.
| Your qualification | Requirements |
| --- | --- |
| Postgraduate entry requirements | A first degree from an approved university or a UK 2:1 or International equivalent for students with Bachelor's degrees with at least eight modules in accounting and/or finance. Candidates with professional qualifications such as ACA, CPA, ACCA, CIMA will also be considered. |
| International qualifications | If you hold a bachelor's degree or equivalent, but don't meet our entry requirements, you could be eligible for a Pre-Master's course. This is offered on campus at the University of Liverpool International College, in partnership with Kaplan International Pathways. It's a specialist preparation course for postgraduate study, and when you pass the Pre-Master's at the required level with good attendance, you're guaranteed entry to a University of Liverpool master's degree. |
English language requirements
You'll need to demonstrate competence in the use of English language. International applicants who do not meet the minimum required standard of English language can complete one of our Pre-Sessional English courses to achieve the required level.
English language qualification
Requirements
GCSE
Grade C
IELTS
C
View our IELTS academic requirements key.
International Baccalaureate

Standard Level (Grade 5)

INDIA Standard XII
National Curriculum (CBSE/ISC) - 75% and above in English. Accepted State Boards - 80% and above in English.
WAEC
C6
Hong Kong use of English AS level
C
Cambridge Proficiency
C
More about life in Liverpool
Discover more about the city and University.
Why study at Liverpool?
Liverpool bursts with diversity and creativity which makes it ideal for you to undertake your postgraduate studies and access various opportunities for you and your family.
Accommodation
To fully immerse yourself in the university experience living in halls will keep you close to campus where you can always meet new people. Find your home away from home.
Fees and Finance
Discover what expenses are covered by the cost of your tuition fees and other finance-related information you may need regarding your studies at Liverpool.
Contact us
Have a question about this course or studying with us? Our dedicated enquiries team can help.