Course overview
You will develop a high-level understanding of the physical environment and how society interacts with it, building on what you learned during your undergraduate degree. This master's programme will help you improve your critical analysis and team working skills and your written and oral presentation skills.
Introduction
You'll have the flexibility to design your own postgraduate degree by drawing on the expertise of many experts in the School of Environmental Sciences.
With optional modules, you can choose to focus on areas like:
Understanding how the environment has changed over time and how to measure it
Studying the latest methods of monitoring things like air pollution and sea level rise
Learning about conservation biology and how to apply it
Gaining skills in Geographical Information Science with hands-on training from our Data Science Lab
Examining the connection between the environment, politics, and business.
To earn your MSc qualification you will work on a dissertation based on your research project or placement with an organisation.
What you'll learn
The reciprocal relationship between the environment and anthropogenic activities
An overview of the processes that govern the physical environment (past, present and future)
Independent thinking, critical insights, leadership, team work and a sound understanding of environmental issues (from global to local)
How to acquire knowledge of regulations and policies from local government to international level
Acquiring data through field work, laboratory work, literature searches and analysis to assess environmental conditions in the past and present.
Accreditation
If you choose Environmental Assessment of Policies, Plans, Programmes and Projects ENVS529 in your first semester and Environmental Planning and Management Project ENVS560 in your second semester, you have the chance for accreditation from the Institute of Environmental Management and Assessment (IEMA).
Course content
Discover what you'll learn, what you'll study, and how you'll be taught and assessed.
Semester one
In Semester one, you'll learn lab techniques, environmental history and field examples of sedimentary deposits. You'll also choose three optional modules where you can explore how geographical information science can be used to create digital representations of the world; how to influence policy on sustainability and the environment; or how the evolution and response of marine environments relates to climate change.
Compulsory modules
Introduction to Environment and Climate Change (ENVS425)

Credits: 15 / Semester: semester 1

One week of equivalent field days in the northwest British Isles with good access to lakes, peat-bogs, coastal systems, rivers, etc. The field days can comprise either a residential week or the equivalent of local/laboratory days. The module comprises a series of introductory days training in field skills using state-of-the-art research locations. Each comprises the field skills and follow on laboratory analysis. Following the training, in small groups the students develop a project with their own questions applied at one of the field locations reconstructing evidence for environmental changes, e.g., how sea level has changed over 10,000 years, how lakes record evidence of floods, how peat bogs record changes in climate.
Optional modules
Research in Anthropocene Environments (ENVS485)

Credits: 15 / Semester: semester 1

Research in Anthropocene Environments provides an opportunity for students to be introduced to, and focus on a wide range of potential topics at an early stage in their MSc studies, providing insight into how research spanning this broad theme is undertaken. The only condition for the topic that students select is that it addresses an aspect of an Anthropocene environment (defined here as one which is directly or indirectly human influenced). It is delivered by staff from across the School of Environmental Sciences whose research is intimately linked to the module title, also allowing students to gain a better insight into the wide range of topics that fall under this theme and what research is done in the school. Staff also talk briefly about their own paths into academia to highlight how research ideas and interests evolve. It is assessed by an abstract and a combined large poster/short oral presentation. The latter occurs during a day of presentations, which is designed to mimic an academic conference.
Coastal Environments: Spatial and Temporal Change (ENVS576)

Credits: 15 / Semester: semester 1

This module considers the evolution and response of coastal environments to marine and riverine processes and their variations in relation to past, present and future climate change. Attention is given to physical processes and inter-relationships acting along coastlines and coastal changes in response to sea level rise, variations in storms activity, wave climate and sediment supply. Consideration is also given to coastal management and climate change adaptation & mitigation measures. Topics will be investigated through a combination of lectures and field trips aimed at identifying optimum coastal protection schemes for real case studies.
Physical Properties of Environmental Archives and Modelling Approach (ENVS433)

Credits: 15 / Semester: semester 1

​This module introduces the theory and practice of a number of advanced analytical methods which are commonly applied to a wide range of sedimentary archives. It will also teach how to use laboratory techniques in combination in order to produce environmental reconstructions from core sediments usually collected during the Field Class (ENVS425). The module will focus on two aspects: 1) the physical properties of sediment archives in view of establishing records of environmental changes; 2) the modelling approaches for assessing impact of environmental changes.
Politics of the Environment (ENVS525)

Credits: 15 / Semester: semester 1

Over the last decade the environment, and perhaps more importantly the concept of sustainable development, is claimed to have become a critical dimension that underpins decision making at a variety of different spatial scales, more particularly international, European, national, regional and local arenas. In this module we explore the extent to which environmental concerns are taken into account in various decision-making processes within the public, private and third sectors. The module will be assessed by an essay (50%) and an open book exam (50%) which provides students with significant choice to explore those parts of the module they find most interesting.
ENVIRONMENTAL ASSESSMENT OF POLICIES, PLANS, PROGRAMMES AND PROJECTS (ENVS529)

Credits: 15 / Semester:

​This is an introduction to environmental assessment theory and practice.
Geographic Information Science (ENVS609)

Credits: 15 / Semester: semester 1

This module introduces how the tools of GIS can be used to create digital representations of the world, and through a framework of Geographic Information Science, reviews the potential problems and pitfalls of doing so. The module is delivered through both lectures and supplemented by practical labs that develop familiarity and skills in the application of GIS.​
Programme details and modules listed are illustrative only and subject to change.
Semester two
Semester two's compulsory module is all about research: how to generate research ideas, plan a research project and create your proposal. You'll develop important research design skills, as well as time management and independent thinking.
Through your choice of three optional modules, you could get the opportunity to dig into large climate data sets from ocean, atmosphere and paleoclimate records; how environmental issues intersect with businesses; or the connections between ecological theory and management of marine communities and ecosystems.
Compulsory modules
Project Design and Management (ENVS484)

Credits: 15 / Semester: semester 2

Through researching and generating research ideas, and designing a feasible research proposal, students will develop important research design skills, as well as time management and independent thinking skills. This module will prepare students for their dissertation module.
Optional modules
Analysing Climate Processes and Variability (ENVS475)

Credits: 15 / Semester: semester 2

This module will introduce the students to a range of large climate data sets from the whole Earth-atmosphere-ocean climate system these data sets will range from satellite data sets of ocean processes, satellite rain estimation to gridded climate data sets of the ocean and atmosphere, produced from observations, reanalysis and forecasts or projections and the introduction and use of paleorecords of climate change and variation.​
Business and the Environment (ENVS470)

Credits: 15 / Semester: semester 2

Environmental issues are of growing importance to businesses both large and small. Companies and organisations have to comply with a burgeoning body of environmental legislation and environmental considerations are becoming more prominent in relations with industrial partners and clients, suppliers, customers, banks, insurers and local communities. Whilst such pressures are forcing businesses to pay more attention to the environmental implications of their actions, some businesses which are forward looking, perceive the environmental agenda as a great business opportunity. This module is designed to explore some of these issues more fully.
Conservation Management (ENVS423)

Credits: 15 / Semester: semester 2

Biodiversity, the Earth's support system, is in decline. Conservation of remaining ecosystems and restoration of disturbed ones is essential and urgently needed. Here we cover controversial issues and current debates in conservation with topics covering approaches to protected area management (terrestrial and marine), ecosystem restoration and conservation policy. The module is run as a dynamic, interactive advanced tutorial course. The sessions are mostly run as lectures with background reading and discussion lead by a member of staff, but also include seminars, group work and student-led presentations.
Environmental Planning and Management Project (ENVS560)

Credits: 15 / Semester: semester 2

This is a client-led module, which is based upon the execution of a mini-project that is carried out in groups by students. The project allows the students to apply their knowledge of Environmental Assessment and Management (EAM) in practice and gain experience of being engaged with a real life client. This module essentially delivers authentic assessment. The project experience offered within the module helps in developing skills of analysis, interpretation and policy prescription within the context of EAM. They are well grounded in the Department's own research activities and draw upon established links with a number of local authorities and other public bodies. This module along with ENVS529 is IEMA (Institute of Environmental Management and Assessment) accredited.
Introduction to Quaternary Micropalaeontology (ENVS542)

Credits: 15 / Semester: semester 2

This module intends to give a holistic insight of a number of marine and terrestrial microfossils that are conventionally used for reconstructing past environmental conditions for the Quaternary period, including recent past. Microfossils are biological indicators that can help to either qualitatively and/or quantitatively estimate environmental conditions such as atmospheric temperature and precipitation (pollen), sea-surface conditions (foraminifera, diatoms, radiolaria, dinoflagellate cysts), salinity (ostracods, diatom), pH (diatoms), sea-ice cover (diatoms, dinoflagellate cysts), etc. These conditions are of paramount importance for modelling past climate conditions and the data derived from microfossil assemblages enable to better calibrate models, which in turn, are essential to forecast future climate. In addition, microfossil assemblages help to understand the natural evolution of our environment as well as measuring the amplitude of human activities over time.​​
Marine Ecology: Theory and Applications (ENVS383)

Credits: 15 / Semester: semester 2

This module develops the connections between ecological theory and management of marine communities and ecosystems. The theory will mainly focus on mathematical models of the dynamics of populations and communities, and will include practical work with software. The second half of the module aims to give a rounded overview of the current understanding of vulnerability of marine taxa to human activities and climate change, and enable students to evaluate consequences of loss of species on ecosystem structure and functioning, as well as on human wellbeing.
Monitoring Urban Air Pollution (ENVS666)

Credits: 15 / Semester: semester 2

Liverpool's air quality, much like many other UK's cities, is some of the worst in Europe. Whilst we might understand how it is produced, complex urban layouts and meteorological conditions make it almost impossible to understand how it mixes, disperses and stagnates in our cities; the only way in which we can monitor this is to sense our cities. This research-based module focuses on students using statistical tools to interpret data from University of Liverpool outdoor pollution sensors, Liverpool City Council outdoor sensors, and Government sensors, as well your own sensor that students construct as part of this module. The module content will be provided in the first three weeks after which students will work on research-based projects, with intensive supervision. The module's assessment gives students a taste of both the industry driven and academic world trhough a consultancy style group report and mimicking the process of presenting a paper at an acacemic conference.
Programme details and modules listed are illustrative only and subject to change.
Final project
In this semeseter, you'll focus solely on your dissertation, using the skills and knowledge you have built over the previous semesters to deliver a dissertation that demonstrates the ability to describe and interpret findings in light to the wider knowledge base and academic literature.
Compulsory modules
Dissertation - Environmental Sciences (ENVS490)

Credits: 60 / Semester: summer

This module aims to consolidate research skills developed during the course and, ultimately, to deliver a dissertation document demonstrating the ability to describe and interpret findings in light to the wider knowledge base and academic literature. The student will execute an individual research project building on the design developed in ENVS484; they will acquire the ability to synthesize different information sources to form coherent arguments and relate research findings to relevant applied issues. Students will also acquire an appreciation of time-management and independent thinking.
Programme details and modules listed are illustrative only and subject to change.
How you'll learn
You'll get to experience a diverse range of learning methods, from engaging lectures to hands-on practical classes, fieldwork, workshops, self-study, and even supervised projects.
To kick off your first semester, you'll join us for a week-long residential field class in the UK, where you'll get to put your skills into practice. Throughout both semesters, you'll also have access to laboratory and computer practicals, seminars, and workshops, tailored to your specific module choices.
Not only will you deepen your understanding of environmental issues, from a global to local perspective, but you'll also develop key skills like study skills, presentation skills, data handling, analysis skills, and group work. This combination of modules is carefully designed to foster independent thinking, critical insight, leadership, teamwork, and much more.
How you're assessed
You'll be assessed through a variety of methods, tailored to the modules you choose. This might include exams, essays, practicals, field assignments, group work, reports, oral presentations, and dissertations.
Some modules will be fully assessed through practical reports, and when possible, you'll get to demonstrate your skills in real-world situations, like writing consultancy reports, academic posters, abstracts, and presentations. Plus, for your dissertation, you'll have the option of writing an academic paper or scientific/consultancy report.
Liverpool Hallmarks
We have a distinctive approach to education, the Liverpool Curriculum Framework, which focuses on research-connected teaching, active learning, and authentic assessment to ensure our students graduate as digitally fluent and confident global citizens.
Your experience
At Liverpool's Department of Earth, Ocean and Ecological Sciences, we prioritise hands-on learning in advanced labs and through fieldwork. You'll have access to top-notch resources and receive specialized training to become a confident, employable earth scientist with transferable skills valued by employers.
Virtual tour
Supporting your learning
From arrival to alumni, we're with you all the way:
What students say...
The best elements of this master's course are the breath of the subjects covered by the various modules and the variety of teaching techniques used, which contribute in making the learning process very stimulating. Indeed, you can learn about paleoenvironmental and paleoclimate analysis, modelling, environmental assessment and management, conservation and so much more, and classes can take place in an ordinary laboratory or lecture theatre or on a raft in the middle of a lake!
Chat with our students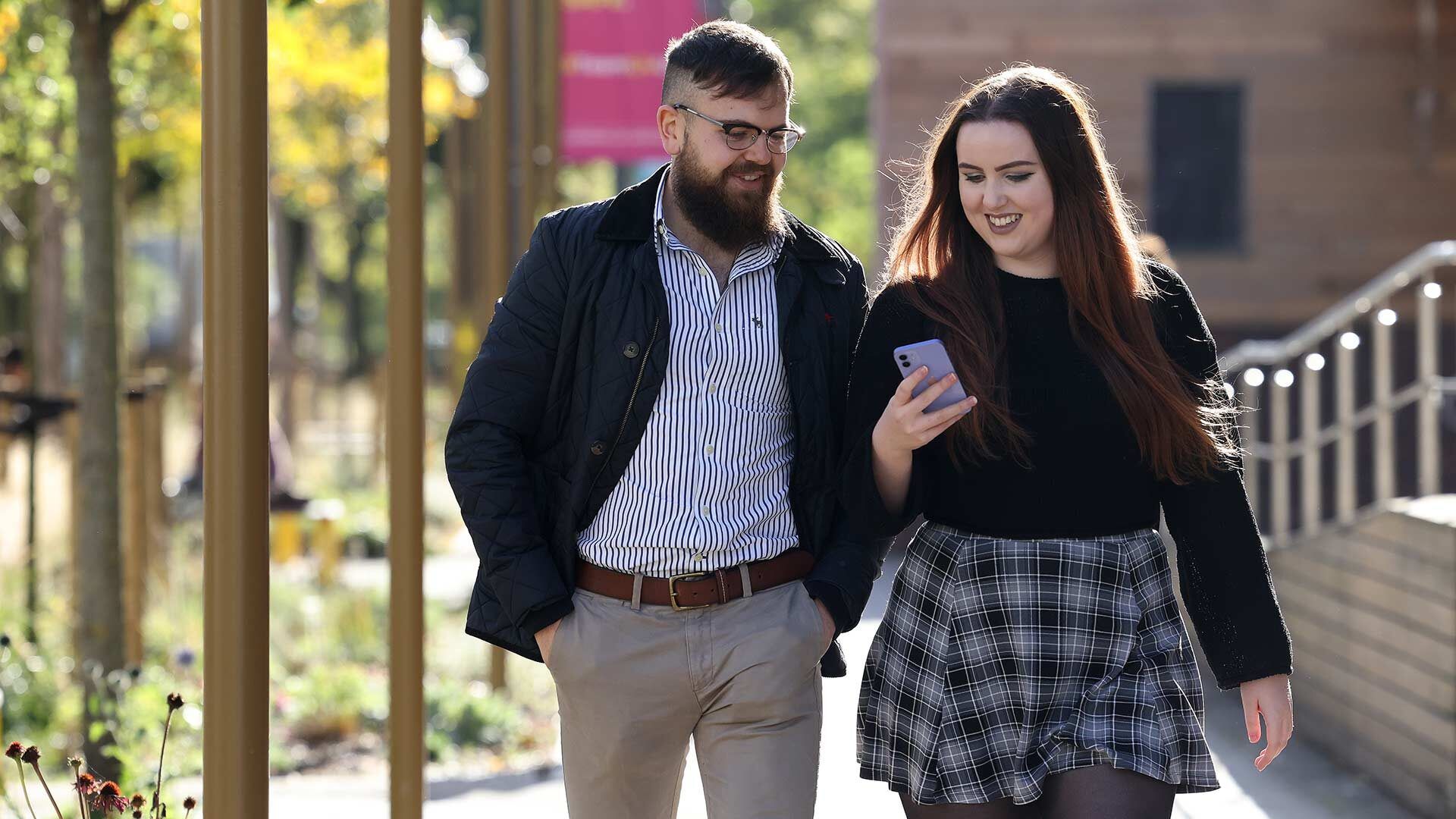 Chat with our students
Want to find out more about student life?
Chat with our student ambassadors and ask any questions you have.
Careers and employability
There are a wide range of career options for you in the field of Environmental Science.
Your future
Previous graduates of the this programmes have gone on to work in positions ranging from Environmental Scientist at CSA Group to Environmental and Sustainability Coordinator at Inghams Group Limited.
You can influence policy through further research at PhD or post-doctoral level or even get hands on with roles such as:
Policy Officer
Clean Water Scientist
Technologist Environmental Advisor
Environmental Risk Assessor
Environmental Consultant
Waste Strategy Consultant.
Fees and funding
Your tuition fees, funding your studies, and other costs to consider.
Tuition fees
UK fees

(applies to Channel Islands, Isle of Man and Republic of Ireland)

Full-time place, per year
£10,950
International fees
Full-time place, per year
£25,200
Fees stated are for the 2023-24 academic year.
Tuition fees cover the cost of your teaching and assessment, operating facilities such as libraries, IT equipment, and access to academic and personal support.
If you're a UK national, or have settled status in the UK, you may be eligible to apply for a Postgraduate Loan worth up to £12,167 to help with course fees and living costs. Learn more about tuition fees, funding and Postgraduate Loans.
Additional costs
Field trip costs which include, travel, accommodation and the majority of subsistence costs as well as all meals are covered by school through tuition fees.
Find out more about the additional study costs that may apply to this course.
Scholarships and bursaries
We offer a range of scholarships and bursaries to help cover tuition fees and help with living expenses while at university.
Entry requirements
The qualifications and exam results you'll need to apply for this course.
Your qualification
Requirements
Postgraduate entry requirements

You will normally need a 2:1 honours degree or above, or equivalent. This degree should be in a relevant subject.

Applications from those with significant relevant experience and professional qualifications will be assessed on an individual basis.

International qualifications

If you hold a bachelor's degree or equivalent, but don't meet our entry requirements, you could be eligible for a Pre-Master's course. This is offered on campus at the University of Liverpool International College, in partnership with Kaplan International Pathways. It's a specialist preparation course for postgraduate study, and when you pass the Pre-Master's at the required level with good attendance, you're guaranteed entry to a University of Liverpool master's degree.
English language requirements
You'll need to demonstrate competence in the use of English language. International applicants who do not meet the minimum required standard of English language can complete one of our Pre-Sessional English courses to achieve the required level.
English language qualification
Requirements
IELTS
C
View our IELTS academic requirements key.
International Baccalaureate

Standard Level 5

TOEFL iBT
88 or above with minimum scores in components as follows: Listening and Writing 19, Reading 19, Speaking 20.
INDIA Standard XII
70% or above from Central and Metro State Boards
WAEC
C4-6
Hong Kong use of English AS level
C
More about life in Liverpool
Discover more about the city and University.
Why study at Liverpool?
Liverpool bursts with diversity and creativity which makes it ideal for you to undertake your postgraduate studies and access various opportunities for you and your family.
Accommodation
To fully immerse yourself in the university experience living in halls will keep you close to campus where you can always meet new people. Find your home away from home.
Fees and Finance
Discover what expenses are covered by the cost of your tuition fees and other finance-related information you may need regarding your studies at Liverpool.
Contact us
Have a question about this course or studying with us? Our dedicated enquiries team can help.