Contemporary and Historical Mural Painting: Aliza Nisenbaum at Tate Liverpool
Mexican-born artist Aliza Nisenbaum is known for her large-scale, but intimate, paintings of communities or individuals. Tate Liverpool has commissioned her to produce an artwork based on our city while in residence here. This study day brings together an exploration of Nisenbaum's work alongside an analysis of mural painting in Mexico and North America in the 1930s and 40s, which has inspired her socially-conscious work. With Dr Judith Walsh, Saturday 22 May, 10am-1pm. We are no longer taking enrolments for this course.
The Travelling Sketchbook
Prepare for your holidays (even if they're confined to your immediate surroundings!) with this look at the history of sketching on the spot. Instruction on this kind of drawing will be followed by you undertaking practical sessions supported by a tutor from our virtual classroom, and using the internet to travel to virtual locations Paul has sketched all over the UK and is the founder of Liverpool Urban Sketchers. Bring some basic drawing materials for the first meeting; advice will be given for further supplies needed for the rest of the course. With Paul Gatenby, 5 meetings from Friday 30 April, 2-4pm. We are no longer taking enrolments for this course.
Turner: Landscape and Modernity
In honour of Tate Britain's recent exhibition Turner's Modern World, this course looks at British landscape painter J.M.W. Turner. In addition to addressing key concepts in his work, such as the Sublime and the Picturesque, it investigates the artist's response to the modern world, and considers both his influences and his legacy. With Dr Anna Maddison, 5 meetings from Wednesday 5 May, 2-4pm. We are no longer taking enrolments for this course.
Digital photography skills for history and heritage enthusiasts
Do you love to take photos when you're on holiday, or out and about, visiting museums, art galleries and other heritage sites? Do you struggle to get your photos looking how you want them to? On this course, you'll learn how to get the best out of your camera, whether you're using a compact, mirrorless or DSLR. You'll learn how to deal with difficult conditions, such as low light and glass reflections. You'll improve your ability to compose interesting photos, and find out how to process them using apps on your phone or computer. The six sessions will use a combination of learning and group discussion. There will also be optional assignments to help you practise the skills you're developing and the chance to submit a portfolio of photos for review. With Julia Thorne, 6 meetings from Thursday 29 April, 2-4pm. We are no longer taking enrolments for this course.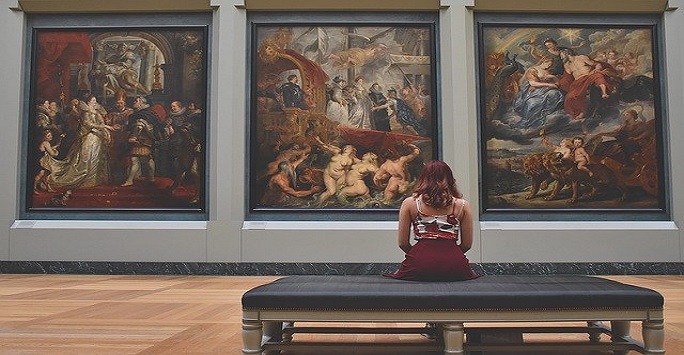 The Body in Art: The Naked Truth
From prehistoric carvings of fertility goddesses, to contemporary imagery intended to shock and challenge the viewer, this course will consider depictions of the human body throughout the history of art. The body has been used to express both spirituality and sexuality, in many different forms and contexts, and it will continue to do so - but how? With Anthony O'Connell, 8 meetings from Thursday 5 May, 6-8pm. *We are no longer taking enrolments for this course*
Art and the AIDS Crisis
Many people are familiar with World AIDS Day (1st December) and the AIDS Memorial Quilt. However, not as well known are the art and AIDS activism of individual artists and communities. This course will consider key figures such as Derek Jarman and Keith Haring, analysing their images, their impact and their context in the 80s, 90s and beyond. With Anthony O'Connell, Saturday 12 June, 10am-1pm. We are no longer taking enrolments for this course.
Time and the City Reborn: Photography & Liverpool, 1967-2008
This course examines the rollercoaster trajectory of Liverpool and the changes wrought upon its communal and civic identities as captured in photography throughout the economically challenging years of the 1970s and 80s; the investment boom of the 1990s, and phoenix-like rise in the 2000s to international prominence capped by its triumphant year as European Capital of Culture. Inspiring, moving and, at times, deeply upsetting, the photographic history of Liverpool in the latter half of the Twentieth Century is arguably more extraordinary than that of anything experienced in the city prior. Join us to find out why. With Dr Lee Kendall, 10 meetings from Wednesday 21 April, 10:30am - 12:30pm. We are no longer taking enrolments for this course.