Seminars/workshops
Seminar series
Upcoming Workshops
To be confirmed.
Upcoming Lectures
Past Workshops
Tuesday, 13 Decemeber 2011
A briefing as to the work of the Research Centre was provided to Professor Thomas Stocker (co-Chair of the next IPCC report, working group 1) with presentations provided by Prof Ric Williams (UoL), Dr Simon Holgate (NOC), Dr Mark Tamisiea (NOC) and Prof. Jonathan Sharples, as well as PhD students and researchers attending. Click here for more details

A workshop on the twilight zone in the ocean was held by Professor George Wolff with researchers in the School, the National Oceanography Laboratory and Liverpool John Moores on 6 and 7 October 2011. Click here for more details
The Research Centre and the National Oceanography Centre hosted a Science of Climate Change Briefing on Thursday 10th February 2011. Click here to view the presentations.
Professor Sir David King, former Chief Scientific Advisor to the Government, and recently appointed Chancellor of the University of Liverpool, visited the Proudman Oceanography Laboratory on 17th March 2010 for a meeting with members of the Research Centre. The briefing focused on The Climate System and Our Oceans. Presentations were given by Prof. Andrew Willmott, Prof. Ric Williams,Prof. Chris Hughes, Prof. Richard Burrows and Prof. Andy Plater.

Image: Professor Sir David King (centre) with members of the Research Centre for Marine Sciences and Climate Change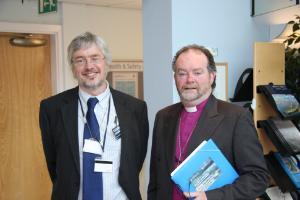 Image: Prof Andrew Willmott (Director of POL) and the Bishop of Liverpool at the Climate System and our Oceans Meeting - Sep 2009
"Southern Ocean Dynamics" led by Chris Hughes (POL). Link with Ric Williams (DEOS) - 5th/6th June 2008
Thursday 5th June Session 1: Eddy/mixing things

John Marshall - Mixing
Alberto Naveira - Eddy-induced mixing in the Southern Ocean
Richard Greatbatch - Ocean heat transport by eddies
Dirk Olbers - The exact Osborn-Cox relation- an application of UTRMG
Session 2: Different looks
Bob Hallberg - The different response of eddy-resolving models
Gualtiero Badin - Is mechanical or buoyancy forcing the rate-limiting factor?
Chris Hughes - A hydraulically-controlled ACC?
David Marshall - Topographic steering and Rossby waves
Friday 6th June Session 3: Assorted other things
Xiaoming Zhai - Spreading of near-inertial energy
Lesley Allison - Spin-up/adjustment of the ACC in a simple model
David Ferreira - The ACC in Water World experiments
Carsten Eden - Testing an eddy closure for an idealised Southern Ocean
Ric Williams - How the ocean affects storm tracks
John Marshall - Dynamics of deep overturning cells
Dirk Olbers - Two adjustment timescales in the BARBI ACC
Other contributors
Helen Johnson; Vassil Roussenov; Miguel Angel Morales Maqueda; Maria Rutkiewicz; Dave Munday; Dave Stevens; George Nurser; Chris Wilson and Jeff Polton
Figures: Delegates for the Southern Ocean Dynamics Meeting 5/6 June 2008
1st science workshop for POL Programme 1:

Sea level science

(30th Nov 2007). Download the programme

here

.

Canyon workshop in DEOS (17th-18th Sep 2007) to prepare a NERC Consortium Grant Proposal on submarine canyon research involving Prof George Wolff, and Dr Kostas Kiriakoulakis (University of Liverpool) and Prof John Huthnance (POL) plus Dr David Billett, Prof Paul Tyler and Dr.Veerle Huvenne (NOCS), Dr Robert Turnewitsch (SAMS), Prof Ursula Witte (University of Aberdeen), Dr Andrew Wheeler (National University of Ireland, Cork).
---