Environment, Sustainability and Technology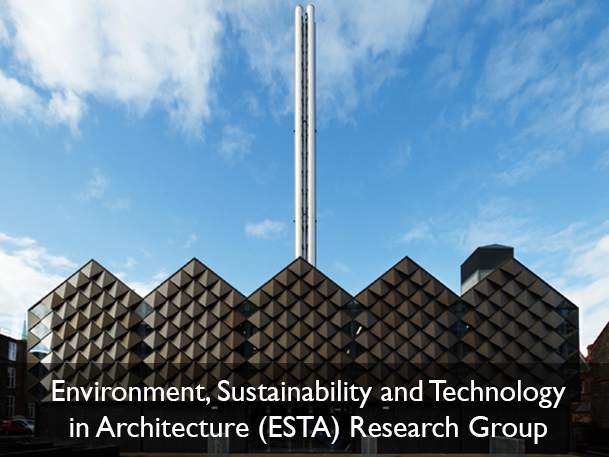 The Environment, Sustainability and Technology in Architecture (ESTA) Research Group investigates the general areas of low carbon architecture, the impact of climate change on building performance, digital design, innovative material technologies and the operational and embodied carbon of sustainable design. ESTA's researchers include Asterios Agkathidis Dr David Chow, Dr Stephen Finnegan, Dr Rosa Urbano Gutiérrez, Dr Haniyeh Mohammadpourkarbasi and Professor Steve Sharples, together with a cohort of approximately 20 PhD and MSc students.
ESTA's work has received funding from EPSRC, RIBA, the UK government, national bodies and international and commercial organisations. The group's projects are characterized by their wide range and interdisciplinary nature – for example, recent projects have included analysing the drivers of occupant window opening behaviour in Chinese office; sustainable energy technologies in buildings; the whole life impact of a new Insulated Concrete Formwork (ICF) home; retrofitting public buildings in China; developing the world's first Zero Carbon Safari Park; digital manufacturing and construction and sustainable architectural design through the exploration of emergent materials and technologies, particularly ceramics.
Much of the research undertaken by ESTA is international and examines sustainability and built environment issues in countries such as China, Indonesia, Iraq, Jordan, Mexico, Nigeria and Saudi Arabia. The work undertaken by ESTA is both analytical (using software such as DesignBuilder, ENVI_MET, IES and Revit) and experimental (involving the measurement of environmental parameters in real buildings). The outputs from ESTA are widely published in books, leading research journals and presented at major international conferences.
Academic member of ESTA are also responsible for the teaching and research related to the one-year MSc programme Sustainable Environmental Design in Architecture (SEDA).
For more information about research and consultancy opportunities in the Sustainable Environments Research Group please contact:
Professor Steve Sharples
School of Architecture
University of Liverpool
Leverhulme Building
Abercromby Square
Liverpool L69 7ZN
United Kingdom
T: +44 (0)151 794 2607