AHRC/ACHS-UK conference Heritage Studies: Critical Approaches and New Directions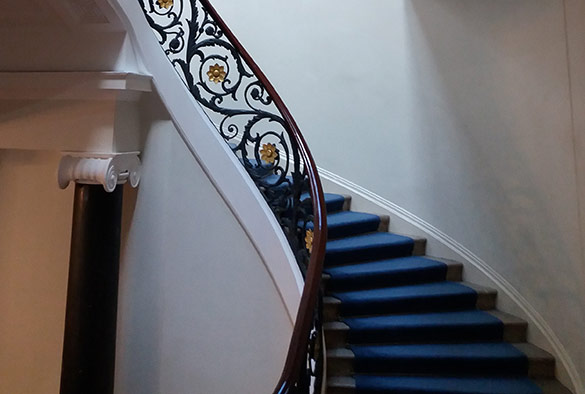 As previously announced, the School's heritage research team was represented last week in the conference Heritage Studies: Critical Approaches and New Directions. This one-day conference - held at the British Academy, London, on Thursday 5 October 2017 - complemented a series of workshops and evening events that launched Heritage Research, the AHRC Heritage Research Priority Area, led by Professor Rodney Harrison at University College London.
As advertised, the conference was a wide-ranging showcase of current research projects as well as emerging and future research directions in critical heritage studies. The packed programme comprised two keynote presentations, a lunch film session and six conference sessions.
Both keynote presentations aptly addressed the key issue of criticality in heritage studies. Professor Christopher Whitehead, of University of Newcastle, linked this to the wider concept of social crisis, whereas Professor Siân Jones, of University of Stirling, highlighted the need for an engaged interaction between Critical Heritage Studies academic research and heritage practice.
The lunch film session included a projection of the winner of last year's AHRC Research in Film Awards, Best Research Film of the Year: "You Can't Move History" (by Rebecca Madgin, Pollyana Ruiz, Tim Snelson and David Webb).
The six conference sessions were loosely themed around: Conflict; Diversity; Brexit & Heritage; Digital Heritage & Museum/Visitor Experience; Politics & Policy; and The Environment and Heritage Management. The variety of a total of forty-six presentations far exceeded these headings which meant that the only disappointment in this faultlessly organised day (with due credit here to Dr Hana Morel and Dr Colin Sterling) was that, as these sessions had to run in parallel (three at a time), one could not attend the full programme.
Both LSA presentations were included in the session on "Conflict" and covered two very diverse topics: the role of cultural heritage in post-conflict reconciliation in Syria (research by Dr Ataa Alsalloum) and the heritage potential of English post-war mental healthcare facilities in the fight against stigmatisation (research by Dr Christina Malathouni).
Other events in the same week, as part of this most promising launch of Heritage Research, included:
A Post-Graduate and Early Career Heritage Research Workshop, followed by a public lecture delivered by Karen Salt, University of Nottingham, on Wednesday 4 October;
A Heritage Research, Policy and Practice Panel Discussion, on Thursday 5 October;
A Heritage and Global Challenges Workshop, on Friday 6 October.
All events took place at the British Academy.