Guest Lecture Series
Michael Wilford
Composition and Character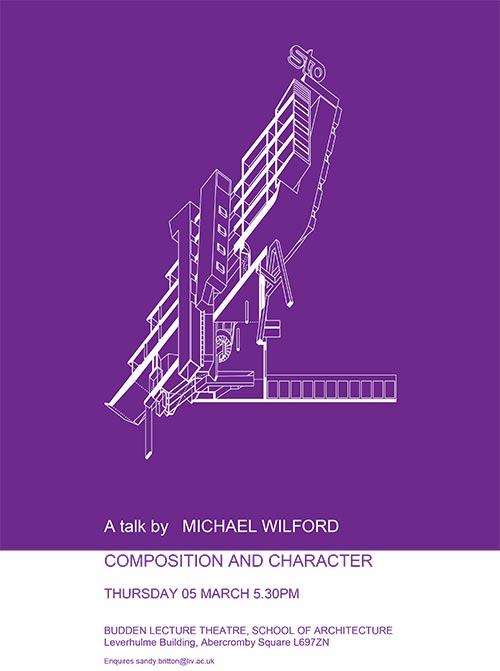 'Composition and character are primary aspects of the art of architecture and determinants of the organisation, form and tectonics of buildings. Their consideration is fundamental to the practice of architecture. My presentation will describe the architectural objectives and strategies to achieve them, as set out in the recently published monograph. (Michael Wilford Selected Buildings and Projects 1992-2012 published by artifice books) I will use drawings and photographs of a variety of architectural projects (both finished buildings and competition designs) prepared over the last two decades as examples to demonstrate how these aspects has influenced and supported them
About Michael Wilford
In 1960 Michael Wilford joined the practice which James Stirling created in 1956.
The Stirling/Wilford partnership was established in 1971 and continued until James Stirling's death in 1992. From 1993 to 2001 Michael Wilford worked in partnership under the name of Michael Wilford and Partners.
In England Michael Wilford now practices under the name of Michael Wilford architects and in Germany has established Wilford Schupp, based in Stuttgart.
Michael Wilford's work has gained international renown and includes significant public buildings such as performing art centres, art galleries, museums and libraries located around the world.
These projects have won many architectural awards, the most recent including The Royal Fine Art Commission Building of the Year Award in 2001 for The Lowry performing and visual arts centre in Salford, England.
Michael Wilford teaches extensively in schools of architecture including posts at Yale, Harvard, Rice, the University of Cincinnati in USA, the University of Toronto, McGill University Montreal in Canada, University of Newcastle, Australia, the Architectural Association in London, and the University of Sheffield and University of Liverpool England. He has been an external examiner at many UK schools of architecture and sits on juries for numerous international architectural competitions and architectural awards.
Michael Wilford is a member of the Royal Institute of British Architects, the Singapore Institute of Architects, Royal Institute of Arbitrators, Fellow of Royal Society of Arts, and an Honourary Member of Bund Deutsche Arkitecten. In 2001 he was made a Commander of the British Empire.
Michael Wilford studied at a predecessor to the Cass School of Architecture in the 1950s.
More information about Michael Wilford and his projects : www.michaelwilford.com
Text courtesy of Michael Wilford and London Metropolitan University