Breakfast Brexit Talk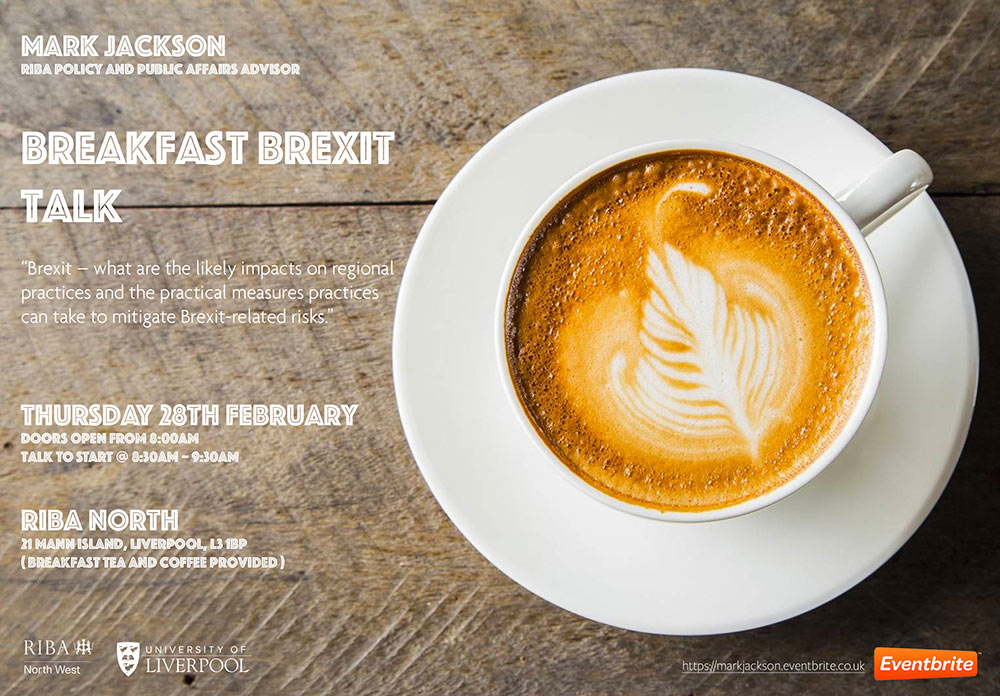 A talk by Mark Jackson RIBA Policy and Public Affairs advisor.
"Brexit – what are the likely impacts on regional practices and the practical measures practices can take to mitigate Brexit-related risks."
There will be opportunities before and after to discuss and ask questions. The visit and talk is aimed at architects, emerging architects and practice.
Mark Jackson has been RIBA's policy and public affairs adviser on Brexit since July 2017.
His role is to support RIBA's policy development on Brexit, support RIBA's engagement with government and officials on issues arising from Brexit and support RIBA's engagement with members on preparing for EU exit.
"While the RIBA has been clear that architects want to see a Brexit deal agreed that safeguards the profession, nevertheless there is a risk of a no deal scenario that would see the UK exit the EU without a negotiated agreement in place; and it is right that the profession plans for every eventuality.
On Friday 1 February, the RIBA hosted a summit for architects with officials from the Department for Digital, Culture, Media & Sport, the Ministry of Housing, Communities & Local Government and the Department for Business, Energy & Industrial Strategy working on the government's contingency preparations for a no deal Brexit. The Departments were keen to re-iterate that leaving the EU with a deal remains the government's top priority, but that they must plan for every eventuality, including a no deal scenario"
https://www.architecture.com/knowledge-and-resources/knowledge-landing-page/what-would-a-no-deal-brexit-mean-for-architecture
The event has been supported by RIBA NW Practice and Education Committee LYA and University of Liverpool School of Architecture.
Following this talk Mark Jackson will continue his visit with an 11.30 ampresentation at University of Liverpool where he will talk about:
'Powered by People: Building a Post-Brexit Immigration System for UK Architecture' is the result of detailed research and interviews with international architects living in the UK. It gives the most complete picture to date of the sector's international workforce, and sets out what is needed to ensure the immigration system supports rather than damages the UK's vital architecture sector.'
https://www.architecture.com/knowledge-and-resources/resources-landing-page/powered-by-people
All welcome
Practicalities
Time of the event - 8.00 coffee and tea , talk 8.30 am to 9.30 am . Thursday 28th February.
Location RIBA North Mann Island .
https://www.architecture.com/contact-and-visit/riba-north
Address:
RIBA North,
21 Mann Island,
Liverpool Waterfront,
Liverpool, L3 1BP
Telephone number: +44(0)151 703 0107
RIBA North is the RIBA's national architecture centre on Liverpool's Waterfront. It opened in June 2017 and was recently awarded the title of 'Best Newcomer to the Visitor Economy' at the Liverpool City Region Tourism Awards 2018.
The centre is a place for everyone to discover more about architecture, with exhibitions, talks and tours as well as a café and shop. RIBA North is an inspirational resource for both our members and the public - championing architects, architecture and good design.