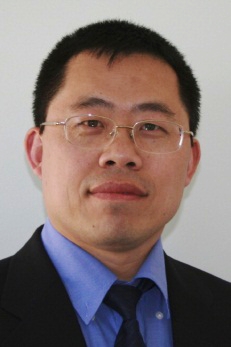 Dr
Yalin
Zheng
Ph.D.
Reader in Ophthalmic Imaging
Eye and Vision Science
Research
Medical image computing

My team are working on mage processing, pattern recognition, machine learning with particular interests in computer aided diagnosis and its applications in ophthalmic imaging.


Deep learning and medical applications

My team develop novel deep learning techniques to address global challenges in healthcare.
Development of new imaging technologies

My team develop state-of-the-art imaging techniques for improved disease management.
Research Group Membership
Research Grants

Clinical Development of an Ultrasensitive OCT Device to Improve the Management of Eye Disease

DEPARTMENT OF HEALTH (UK) (NIHR)

November 2017 - October 2020

Artificial Intelligence Tools For Automatic Single Molecule Analysis

BIOTECHNOLOGY & BIOLOGICAL SCIENCE RESEARCH COUNCIL (BBSRC)

December 2018 - April 2020

Development and optimisation of ultrasensitive optical coherence tomography imaging for eye disease

ROYAL LIVERPOOL AND BROADGREEN UNIVERSITY HOSPITALS NHS TRUST CHARITABLE FUNDS (UK)

August 2017 - October 2017

Development of New Low Cost Point of Care Imaging Technologies for Diabetic Eye Disease in China

ENGINEERING & PHYSICAL SCIENCES RESEARCH COUNCIL (EPSRC)

February 2018 - January 2021

studentship

THE VASCULAR SURGERY RESEARCH FUND (UK)

October 2017 - September 2020

Development of AI for image analysis

REMARK HOLDINGS (USA)

January 2019 - February 2022

ECG detection with Deep Learning

BIOTECHNOLOGY & BIOLOGICAL SCIENCE RESEARCH COUNCIL (BBSRC)

July 2019 - July 2021

studentship

THE VASCULAR SURGERY RESEARCH FUND (UK)

October 2017 - September 2020

Characterising Shape and Power of the Corneal Surface Using Ultrahigh-resolution Optical Coherence Tomography

MEDICAL RESEARCH COUNCIL (MRC)

March 2015 - June 2016

Deep learning for automatic screening of diabetic retinopathy

FIGHT FOR SIGHT (UK)

October 2015 - September 2018

Use smartphone to image the retina for glaucoma screening

FIGHT FOR SIGHT (UK)

March 2015 - June 2016

Choroidal Structure and Function in Chronic Retinal Disease

FOUNDATION FOR THE PREVENTION OF BLINDNESS (UK)

January 2012 - December 2015

Improvement of opthalmic imaging support for enhancing eye disease service and research

ROYAL LIVERPOOL AND BROADGREEN UNIVERSITY HOSPITALS NHS TRUST (UK)

May 2010 - May 2014

Development of effective algorithms of deblurring fundus images for improving diagnosis and management of retinal disease

ROYAL LIVERPOOL AND BROADGREEN UNIVERSITY HOSPITALS NHS TRUST (UK)

February 2010 - January 2013

Ultrasensitive OCT Imaging for Eye Disease

DEPARTMENT OF HEALTH (UK) (NIHR)

February 2015 - January 2019
Research Collaborations

collaboration on automatic retinal image analyses


Waleed, Al-Nuaimy

Internal

collaboration on retinal image analyses

Image mining for the diagnosis of eye disease. Co-supervise PhD student.

biomechanical modelling of subcelluar structure

image analyses for eye disease; supervision of final year undergraduate project
---