I planned to set off before HW to explore several areas of the Dee Estuary, even though it was a very small (neap) tide. I set off at 6:30 with N force 1-2 wind and clear skies (sun rise at 6:45 behind the Wirral shore). I headed into the area of the West Kirby and Thurstaston moorings and explored the locations of the various locally-laid buoys (by doing a 360° turn around them). Large cylindrical yellow buoys are racing marks (SHELL, SWC, A) as is the smaller OSM buoy near West Kirby SC "ark".
&nbsp Since my trip in August, I had realised that the previous deepest water route into the Thurstaston moorings has moved and now lies to the NE of the prominent offshore bank. This bank has a large orange spherical buoy marking it (with a yellow racing mark nearby in summer) - and, since I only had 1.1m under my keel there at 6:50, I estimated that it dries 5.6m above CD (chart datum) near the buoy and dries even more nearby (top at approximately 6.5m from observations from the shore) where I did not survey. Note that this bank is higher and inshore of that charted as drying 4.4m by the HO.
&nbsp This route into the Thurstaston moorings seems to have a least depth of about 3m above CD - so at half-tide, one has 2m depth.
My tracks (from this trip and that of the previous month) are shown (with depths in metres above CD using the Liverpool tide-gauge data 10 minutes later) and distances in metres. West Kirby moorings at centre top, Thurstaston moorings at far right. Top of offshore bank is just SW of centre. The two outer waypoints (at 53°21.00N, 3°11.22W and at 53°21.12N, 3°12.17W) are near locally-laid buoys.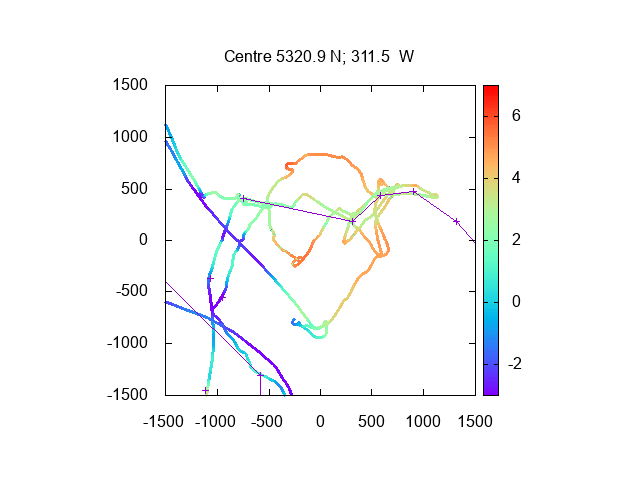 My 2018-9 tracks on HO chart. Darker is shallower. The arrow points to the buoy marking the offshore bank - which is not correctly represented by the HO chart (the bank has moved inshore and got higher).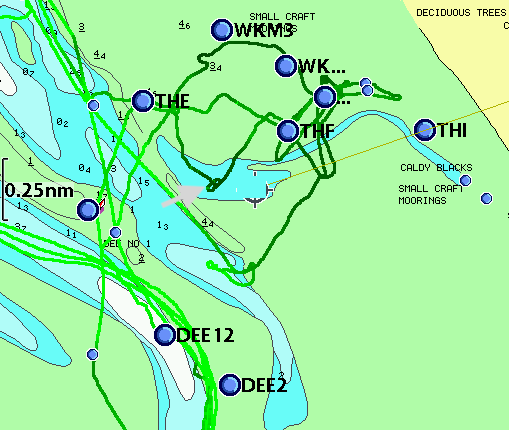 Vessels moored at West Kirby (with "ark" nearest and Hilbre in the background).: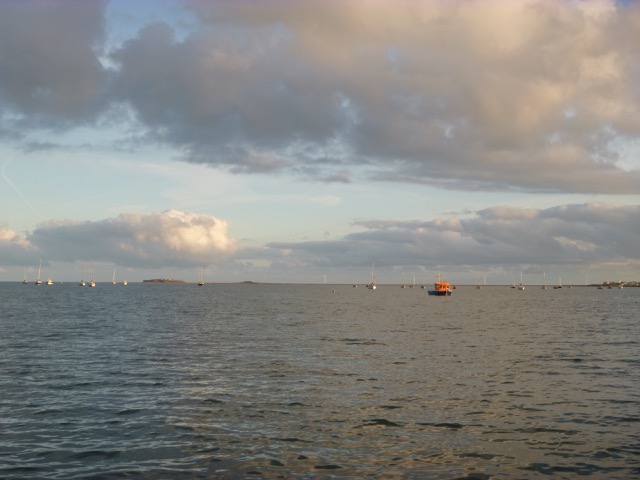 I then crossed the next bank (covered at that time) near my waypoint DeeX and rejoined the main channel up the Dee (which passes buoys Dee1, Dee2, Dee3, etc). I had attempted to find the direct channel from near Dee3 to Mostyn on a previous trip and had set up a waypoint marking this. I now attempted again to check out this short-cut. At 7:55 (HW+44mins) I was near this waypoint, and unlike in August, the depth was sufficient - though only 0.8m under my keel. I was able to carry on, passing Llanerch y Mor (disused "fun-ship") and Mostyn Docks.
My 2018 and 2019 tracks on HO chart. Darker is shallower. Mostyn at left, Llanerch y Mor at bottom.

Abandoned vessel Duke of Lancaster at Llanerch y Mor: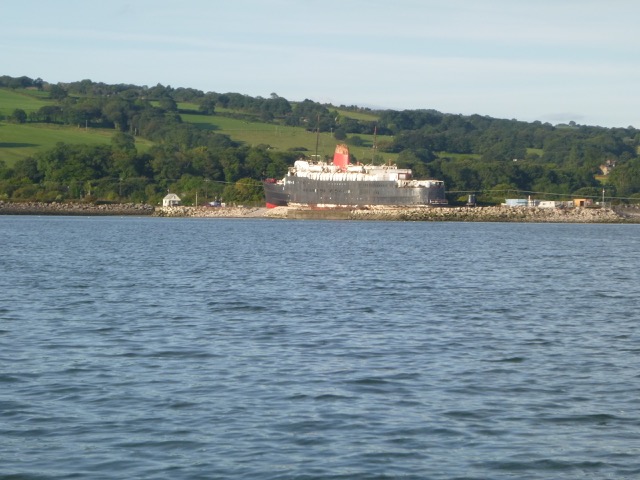 Mostyn Docks (moorings to SE):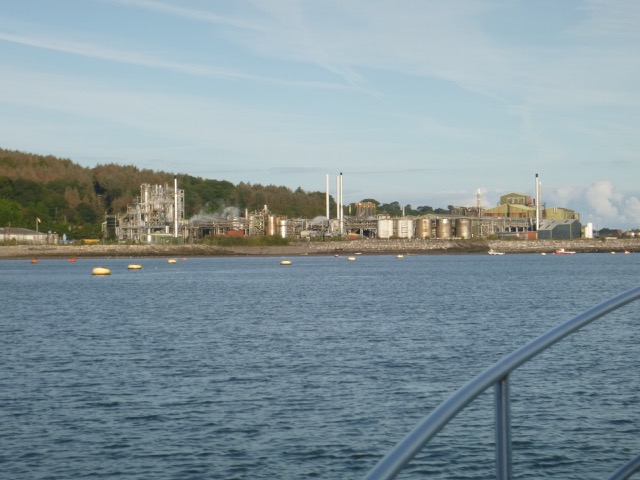 Mostyn Docks (pontoons for wind-farm boats):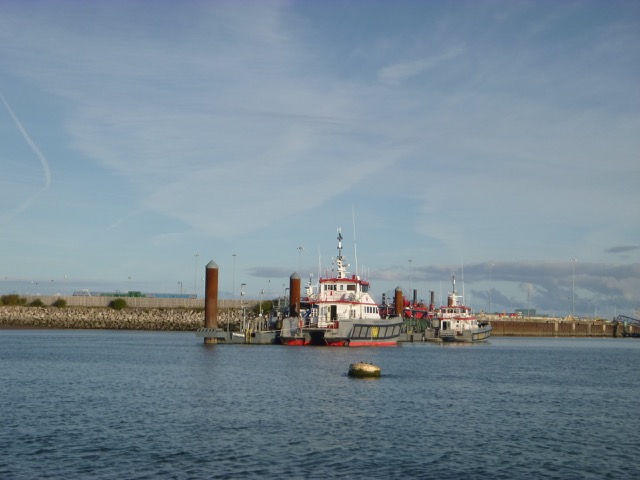 Mostyn Docks (jack-up rig alongside quay):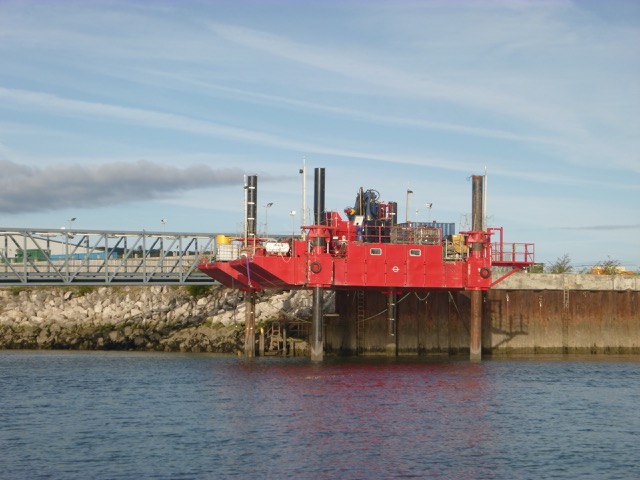 Mostyn Docks (Afon Dyfrdwy, which brings Airbus wings from Broughton):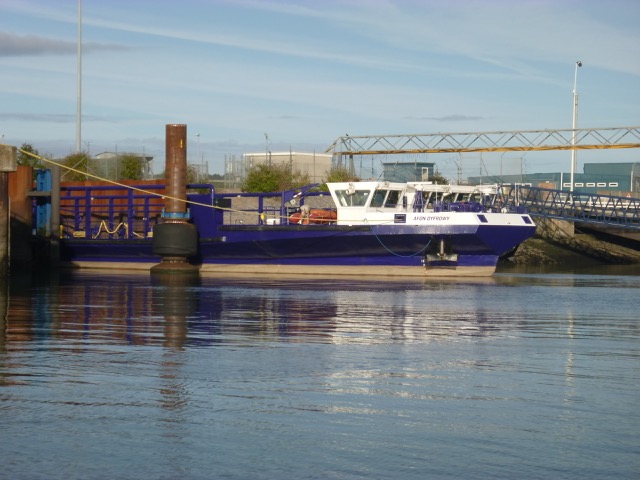 Mostyn Docks (view leaving):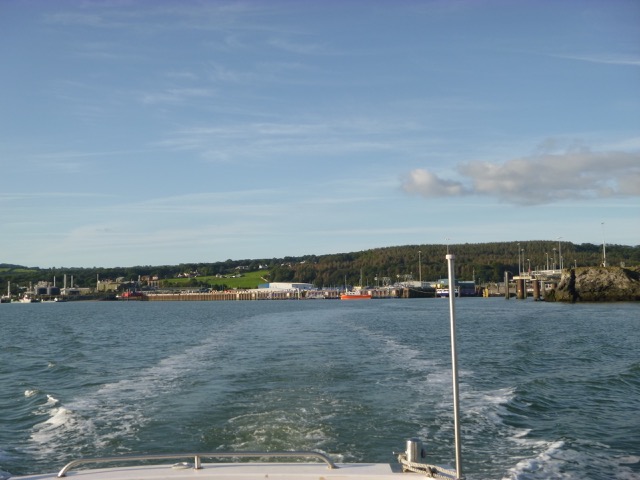 I then headed out via the Salisbury channel (buoys S4,..S1 etc), to the main channel up the Dee. I continued out past buoys MF and SalMid to the Dee buoy. My plan was to explore "Welshman's Gut". Many years ago, this was a buoyed route along the inshore side of the Hoyle Bank - there was a buoy (SE Hoyle) marking it. Indeed it was used as the preferred route by the steamers linking Liverpool and Rhyl before the railway was built. It is now only viable near HW and the HO chart has depths recorded from a survey dated 1994. The HO chart seems to suggest heading east from buoy Dee towards the part of the Gut I know, which is just south of HE4 buoy. Wrong! This is too far north since the Hoyle Bank has moved substantially south since the HO survey. I ended up on the north side of the highest part of the bank. No problem since the sea state was calm - but another example of my rant Not for Navigation.
At 9:05, I was aground and the seabed was dry around my position (53° 22.144N, 3°15.559W) at 9:45. At low water, I walked around the Hoyle Bank - the highest point was quite close to the ESE of my position: it seems to dry more than 6.8m. I could see that the southern edge of the Bank was some way away (at a position estimated as near 53°22.00N, 3°15.31W).
I took advantage of my longer-than-planned stay to remove fishing line from my propellor (another rant: shoreside anglers near the marina lock entrance don't pull their lines in sufficiently) and to tidy up generally - in warm and sunny weather. I must have had a square mile of clean firm sand to myself at low water. There were some yachts anchored near the SE corner of the Hoyle Bank (my usual location too). Note that my position is not recommended: as the tide comes in, you are not sheltered from waves unless it is very calm offshore. Although I had the Hoyle Bank to myself, there was a lot of action above me: as well as birds, there were frequent small private planes on jaunts.
Marlin aground on the Hoyle Bank, with Point of Ayr Light-house in the distance.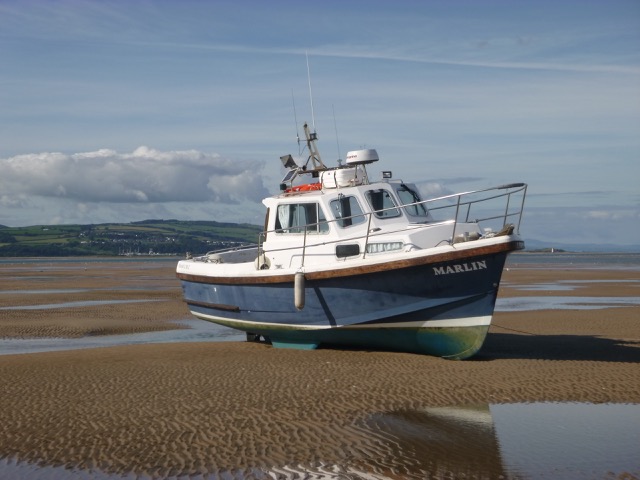 Sand, glorious sand: Marlin in the distance.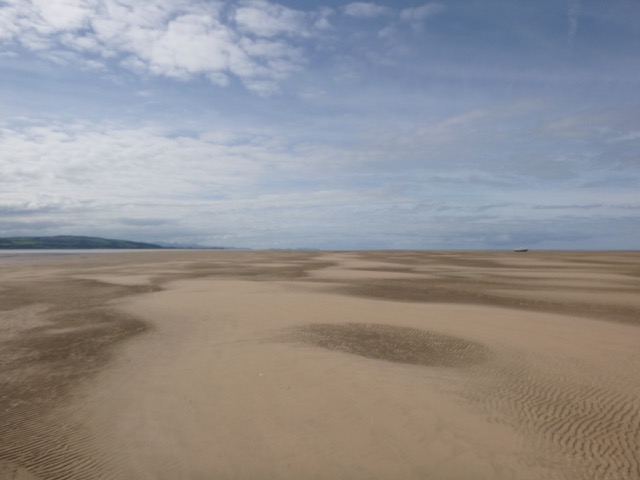 My track across Hoyle Bank with darker being shallower. The kink is my dried-out position. The waypoint WGUT is my estimate of the southern edge of the bank - by direct observation on foot.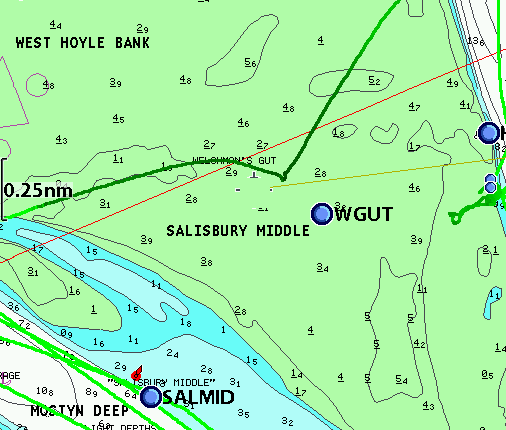 I was afloat again at 6:02pm and headed directly in very calm seas around the north Wirral shore and into the Mersey.
Overview of my tracks (and depths) from 2019 trips into the Dee (Mostyn at lower left, Thurstaston at middle right, Hoyle Bank at top).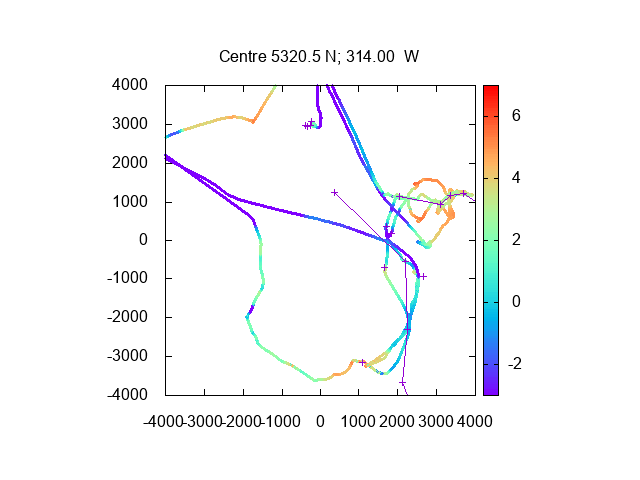 West Kirby from the Hoyle Bank.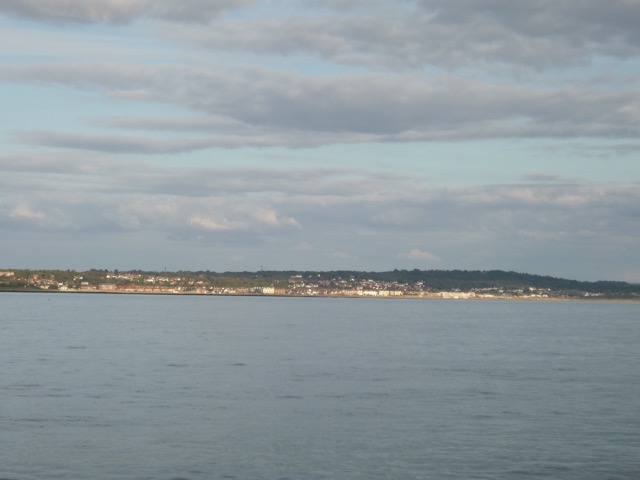 ORCA 1 (294x32m) alongside the Seaforth Container berth.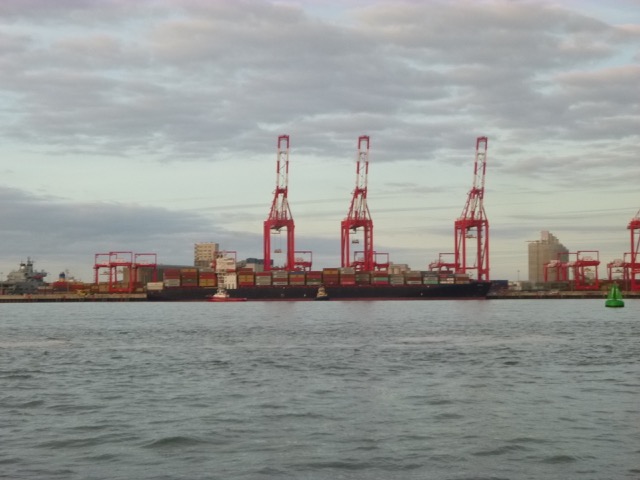 The Mersey was unusually busy near the Pier Head. Isle of Man High Speed Ferry Mannanan had just left, Tanker Yellowstone had just swung off Tranmere, Inbound tanker Jutlandia Swan had just passed heading to Eastham,..
Tanker Seaways Yellowstone (250x44m) heading out past me after leaving the Tranmere tanker berth, with 2 tugs accompanying.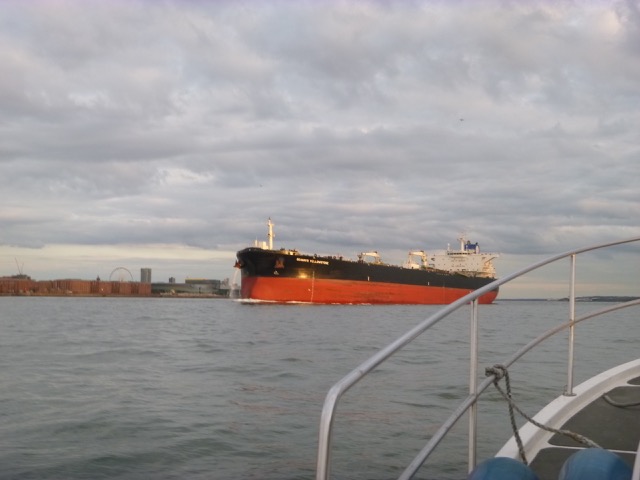 After a speedy passage, lock in to Liverpool marina at 7:25.
28nm run; 41.9 in total for both days.
A record of the depth and track of my voyages are available from teamSurv
If higher resolution versions of the above images are wanted, please contact me. All information given in good faith, but please do not rely on it.
Back to index here