Located within the University of Liverpool's new Yoko Ono Lennon Centre and across both the first and second floors of the Centre, when finished it will be the largest purpose-built lecture theatre on campus.
It will provide the very latest in audio-visual equipment, and, from September 2021 when the Centre opens, it will also provide an advanced learning environment for students across multiple disciplines, as well as a venue for public lectures, allowing the University to engage broader communities and audiences.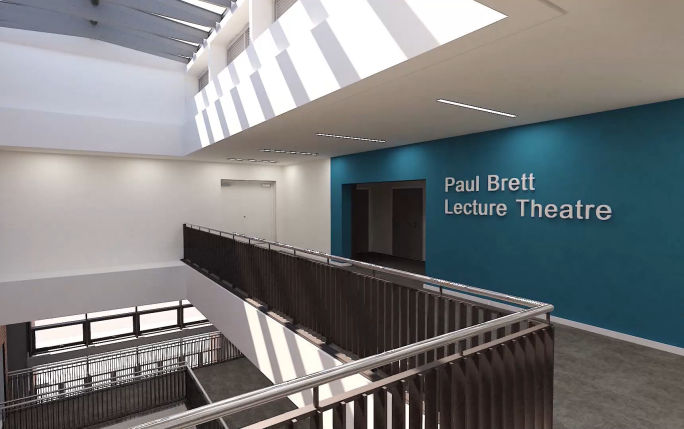 As well as generous philanthropic contributions to the University, Paul has also given his time to support MBA students by acting as a guest speaker to this cohort, sharing his wealth of knowledge and experience with them.
Paul said: "I strongly believe in the provision of a first class university education, which is why I am pleased to support this splendid project at the University, and to put my name to one of the new lecture theatres. I studied Geography at the University in the 1960's, and I believed then, as I do now, that excellent teaching facilities helps to equip students with the knowledge and skills they will need to fulfil their potential."
The artist's impression pictured above features an inset view of what the new lecture theatre will look like.
We invite you to take a look around the Paul Brett Lecture Theatre through this artist's impression from project architects, Ellis Williams.
I strongly believe in the provision of a first class university education, which is why I am pleased to support this splendid project at the University, and to put my name to one of the new lecture theatres.

Paul Brett (BA Hons Geography 1965, Hon LLD 2017), long-standing supporter and donor
Back to: Yoko Ono Lennon Centre