Research Review Meeting Ulm, Germany
The second full SIRBATT Research Review Meeting took place in Ulm, Germany and was hosted by Prof Stefano Passerini of KIT. Arrival was on Wednesday 10th September with an optional dinner, for those who arrived on time, at Hacker-Pschor.
Our one and a half day meeting commenced on Thursday 11th September and provided a full day of talks and discussions covering all aspects of the Project's research, with each Work Package Leader presenting their progress to-date. In addition, there two guest speakers, who talked on specialist topics within our area of research:
'Flame Spray Pyrolysis for Nanomaterial Synthesis'

Mark Copley
Johnson Matthey

'Lithium metal – gas interactions'

Sephan Koch
KIT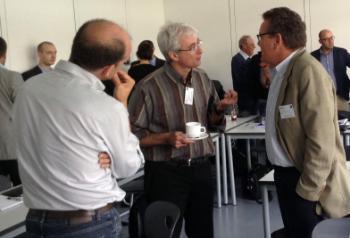 This meeting was followed by a group dinner.
‌