Nuffield Research Placement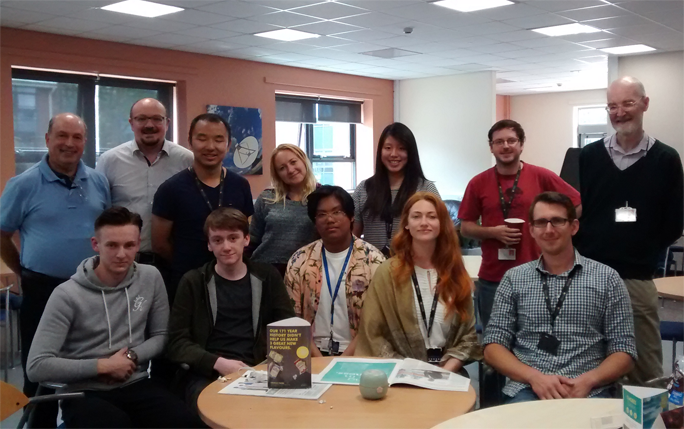 Nuffield Research Placements provide over 1,000 students each year with the opportunity to work alongside professional scientists, technologists, engineers and mathematicians.
Students who don't have a family history of going to university or who attend schools in less well-off areas are particularly encouraged to apply. This year, the Cockcroft Institute was lucky to host 4 highly talented motivated individuals.
The students warmed up their 4 week placement with a 'spotlight on' project. They honoured the work of Ernest Lawrence and presented it in a poster that is displayed at the Cockcroft Institute and at the University of Liverpool. They then teamed up with the QUASARs Mark Ibision and Hao Zhang on individual projects, including numerical calculations and laboratory work, assisting QUASARs in concrete research tasks. Apart from individual research projects they have also worked as a team in the elaboration of an outreach video, which will be uploaded to Youtube.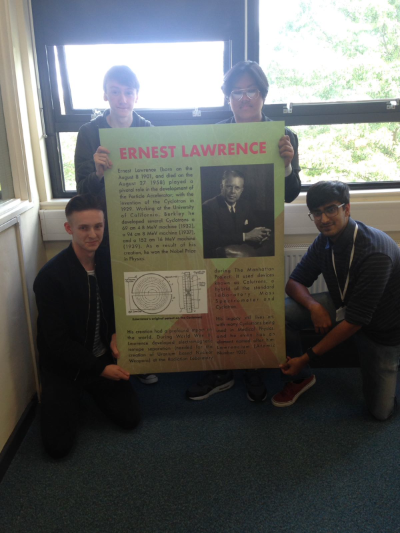 Nuffield students, from left: Ellis Chaffe, Scott Doyle, Jairus Patoc and Rahim Raja, presenting the poster they made in honour of the Cyclotron's father, Ernest Lawrence.
Next we record some of the impressions by our summer Nuffield student:
Jairus Patoc:
"The high(s) for me was speaking to other researches and getting to understand what they do on a daily basis and meeting new people that I will be friends with. Also, making the outreach video was quite enjoyable too. I do not really have a low point other than the placement not being long enough. I have learnt quite a few new things too, for example the many methods for beam diagnostics and a bit of coding! All else I can say is thank you to the group for giving me an insight into research and accelerator physics."
Ellis Chaffe:
"My time here was really good because I got to meet new people and make new friends. I learned about the jobs that researchers do in the particle physics industry and what they do on a day to day basis. The thing that I found the most interesting was looking at the different accelerators and learning more about them especially EMMA. I learnt about machine learning and learnt about the diagnostics of a particle accelerator beam."
Rahim Raja:
"What I enjoyed most about this placement is getting to talk the researchers at the Cockcroft Institute. They had so much that they could teach me and I really enjoyed listening to them show me around their labs and their work. It was very interesting and very intriguing. I learned so much and as the weeks went on it, more and more of it fitted into place and began to make sense. I learnt a lot about the world of accelerators and what is going on to advance the application of them, like the diagnosis of beam dimensions, and how important it is despite the fact I'd never heard of it before."