Quasars shine at IPAC'17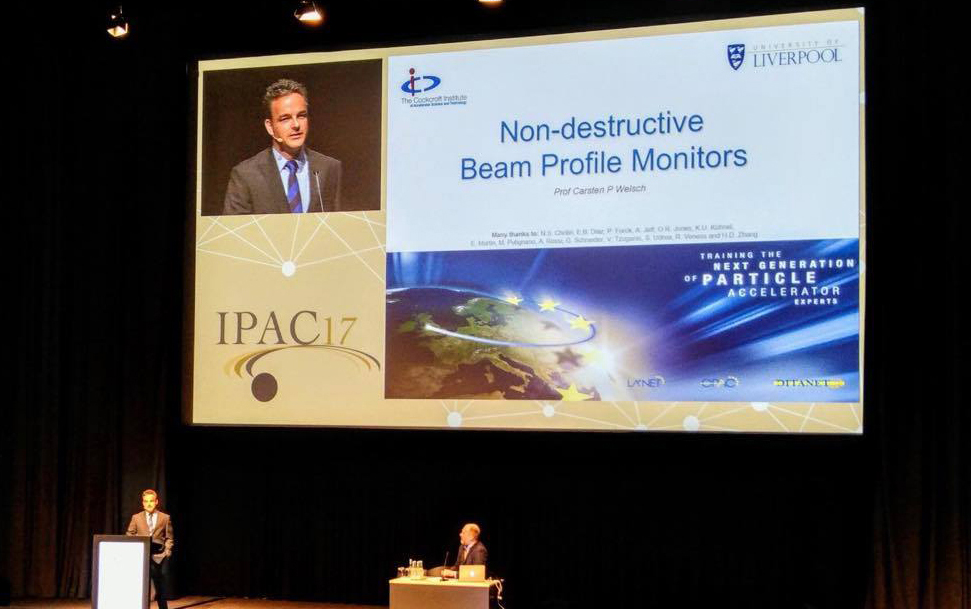 The QUASAR Group has made major contributions to the world's largest gathering of accelerator scientists and industries, the International Particle Accelerator Conference – IPAC 2017. The conference was hosted by the European Spallation Source, the MAX IV light source, and Aarhus University at the BELLA centre in Copenhagen, attracting more than 1,300 delegates.
QUASAR researchers made a total of 16 contributions to the scientific programme, with QUASAR Group leader Professor Carsten Welsch's invited talk on Non-Destructive Beam Profile Monitors as one of the particular highlights for the Group. He also participated in a special panel discussion on industry-academia collaboration, sharing the extensive experience accumulated after coordinating no less than five large European Training Networks. The latest networks, OMA and AVA, were presented in more detail in the poster sessions.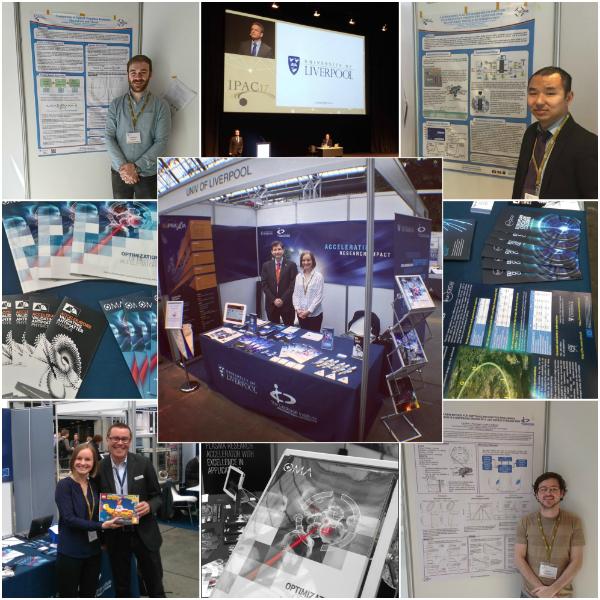 Dr Ralph Fiorito, James Hunt, Dr Mark Ibision, Roland Schnuerer, Eleftherios Skordis, Yelong Wei, Joseph Wolfenden, and Dr Hao Zhang all presented posters, either in person or by proxy, showing their latest results on new beam diagnostic methods, and novel accelerating techniques.
The researchers were joined by Magda Klimontowska and Dr Ricardo Torres from the Group's Project T.E.A.M. who participated in the industry exhibition with an industry booth showcasing work by the QUASAR Group in the framework of the Cockcroft Institute. The booth presented the many projects led or participated by the QUASAR Group: OMA, AVA, LIVDAT, EuPRAXIA and EuroCirCol, as well as the spin-off company and newest member of the STFC CERN Business Incubator D-Beam. It also premiered glossy brochures of our OMA and EuPRAXIA projects. Whilst the OMA brochure provides an overview of the envisaged research and background information about all of our Fellows, the EuPRAXIA brochure presents the key challenges in the design and optimization of a future plasma accelerator with industry beam quality.
Several OMA Fellows were also present at IPAC: Andrea De Franco, Laurent Kelleter, Michelle Lis, Ewa Oponowicz, and Anna Vnuchenko, as well as former Fellows from oPAC and LA3NET. The conference was an ideal place to present our latest R&D results, meet collaboration partners and discuss future joint projects and research challenges.