Finalizing SiPM project in Strasbourg
Marie Curie International Incoming Fellowship project "SiPM in-depth" carried out with the QUASAR group by Dr. Sergey Vinogradov and coordinated by Prof. Dr. Carsten Welsch has been successfully finished on the 1st of November 2016.
It had a remarkable final: exactly during these days Sergey participated at the IEEE Nuclear Science Symposium and Medical Imaging Conference (NSS/MIC-2016) in Strasbourg, France, October 29th - November 6th, 2016 http://2016.nss-mic.org/index.php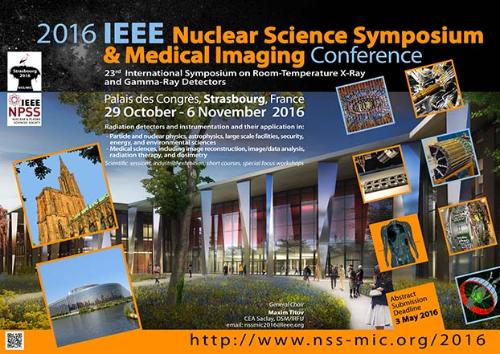 ‌‌
NSS/MIC-2016 is a flagship event for scientists and engineers from nuclear and accelerator physics, nuclear medicine and medical imaging communities. Silicon Photomultiplier technology, SiPM developments, studies, and applications were in focus of many conference sessions and majority of reports related to low light level photon detectors. Obviously, the SiPM becomes a well-recognized working horse in a scintillation detection of high energy particles of any kind: neutrinos, neutrons, electrons, and especially X- and Gamma photons. In the same time, this technology is still emerging and has a great potential for further developments.
Dr. Sergey Vinogradov presented his advanced results on"Precise Metrology of SiPM: Measurement and Reconstruction of Time Distributions of Single Photon Detections and Correlated Events" at the special focus workshop of the IEEE NSS/MIC 2016 – "Technology Frontier for Single Photon Detection and Advanced Scintillator Timing". He also co-authored two more reports on "Influence of SiPM single photon timing resolution on coincidence timing resolution with fast scintillator", and "Impact of Local Defects on the Dark Count Rate of SiPM".