A new bright light in the QUASAR family
As the new academic year approaches the Quasar group is going to be welcoming five new PhD students. The first of which is Roland Schnuerer from Germany. He obtained a Bachelor's and Master's degree in Medical Physics from the Heinrich Heine University of Düsseldorf, Germany. For his Master thesis, he investigated the influence of tissue heterogeneities on an in-vivo beam range verification method for proton therapy with scanning beams at the Proton Therapy Center of the Massachusetts General Hospital in Boston, USA.
Based at the Cockcroft Institute, Roland will focus his training in the interdisciplinary research between physics and medicine. He will work on the improvement of a new non interceptive Online Beam Monitor Based on the LHCb VELO Detector building up on initial studies by former QUASAR member T. Cybulski.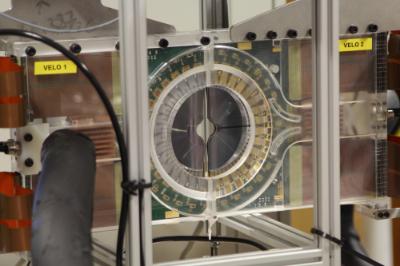 The LHCb VELO silicon detector.
Online beam monitoring in medical accelerators systems is an essential part of the patient's safety and also assuring the high quality and efficacy of cancer treatment. The LHCb VELO detector's advantageous semi-circular design enables approaching the core of the beam, however, without interfering with it. Thus, it allows precise measurements of the beam 'halo' around it. VELO has been upgraded into a stand-alone design within the QUASAR Group and first tests at the Eye Proton Facility of Clatterbridge Cancer Centre (CCC) were carried out in 2014. The results may lead to optimisation of the detector specifically to match the parameters of medical hadron machines and its permanent implementation for Quality Assurance purposes or as a standalone online detector.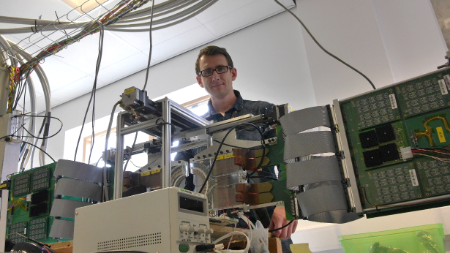 Roland is preparing the VELO detector for the next measurement
In his first weeks, Roland awaked the 'sleeping beauty' again. Intensive studies about learning to operate and control the VELO detector were carried out in the Cockcroft Institute laboratory. The first aim is to demonstrate the readout and assess the noise level.
Also, Roland will be taking part at the collaborative network of the OMA project during his studies giving him the opportunity of international collaboration.
We want to give Roland a warm welcome to the QUASAR group and wish him all the best for his research aims.