Quasar – led session at the Europe's largest higher education conference
QUASAR Group members James Hunt and Magda Klimontowska led the 'Accelerator Researcher Career Session' at the 28th European Association for International Education's (EAIE) annual conference. The conference took place in Liverpool, 13th - 16th September. The EAIE is Europe's largest higher education conference with over 5000 participants from all corners of the world.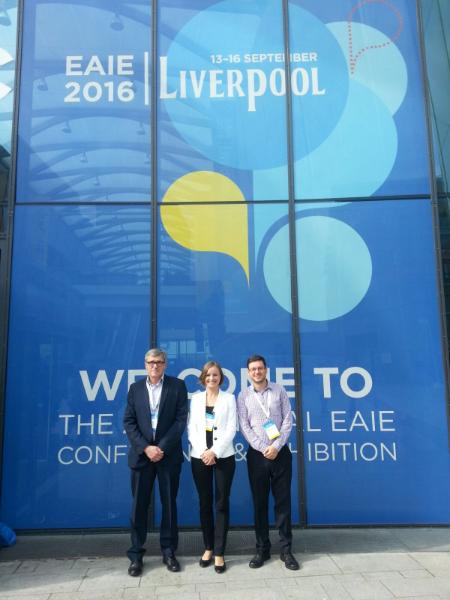 The Quasars were joined by Michael Holroyd, a managing director of Inventya Limited, to explore the conflict between the standard training received by postgraduate students and the demands of the technology industry for highly qualified researchers. In the session chaired by James, Michael presented the industry needs and expectations in terms of highly qualified graduates and Magda gave an overview of the postgraduate's training model developed in the international training networks coordinated from the Quasar Group. This was followed by a set of questions from the audience.
Since 2008, the QUASAR Group has coordinated four EU-funded Innovative Training Networks in the field of particle accelerators. A fifth one which will cover research into antimatter (www.ava-project.eu) is set to start in January 2017.
Each international network brings together universities, research centres and private companies to create an interdisciplinary environment for cutting-edge research. In addition, they target the training of more than a dozen early career researchers, so-called Fellows. A cohort of Fellows is hosted at several institutions across Europe where they benefit from a broad and interdisciplinary training provided by their local host institute and the network as a whole. The successful model developed over the years includes international training events, cross-sector secondments, complementary skills training, as well various outreach activities.
Thus far, a total of 78 Fellows and 85 institutions from 15 different countries have been involved in networks led by the Department. As a result, a steady supply of highly qualified researchers has been provided to the international community of particle accelerator experts. The projects have also helped raise public awareness of the importance of accelerators for science in society.