What are you doing, Mr X ? Part 1
In this new series of online short stories, QUASARs were asked to photograph each other and write about their research activities. Starting today, we are bringing their activities closer to you than ever before and hope that you get a better idea about the fascinating nature of our R&D. Enjoy !
Vasilis Tzoganis is a 4th year PhD student in the QUASAR group. Having previously spent two years at the RIKEN research institute in Japan, he is now based at the Cockcroft Institute where he is working on a gas jet diagnostic. The gas jet is a type of non-invasive diagnostic technique being developed by the QUASAR group for a range of accelerator facilities across the world. A supersonic, high pressure, low density jet of gas is fired across a particle beam and collected on the other side. With very little direct interaction with the beam, various beam characteristics can be calculated by analysing the properties of the gas. In this picture this weeks Mr. X can be seen making slight adjustments to a camera, which was part of a recent upgrade to an imaging system on the setup.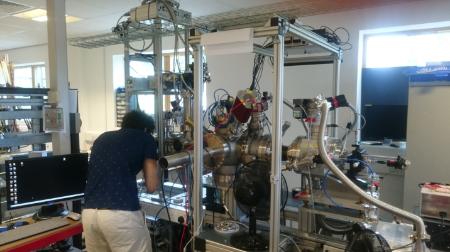 Vasilis Tzoganis making adjustments to the gas jet test setup at the Cockcroft Institute