Chernobyl children's project visited Daresbury
Thursday July 14th saw children from the Chernobyl children's project, a charity which aims to support children and families affected by the nuclear disaster in 1986, visiting Daresbury Laboratory. Quasar group member Alex Alexandrova led the daylong astronomy themed event and with them discussed planets, stars, galaxies and constellations to spark their interest in science. The children were treated with a trip inside a planetarium so that they could interactively see the constellations which make up the night sky and were taught how to identify the North Star. In the afternoon the children designed and built rockets out of paper and plastic cups which were taken outside and launched high into the air using a foot pump.
The children had many inquisitive questions and thanked Alex with a parting gift.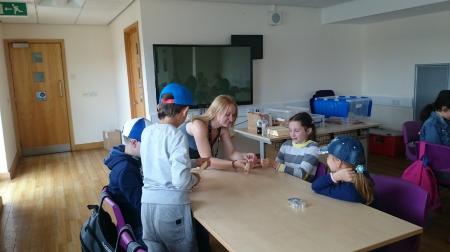 Alex helping children from the Chernobyl children's project build and design paper rockets.