Alex Mason - Internship Summary
As of the 8th June, I have complete my internship of 6 weeks at the Cockcroft Institute at Daresbury Labs. I honestly could not have asked for a more rewarding experience and I would like to extend my utmost gratitude towards the QUASAR group for being so friendly and considerate with me. I would especially like to thank the QUASAR group leader Prof. Carsten Welsch for allowing me the opportunity to work in such a uniquely fantastic place, and EU project managers Magdalena Klimontowska and Ricardo Torres for patiently helping me to settle in with them at the institute. Although my time with the QUASAR group was short, it gave me a multitude of experience, both personal and professional, which I'm sure will be invaluable in the years to come.
During my time at Cockcroft I was given the chance to assist in a number of different ways ranging from finances to writing news articles. However, I felt the most rewarding experience was being able to aid in the outreach event for St. John Plessington College, which involved working with 40+ school children throughout the day. The children both filmed and edited short videos of the experiments they created and I was tasked with managing this portion of the event. As it was my responsibility to help the kids shoot and edit the videos, I happily got to spend some time learning to use editing software and getting acquainted with the cameras. Being able to assist in the outreach, and especially contributing my own ideas toward it, was a truly rewarding experience and even though, I was only able to attend one of the outreach days, it is one of my favourite memories of working here.
Personally, I thought the highlight of my Internship was getting the opportunity to assist the team in Krakow, Poland. This involved not only helping to prepare a Researcher's Career Workshop, but also getting to spend time with a diverse range of scientists from all over the world in a fun and social manner. Krakow is a beautiful and vibrant city and the experience will not be forgotten.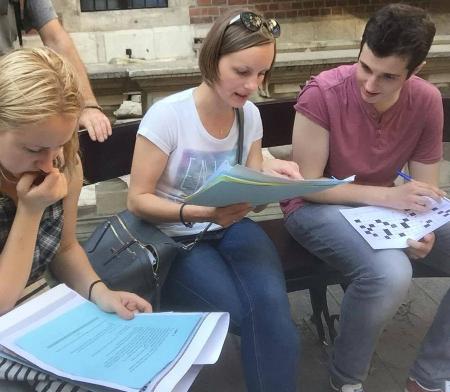 In addition to this, I was given the chance to develop my writing capabilities here as I was tasked with writing several news articles for both the Cockcroft Institute and the University of Liverpool. This allowed me to write about the events I was able to attend whilst working here and although this was challenging work, I feel proud of my work and I am ecstatic that they were well received.
I'm extremely happy I was able to work in such an amazing place and even happier that I was able to work with so many lively and welcoming people. I would like to thank the QUASAR group once more for a wonderful experience.
Alex Mason