Prof. Welsch trains next generation of Medical Physicists
QUASAR Group leader Prof. Carsten P. Welsch has contributed 2 hours of lectures on medical accelerators to a dedicated medical equipment management course that was offered to a cohort of 40 postgraduate-taught students at the University of Liverpool on 3./4. March 2016.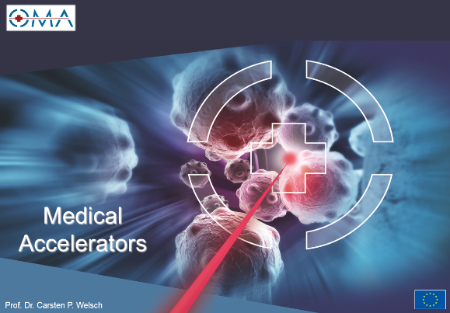 ‌
In his lectures he first covered the fundamental concepts of particle accelerators, electron and ion beam generation, and some electrostatic accelerator concepts before introducing radiofrequency-based linear accelerators. The course participants then split into groups and developed a more detailed understanding about the betatron, cyclotron, synchrotron and beam delivery systems through group-work. They were provided with different questions sets and presented their findings to other course participants after a period of intense study.
All these accelerator types are commonly found at clinical facilities around the world. They are used for the production of short-lived isotopes for medical diagnostics and treatment, the generation of X-Rays, as well as for particle beam therapy. The lectures concluded with a quick overview of the potential future opportunities that fixed field alternating gradient accelerators, plasma wakefield and dielectric laser accelerators may offer, as well as an introduction to the aims of the brand-new EU-funded research network OMA.‌