2016 CLIC Workshop
One of the first big events of the year for the accelerator community was held in January at CERN and was dedicated to the Compact Linear Collider (CLIC). During the 2016 CLIC Workshop scientists and engineers from institutes all around the globe shared the highlights of their activities related to the design of the 48 km machine, and organised the future steps of the project.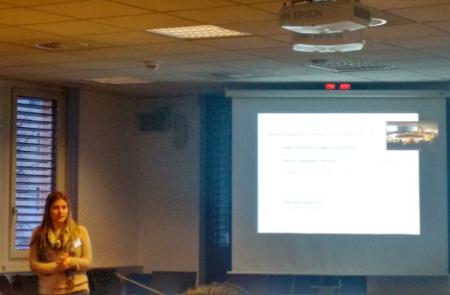 Maria Kastriotou represented the QUASAR group with two talks at the Workshop. In the first one, she updated the CLIC collaboration members on the latest experimental studies at the CLIC Test Facility and the Australian Synchrotron Light source, towards a Beam Loss Monitoring (BLM) system for linear accelerators based on optical fibre Cherenkov detectors. Maria gave her second talk as part of the X-band session, where she demonstrated the capability of these detectors to monitor the electron field emission and RF breakdowns occurring in RF cavities, and discussed the potential of using them as RF cavities diagnostics tool.
According to Maria, the CLIC Workshop has been an excellent opportunity to be informed on the different studies regarding CLIC, exchange knowledge with colleagues from different institutes and discuss ideas for future experiments.