Meet the QUASARs: Yelong Wei
The QUASAR Group is a team of researchers from many different countries, working at a diverse range of projects, covering an interdisciplinary R&D area. Each one of them plays an important role in making the QUASAR Group unique and successful.
So you get to know us better, you will find a series of interviews with group members on our web page.
This time: Yelong Wei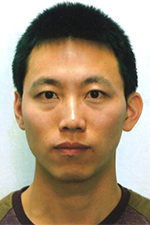 1. Yelong, you are from China, you studied and also worked there. So, how has it happened that you are a researcher at the Cockcroft Institute now?
It's a long story (laugh). I worked in a company as an engineer after I graduated from the Chinese Academy of Sciences. I worked in that company for one and a half year and I didn't quite like that job. I also wanted to experience a different culture so I made a lot of applications online and finally I was offered the Marie Currie early stage researcher position by Carsten Welsch, my supervisor. And then I came here.
2. What was the most attractive for you about coming to UK and be a researcher here?
I think the most attractive for me is the Marie Currie position itself. It offers many chances to communicate with other researchers and a lot of international collaboration which is very helpful. At the same time it also offers a good salary (laugh). And also my project is related to my past experience, design of novel accelerating structures. During my Master degree my project was focusing on design of RF accelerating structures too.
3. Was it difficult for you to come to a foreign country and have to work and talk in other language all the time?
The first time when I came here it was difficult for me to communicate with other people. My English was poor at that time and lots of people have an accent here. But I just tried to communicate with them and after some time of practising my spoken English improved a lot, I think.
4. And what do you think about the British food?
Personally speaking, I think the English food is very simple and I don't like it much. I prefer Chinese food. So, after work I go home and prepare some food by myself. I guess it is because I lived in China for more than 20 years, thus, I cannot really change my style.
5. I have read about your research and found out that you are developing compact, fibre optics-based accelerators. Could you please try to explain in a simple way what is it?
Simply speaking, we use the electric field of laser to accelerate electrons in fibre optics microstructure. Electrons are travelling in the centre of a vacuum channel of the fibre optics structure and lasers are pumped from the sides of the channel to accelerate electrons. This can generate very high acceleration gradient compared to conventional electron accelerators. And it also has a very low cost. It is a new idea and my work is focused on computer simulations. Next step will be the experimental research.
6. And what do you actually do? How does your normal working day look like?
I mostly get up late, at about 8.30 am, and then my colleague gives me a lift to work by car. So I mostly start to work at 9.30 am. First I check my email and my calendar. Then I do some simulations of the studied structures. I read some documents or papers… It might seem a bit boring (laugh). Days are very similar – simulation, reading papers, writing papers. I don't need to go to a laboratory at the moment. Maybe in the next step of my research if we want to build an experimental platform, I will also be working in a laboratory.
7. What to you enjoy the most about being a researcher?
I like to investigate novel ideas and physics principle. I think it is very helpful for our future. Another thing which I enjoy is the flexibility, you can work very late or very early at day.
8. Sometimes people think that scientists are geeky and only sit in their labs all day long. So please, break up this opinion and tell us what do you like to do in your free time?
I like to play table tennis. That's my favourite sport. I have joined some table tennis matches in Warrington and Halton and I enjoyed it very much and met some friends there.
9. Is there anything you would like to achieve in your career? Do you have any goal?
Now my goal is to do my project well, publish more papers and obtain my Doctor degree. And after that I might go to work in some company as a researcher or do a postdoctoral research. I haven't considered it much yet.