A particle accelerator made of Lego bricks
A PhD student from the Department of Physics of the University of Liverpool has created a miniature model of the Large Hadron Collider (LHC) using Lego bricks. Nathan Readioff is in the third year of his PhD and is currently based at CERN, the European Particle Physics Laboratory in Geneva, where he is studying the Higgs Boson using data from the ATLAS detector. He attended the postgraduate research skills workshop developed under following adoption of the training at the University...and now he has become an expert on outreach!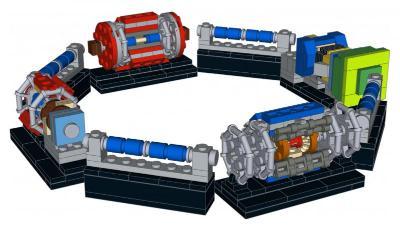 The design uses existing Lego pieces to replicate ATLAS, ALICE, CMS and LHCb which make up the LHC. Each design uses cutaway walls to reveal all of the major subsystems. Nathan said: "I have always been a Lego fan and I wanted to take things to the other extreme by building the smallest possible ATLAS detector. I had in mind Lego's basic principles of encouraging imagination and play through building bricks."
He has submitted his LHC models to the Lego Ideas proposal website where ideas from members of the public, which attract over 10,000 votes, are considered by Lego for future production.
To support Nathan's Lego proposal bid, visit the Lego proposal page and vote for him.
For more information visit:
http://home.web.cern.ch/about/updates/2015/02/building-blocks-large-hadron-collider
Image courtesy of Nathan Readioff