QUASARs visit Primary Schools
Alexandra Alexandrova and Prof. Carsten Welsch visited the Chapelford Community Primary School in Warrington on 21st May to fascinate pupils in year 6 about science. They both talked about their respective way to physics and the reasons why the find science so fascinating. Following that, a Van de Graff generator, plasma ball setup and a thermal camera were used to let the children participate to the fun side of science.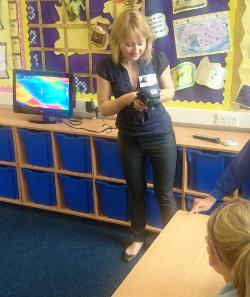 In addition, Alexandra visited Wheatley Hill Primary School in Durham on 22nd and 23rd of May where she did science outreach for children in years 4-6. A number of activities involved demonstrations using a thermal camera. The demanding audience was very interested in understanding different phenomena and very excited to learn about how science impacts on everyday objects.