QUASAR THz Group Workshop 2010
From September 5th – 9th the QUASAR and THz Groups teamed up once again to jointly organize their third workshop on accelerator science and technology.
The workshop started with presentations of the participants on their individual research projects. Talks were grouped into "Beam Dynamics", "Beam Diagnostics and Accelerator Operation", and "Medical Applications". Presentations gave an insight into each research project, its particular challenges and future plans.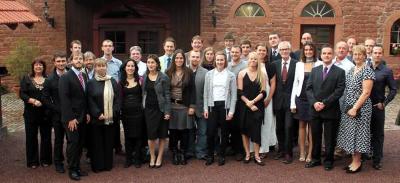 On day two, problem-oriented learning sessions on vacuum technology, particle beam cancer therapy, and beam dynamics allowed the participants to study a selected topics in detail. The sessions were led by QUASAR scientists Michael H. Holzscheiter, Michele RF Siggel-King and Alexander I. Papash. In the afternoon, a careers session covered job applications and interviews, as well as proper preparation for the next career steps. 
Disentanglement in data analysis was covered by a three hour session on Wednesday morning. Michael Schmelling explained methods and techniques in detail and illustrated the state-of-the-art with many interesting examples. Private study and improvement of individual CVs, based on the guidance given the day before completed this day.
On Thursday, participants went again into breakout groups and had discussions on their individual CVs, the research environment in the field of accelerator science and technology in Germany, as well as on possible improvements in existing meetings and workshops.
As usual, open discussions took place during the whole meeting and the friendly atmosphere made it another highlight of the year.