QUASAR Group represented at ESOF through Prof. Carsten P. Welsch
The Euro Science Open Forum (ESOF) is Europe's largest interdisciplinary science forum and a unique gathering that provides an excellent platform for debate, for influencing policy and strengthening the links between science and society.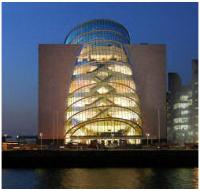 This year it took place in Dublin, Ireland between July 11th-15th 2012 and gathered more than 5,000 delegates, including several Nobel Laureates, Leading researchers, Policy makers, Business leaders and International Media. The QUASAR Group was represented at ESOF through a 1½ hour session on "Ions, Light and Antimatter: New ways to battle Cancer".
In the last few years several new ways of treating cancer have emerged, using different particle species, intense light or even antimatter - all pushing the boundaries of science and technology significantly beyond the previous state of the art.
‌After a brief overview of the history of cancer therapy, a number of key questions in this research area were tackled: What are the distinct advantages of hadron therapy when compared to more traditional methods and how can highest quality treatment beams be produced? What are the latest developments in beam diagnostics and accelerator technology ? Could antimatter ions be the ultimate tool to treat specific cancer types? An outlook on future research programs was also given - all of this in an active dialogue with the audience.
The session was hosted by Prof. Carsten P. Welsch from the University of Liverpool . He was joined by Ms Sara Tegami, former QUASAR and now researcher at the Max Planck Institute for Nuclear Research/Germany and Prof. Jose Espino, from the University of Seville/Spain.