QUASAR Group organizes researcher skills school for international laser network
A week-long researcher skills workshop was hosted by the QUASAR Group in Liverpool between March 18th-22nd 2013. All Marie Curie fellows from the LA³NET network participated to this training which familiarized them with presentation techniques, the challenges of project and budget management, scientific writing and researcher careers planning. Roughly half of the sessions targeted directly the researchers' R&D projects to benefit them in their current work, whilst the other sessions focused on writing an application for a novel outreach project that had to be developed by the participants during the week.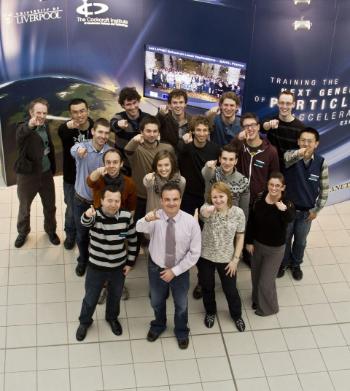 Another important aspect of the school was networking between the fellows. Several social events during the week, including a visit to the Cockcroft Institute and Daresbury Lab, helped getting to know one another better and allowed for intense discussions.
The school was run by QUASARs Helen Williams, Dr. Rob Ashworth and Prof. Carsten Welsch with the help of external trainers and colleagues from Liverpool's physics department, Lancaster University and ASTeC. It followed the training concept developed by the Group for the DITANET project, now also used for PGR students in the U Liverpool's School of Physical Sciences.