QUASARs at CERN participate in outreach event to introduce girls to coding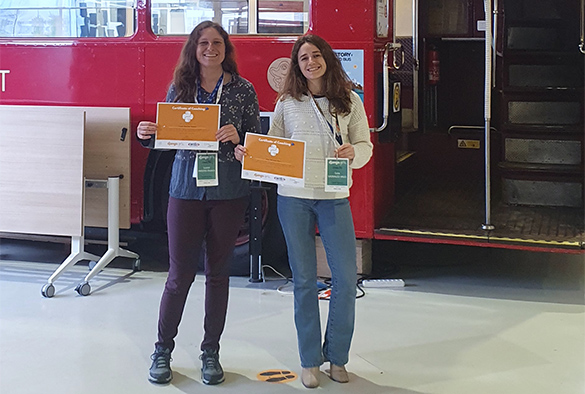 Two PhD students from the QUASAR Group, Sara Morales Vigo and Luana Parsons França, took part in the Django Girls Geneva event, held over two days from the 21st to 22nd of April. They were responsible for coaching a team and helping them take their first steps into programming.
This bilingual event (English and French), held in celebration of the International Girls in Information and Communication Technologies Day, was a collaboration of 3 different CERN teams and Django Girls, a not-for-profit organisation that helps organise programming workshops for girls worldwide.
During the workshop the participants were able to learn the basics of how the internet works, how to use the command line, as well as being introduced to a few different programming languages used in web development. In a friendly environment, they were helped join these elements to create their first own blog. This was a unique opportunity for people to look beyond the surface of technologies that we use every day and take for granted and understand what's going on under the hood.
Feedback regarding the event was very positive from both participants and coaches.
Luana said: "It was a truly enriching experience, for everyone involved. It was my first time doing an outreach event in French and I was a bit nervous before I started, but we had such a lovely team, that I needn't have worried. They were very motivated and asked lots of interesting questions. It was very rewarding to be able to share my passion for coding with others. I hope they were inspired to continue learning. "
The QUASAR Group prides itself in its effort to contribute towards sharing scientific knowledge amongst the wider community. Outreach is a great opportunity to connect with people and communicate research, especially amongst marginalised groups. Widening the participation of women in science and technology is a cause at the heart of the QUASAR Group.