Liverpool expert takes the stage at Star Wars Celebration 2023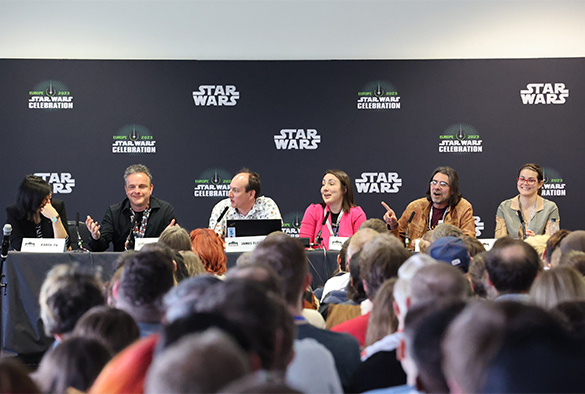 Prof Carsten P Welsch, QUASAR Group leader and Head of Liverpool's Department of Physics, joined host James Floyd (Star Wars Insider regular contributor, Star Warsologies podcast) and experts from palaeontology to meteorology and history for a panel discussion at Star Wars Celebration (SWC) Europe 2023 to celebrate the 40th anniversary of Return of the Jedi.
Star Wars Celebration is the ultimate fan experience focused on the galaxy far, far away, held in varying locations around the world. Fans of all ages from all over the world are coming together to celebrate the cultural phenomenon. This year's event was held at the ExCel Centre in London, England from April 7–10, 2023 and attracted more than 60.000 visitors.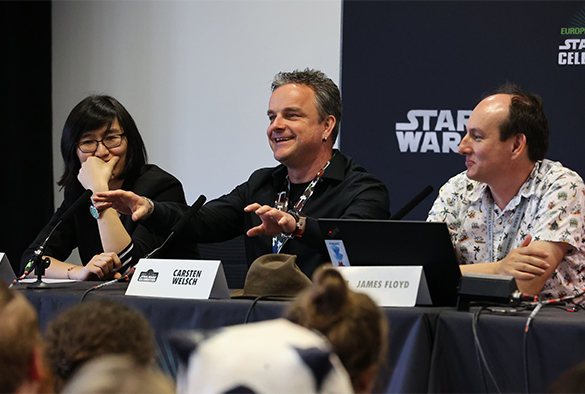 Prof Welsch explaining the Physics of Return of the Jedi.
The world's biggest Star Wars event fascinates all kind of fans, featuring project announcements, screenings, exclusive merchandise, immersive exhibits, cosplay, lightsaber training sessions, droid races, STEAM sessions, panel discussions, as well as autograph and photo opportunities. Celebrity guests included Ewan McGregor, Hayden Christensen, Gwendoline Christie, Ian McDiarmid, Annabelle Davis and many more.
The 'Science of Return of the Jedi' panel discussion was held on the University Stage with a capacity of 330 seats. Exited fans started queuing already one hour before the event and a long line formed rapidly. The panel started early as every single seat in the room was taken well before the announced start time, giving the audience extra time to enjoy the discussions.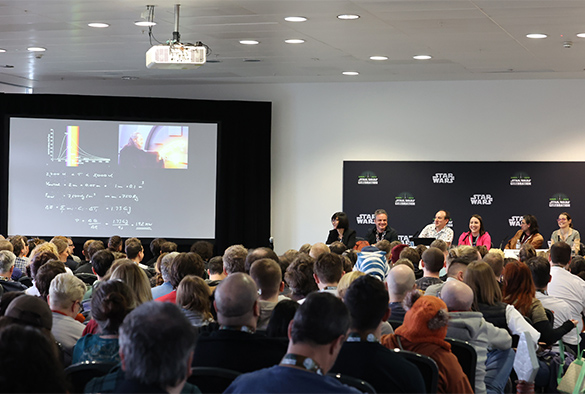 Panel members (from left to right) included Karen Yu (Laser and Optics), Carsten P Welsch (Physics), James Floyd (Moderator), LeeAnn Allegretto (Atmoshperic Science), Manuel Barcia (History of Empires) and Heda Agić (Paleobiology).
From sarlacc biology to the physics of lightsabers and the ecosystem of Endor, Return of the Jedi is full of connections to real world science. How might a Hutt evolve? What goes into making a Death Star superlaser? Why do the Ewoks worship C-3PO? These and many more captivating questions were debated in an informative and entertaining session that received many cheers and a lot of applause from the audience.
Prof Carsten P Welsch said: "It was fantastic to have this opportunity to speak about what is science and what is fiction in the iconic film – and to connect this with our ongoing research. We had some fantastic questions from a very engaged audience. It doesn't happen very often that one has Mandalorians, Jedi Knights and Rebel pilots in a science discussion involving plasma accelerators, laser technology and particle colliders!"
The next Star Wars Celebration will take place in 2025. The event will return to Japan for the first time since 2008, taking place 18-20 April 2025 at the Makuhari Messe, a commercial district just outside Central Tokyo that is home to one of the country's largest convention centers.