New Leadership Positions within the QUASAR Group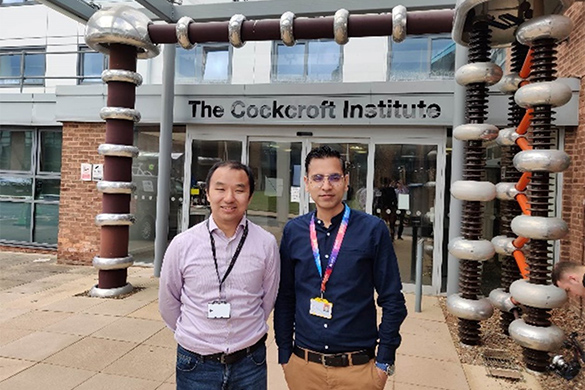 We are delighted to announce two new leadership positions for Dr Hao Zhang and Dr Narender Kumar within the QUASAR Group at Liverpool University, based at the Cockcroft Institute.
Dr Hao Zhang joined the Quasar Group as a Research Associate in 2014. His research focuses on the development of cutting-edge beam instrumentation techniques for both, large scientific accelerators or smaller machines for medical and industrial applications. His current research includes novel beam halo monitors, gas jet-based beam profile monitors and the application of machine learning techniques to characterize beams in more detail.
Dr Zhang is a permanent Research Coordinator in the QUASAR Group and has now been appointed as Deputy Group Leader, working closely with Professor Carsten P Welsch. Within this new role, Dr Zhang holds responsibility for the strategic planning of the group's research in advanced beam diagnostic techniques for accelerators and light sources. He also (co)supervises and coordinates the work of a number of PDRAs and students in the group, establishes and strengthens links with other research groups in the UK and abroad, and makes key contributions to many national and international collaborations in which the group is involved in.
We would also like to congratulate Dr Narender Kumar for securing a permanent position as Research Coordinator in the QUASAR Group, following an international recruitment exercise.
Dr Kumar joined the QUASAR Group as a Research Associate in 2019. His work to date includes studies of optical fibre-based analysis systems, as well as simulation and experimental studies into strongly focused gas jet-based beam monitors and related applications. He is currently working on the development of diagnostic devices for medical and microscopy applications, as well as the development of laser-hybrid accelerators for radiobiological applications. His role also includes investigations into beam dynamics, as well as technology transfer, working with the group's Business Development Manager. Finally, he plays an important role in student supervision and helps develop and grow the R&D portfolio of the QUASAR Group.
We are sure you are as excited for Hao and Narender as we are, so please join us in congratulating them and wishing both continued success in our group!