OMA Steering Committee met in Brussels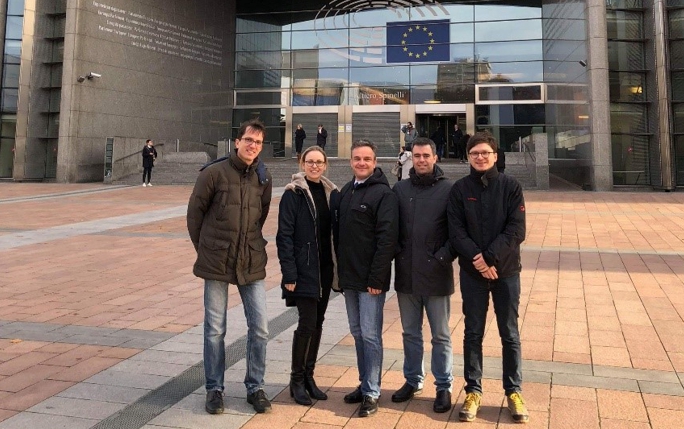 The OMA Steering Committee met in Brussels just before Christmas. The day-long meeting took place in the Brussels office of the Helmholtz Association on Tuesday, 18th December 2018. Dr Christian Graeff and Michelle Lis (GSI, Germany), Johannes Petzoldt (IBA, Belgium), Dr Miguel Cortes Giraldo (CNA, Spain) all joined the meeting which was chaired by OMA Coordinator and Head of the QUASAR Group Professor Carsten Welsch (University of Liverpool/The Cockcroft Insitute, UK).
With the network now running at full speed, there were many exciting research results to discuss, along with reviewing the large number of Fellow trainings and outreach activities. The committee found the overall progress made in the network very impressive and commended the Fellows on their good work – in particular as more collaborative R&D activities are now emerging, directly benefiting from the OMA network.
The Steering Committee welcomed Dr Giraldo formally as new member after Professor Joaquin Gomez Camacho had announced that he would step down as university representative in the committee. Dr Giraldo brings along a wealth of expertise in R&D at accelerator facilities and has been involved in the OMA project since the start. The committee also approved the accession of two new adjunct partner institutions: The Centre for the Clinical Applications of Particles at Imperial College and the Spanish company Added Value Solutions were welcomed as formal partners in OMA. Both have agreed to contribute actively to the network's wide-ranging research and training program and will also offer additional secondment opportunities for the Fellows.
A focus of the discussion was on the planning of several international events that will be organized throughout 2019. This includes an Advanced School on Medical Accelerators and Particle Therapy that will be held in Vienna, Austria between 1-5 April 2019, an advanced researcher skills week that will be organized for all OMA Fellows and Fellows from the AVA network in June, an international Outreach Symposium on 28th June 2019 that will be held in Liverpool and which will be broadcasted around the world, and an international conference on medical accelerators that will be held in Seville, Spain between 4-6 September.
Exciting plans were drawn up and the committee was very optimistic about this final part of the OMA project. The next meeting was scheduled to take place on the Wednesday afternoon during the OMA School in Vienna.