Focus on Diversity - Hao Zhang, China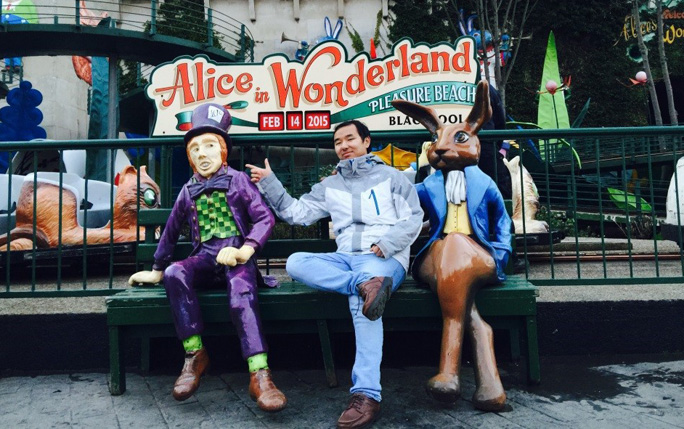 I come from Chongqing, a major city in southwest China and one of China's four direct-controlled municipalities. It received its current name in 1189, after Prince Zhao Dun of the Southern Song dynasty described his crowning as king and then Emperor as a "double celebration". The Yangtze River runs through the city and the city is very famous for spicy food and humid weather.
Before I came to the UK, I spent four years in Beijing, the capital city of China to do my bachelor degree and finished my PhD in the University of Maryland near Washington D.C., the capital city of USA. To me, they share the similar dry weather and mostly sunny days, which is quite different from the wet weather here in the UK. However, the rainy days make me actually comfortable because most of the memories of my childhood happened in such weather. People ask me why I came to the UK after experiencing the USA. It is a hard question and I would always answer in a joking tone that it is because of the football. However, the football culture here is indeed an attracting factor to me. Football is my lifetime hobby. To watch a live Premier League match is like a dream come true and I will never forget the moment when I sang "You will never walk alone" in the Anfield stadium of Liverpool football club.
Regarding the city of Liverpool, you cannot avoid talking about its culture, especially its characteristic dialect, Scouse. When I first heard a Scouser speaking to me, I was completely confused. Later I found out that, compared with the Received Pronunciation, which gives you an impression of seriousness, the scouse is more lively and vivid. In addition, the scouse uses some words in a way in which the Received Pronunciation will never use. This is very similar to my home city's dialect, Chongqing dialect in relation to Mandarin.
Currently, I am working in the University of Liverpool as a post-doctoral research associate, but I spend most of my working time in the Cockcroft Institute, which is located in Daresbury, the home of Lewis Carroll, the author of Alice and Wonderland. My research interest covers a wide range of accelerator physics. Specifically, I am working on the beam diagnostics. I am enjoying the research environment here and the people around are all friendly and helpful. The surrounding environment is also lovely with woods and canals. I enjoy walking around in the country road with my day dreams. Perhaps someday, I might fall into a rabbit hole and land on a wonderland of new discoveries. I guess that could be the wishes from all accelerator researchers.
我来自中国西南的一个城市重庆,也是中国的四个直辖市之一。它得名于南宋年间,公元1189年,当时的王储赵惇在同一年被封王,接而登基继承皇位,故此"双重喜庆"。长江流过主城,城市也因为辛辣的美食而出名。
四年前,我来到了英国。在那之前,我在中国的首都北京花了四年完成了我的学士学业。紧接着,我去到美国,在临近美国首都华盛顿特区的马里兰大学,用了5年时间,拿到了我的博士学位。对于我来说,这两个城市有一个相似的地方,就是干燥的天气和充满阳光的日子,这一点和英国的湿润气候完全不同。然而,雨天却反而让我觉得舒适,因为记忆中童年的日子大多也是这样吧。有人问我为什么回来英国,特别是在经历了美国后。这是一个比较难回答的问题,我常常会用戏谑的口气回答是因为足球的缘故,可这里的足球文化的的确确是英国吸引我的原因之一。足球是我从小的爱好,能够到现场看一场英超的比赛就像梦想成真一样,我想我这一辈子都不会忘记在安菲尔德球场唱起"你永远不会独行"的时刻。
对于利物浦这个城市,你很难不提到它的文化,特别是它的很特别的方言——斯高斯。当我第一次听到一个利物浦人给我说当地方言的时候,我完全傻掉了。事后我才发现,和给人以严肃感觉的标准英音比起来,利物浦英语更加的生动和活泼。特别的,利物浦英语有一些特殊的词汇用法,这在标准英音里面从来不会出现。这一点很像我的家乡话——重庆话和普通话的区别。
目前,我在利物浦大学做博士后助理研究员,但是我大部分时间都是在达斯伯里国家实验室的考克饶夫研究所。我研究的兴趣包括粒子加速器物理的很多方面,目前的研究主要在束流检测方面。我非常喜欢这里的研究环境,周围的工作人员都非常友好和热情。周围的自然环境也是十分怡人,充满了各种小树林和运河。我常常在附近的乡村路上行走,也时不时做着白日梦。梦想着或许在某一天,我也会掉进一个兔子洞,然后降落在充满新发现的仙境。我猜想,这或许是每个加速器研究员的心声吧。