About
‌The Medical Teaching Research Laboratory (MTRL) is a unique new facility at STFC Daresbury Laboratory formed through a partnership between the University of Liverpool (UoL), the Science and Technologies Facilities Council (STFC) and the Royal Liverpool University Hospital (RLUH).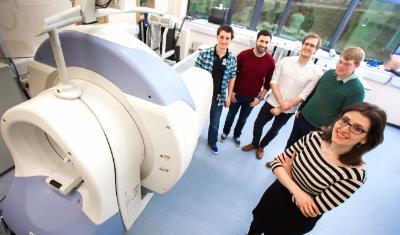 Dr Samantha Colosimo training Medical Physics students with the Ge Hawkeye Infinia SPECT/CT Scanner at the MTRL.
The MTRL aims to provide hands-on training for students studying the NHS Scientist Training Program MSc course in Clinical Science (Medical Physics) taught at the University of Liverpool.
The MTRL hosts a GE Hawkeye Infinia scanner, previously used in St James' Hospital in Leeds, which possesses a SPECT gamma camera with Hawkeye single slice CT. Access to this scanner away from a clinical environment will grant oppertunities for indepth training and research. Continuing Professional Development staff (CPD's) and medical physicists alike will have access to further hands-on training and a wider array of possible research opportunities shall become available.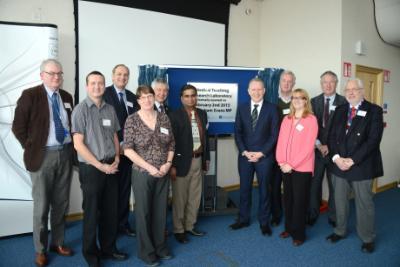 Picture from the openning of the MTRL facility with Dr Melvyn Carroll, Dr Andrew Boston, Professor John Simpson, Professor Susan Smith, Professor Stephen Holloway, Professor Sobhan Vinjamuri, Graham Evans MP, Professor Paul Nolan, Dr Helen Boston and Ian Lazarus.